Taiwan thanks Marcos for urging peace in Strait
'MAXIMUM RESTRAINT': The Philippines' candidacy for a UN Security Council seat is based on years of forging peace and paths of cooperation, its president said
Taiwan has thanked Philippine President Ferdinand Marcos Jr for a speech he delivered in New York on Friday, in which he appealed for a peaceful solution to tensions in the Taiwan Strait.
The Ministry of Foreign Affairs said in a statement yesterday that Taiwan remains grateful that the Philippine leader is paying attention to cross-strait peace and stability.
The speech demonstrated that Beijing's intensifying military provocations in the region, over the past two months in particular, are a concern to neighboring countries, the ministry said.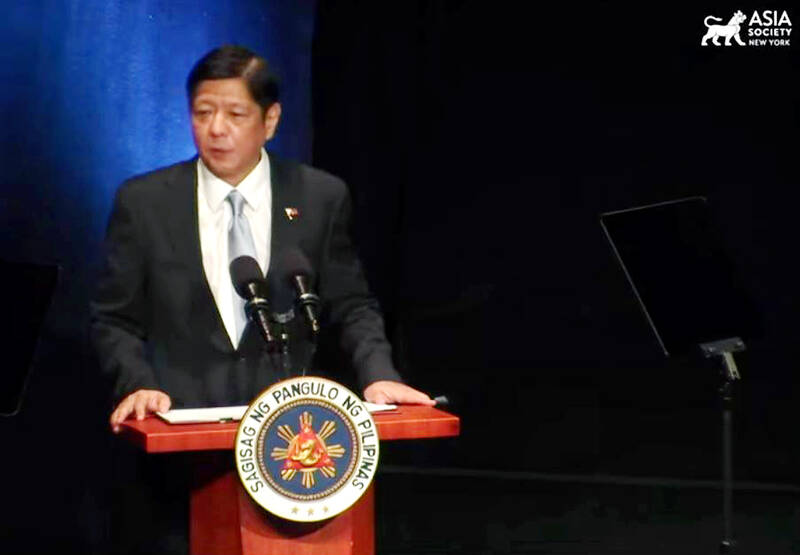 Philippine President Ferdinand Marcos Jr speaks at a meeting of the Asia Society in New York on Friday.
Photo: Screen grab from YouTube
It called on the international community to condemn what it called China's unilateral actions in destabilizing the cross-strait "status quo," and to jointly prevent the expansion of authoritarianism in the region.
In his speech at a meeting of the Asia Society, Marcos said that the Philippines' candidacy for a temporary seat on the UN Security Council starting from 2027 is "premised on my country's long years of experience in building peace and forging new paths of cooperation."
"In this context, we are certainly concerned about rising tensions in the Taiwan Strait, just north of the Philippines," he said.
Although Manila is to maintain its diplomatic recognition of Beijing over Taipei, the Philippines would always pursue peaceful resolutions of disputes involving China and Taiwan, Marcos said.
"We urge all parties involved to exercise maximum restraint. Dialogue and diplomacy must prevail," he said.
During a question-and-answer session, Marcos was asked by former Australian prime minister Kevin Rudd, president and CEO of the Asia Society, about his country's future relations with Japan.
Marcos replied that he had recently met with Japanese Prime Minister Fumio Kishida, and they discussed a number of issues, including Taiwan.
"I think it's no surprise to anyone that they are terribly, terribly concerned, not only of China, but because of the recent events, we have focused on the Taiwan situation," he said.
"The visit of the United States House [of Representatives] Speaker Nancy Pelosi to Taiwan sort of highlighted once again the simmering tensions that as I said were beneath the surface, but now have surfaced out into the open," he said.
Tensions between Washington and Beijing were heightened after Pelosi's 19-hour visit to Taipei early last month, which was followed by large-scale Chinese military drills around Taiwan.
Comments will be moderated. Keep comments relevant to the article. Remarks containing abusive and obscene language, personal attacks of any kind or promotion will be removed and the user banned. Final decision will be at the discretion of the Taipei Times.