China to attend queen's funeral despite concerns
Chinese Vice President Wang Qishan (王岐山) plans to attend the funeral of Queen Elizabeth II as the special representative of Chinese President Xi Jinping (習近平), Beijing said yesterday.
A group of British legislators hit by Chinese sanctions have expressed concern that the Chinese government has been invited to the funeral. One told the BBC that the invitation should be rescinded because of human rights abuses against the Uighur ethnic group in China's far-western Xinjiang region.
Wang, who is close to Xi, was a member of the Chinese Communist Party's seven-member Politburo Standing Committee from 2012 to 2017. During those years, he led a crackdown on corruption that has been one of Xi's signature initiatives.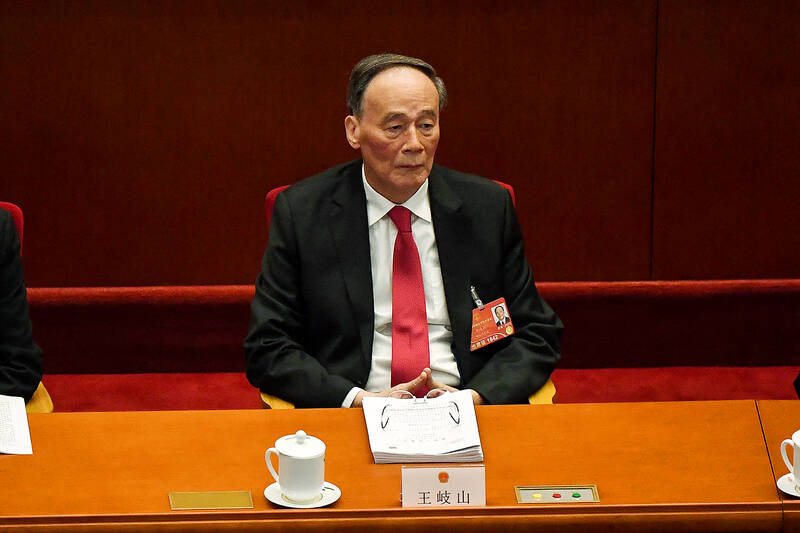 Chinese Vice President Wang Qishan attends the opening session of the Chinese National People's Congress in Beijing on March 5.
Photo: AFP
Wang was named to the largely ceremonial post of vice president in 2018, and often attends events on Xi's behalf.
Meanwhile, Japanese Emperor Naruhito and Empress Masako left for Britain yesterday to attend the funeral to pay respects to the late queen and the British royal family, who are considered to be a model for Japan's modern monarchy.
The decision for the emperor and empress to attend the queen's funeral underscores the deep bond between the royal families and the importance of their relationship.
Traditionally, a Japanese emperor avoids funerals except for those of their own parents, based on a cultural belief originating in the Shinto religion that considers death impure.
Former emperor Akihito, as crown prince, attended the queen's 1953 coronation and her Diamond Jubilee in 2012. Queen Elizabeth II visited Japan in 1975.
Naruhito and Masako's trip to Britain is their first as the emperor and empress. The queen's invitation for them to visit following Naruhito's 2019 ascension to the Chrysanthemum Throne had to be postponed due to the COVID-19 pandemic.
All eight of Elizabeth's grandchildren were to stand vigil around her coffin yesterday.
Members of the public who had lined up for hours to pay their last respects continued to file past as King Charles III and his siblings stood vigil in the historic event on Friday.
Comments will be moderated. Keep comments relevant to the article. Remarks containing abusive and obscene language, personal attacks of any kind or promotion will be removed and the user banned. Final decision will be at the discretion of the Taipei Times.