Yilan official, daughter charged with corruption
'POLITICAL HUNT': Yilan County Commissioner Lin Zi-miao denied the allegations and said the investigation against her was politically motivated
Yilan County Commissioner Lin Zi-miao (林姿妙), her daughter Lin Yi-lin (林羿伶) and others were yesterday indicted on charges including corruption, forgery and money laundering, the Yilan County Prosecutors' Office said.
The indictments, which involve 10 county officials and five others, originated from a probe into suspected corruption connected to property development projects in the county's Luodong Township (羅東), the office told a news conference.
Lin Zi-miao, who took office in December 2018 after serving eight years as Luodong mayor, was accused of obtaining NT$78.45 million (US$2.6 million at the current exchange rate) through illegal means, as her salary and income from rent do not account for the sum, they said.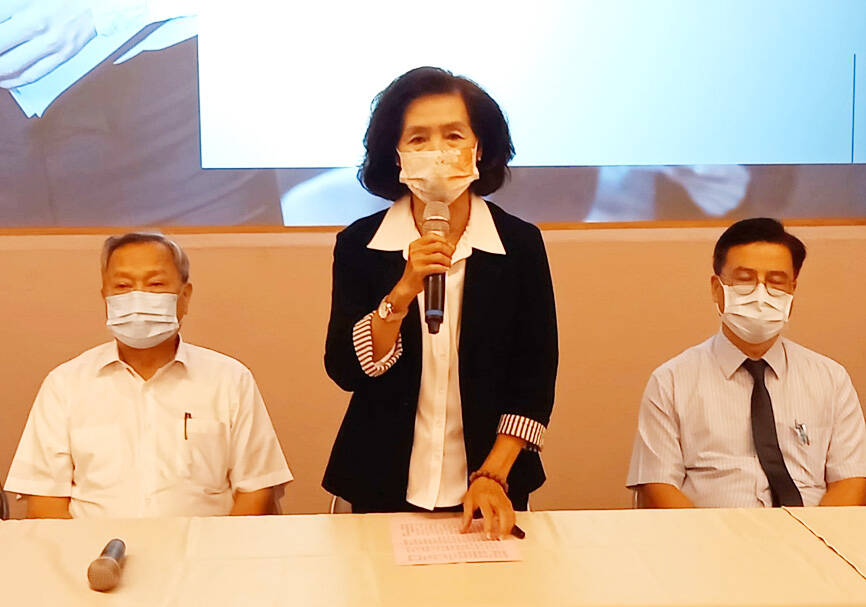 Yilan County Commissioner Lin Zi-miao, center, speaks at a news conference in the county yesterday.
Photo: Chiang Chih-hsiung, Taipei Times
Lin Zi-miao denied the claims at a news conference yesterday and said the probe was politically motivated.
She vowed to run for re-election in the Nov. 26 vote.
"I did nothing illegal," she said.
Prosecutors and the Agency Against Corruption were using gag orders to stop her from defending herself in public, she said.
Lin Zi-miao also accused prosecutors and the agency of leaking details of the case to the media to influence the outcome of the elections.
Their actions have damaged her reputation and that of county employees, she added.
Prosecutors have said that the then-township economic affairs section chief, a person surnamed Chao (趙), and a section member surnamed Huang (黃) in 2018 falsified land records to help property owners surnamed Liu (劉) and Chen (陳) evade NT$1.12 million in value-added tax.
The property was being filled and paved over in contravention of laws governing agricultural land use, they added.
When the county's Finance and Taxation Bureau detected the irregularity and filed inquiries demanding clarification, Lin Zi-miao, then running for county commissioner, colluded with others to cover up the falsification of land-use records, prosecutors said.
Liu and Chen also allowed Lin Zi-miao to use a property they owned as the headquarters of her 2018 election campaign without charge, they said.
Lin Zi-miao and Lin Yi-lin allegedly directed the township's then-economic affairs section acting chief Wu Chao-chin (吳朝琴) to meet with county officials in October 2018 to forge additional papers and certificates to prevent the discovery of corruption, they said.
Officials from the county's Finance and Taxation Bureau, Agriculture Bureau and Economic Affairs Bureau attended the meeting knowing that they were engaged in a cover-up, prosecutors said.
Later, the landowners permitted the use of their properties for the campaigns of Chinese Nationalist Party (KMT) presidential candidate Han Kuo-yu (韓國瑜) and legislative candidate Yu Kuo-hwa (呂國華) during the 2020 election, they said.
That agreement — again made in contravention of land-use laws — saved Lin and former KMT legislator Yang Chi-hsiung (楊吉雄) NT$2.4 million, as they could transfer the temporary structure used for the former's campaign to Han and Yu instead of demolishing it, they said.
Prosecutors recommended a heavy sentence for Lin Zi-miao, saying that her alleged actions showed a brazen disregard for ethical rules and the nation's administrative system.
A separate investigation was launched over Yang's alleged destruction of evidence, they said.
The KMT called the charges "a political hunt" and questioned the integrity of the prosecutors.
The judiciary must refuse to be used as a tool for the Democratic Progressive Party (DPP), maintain political neutrality of the law and give Lin Zi-miao a fair chance to defend herself in court, it said.
DPP spokeswoman Huang Tsai-ling (黃彩玲) said that the charges against Lin Zi-miao brought shame on the county, calling on the commissioner to bow out of the election.
"KMT Chairman Eric Chu (朱立倫) should apologize to the nation for the party's decision to back Lin Zi-miao," she said.
Additional reporting by Shih Hsiao-kuang, Chen Yun and Chiang Chi-hsiung
This story has been amended since it was first published.
Comments will be moderated. Keep comments relevant to the article. Remarks containing abusive and obscene language, personal attacks of any kind or promotion will be removed and the user banned. Final decision will be at the discretion of the Taipei Times.