Wu Den-yih sorry for Chen Chu remark
JUST BLAME HIM: The KMT leader said the key issue should be ensuring the polls are clean and free of 'unethical moves,' adding that Han Kuo-yu did not need to apologize
Chinese Nationalist Party KMT Chairman Wu Den-yih (吳敦義) yesterday morning apologized for referring to Presidential Office Secretary-General Chen Chu (陳菊) as "a fat sow" and said that although he made an inappropriate comment on Saturday, he longs for clean and honest elections.
Wu made the remark about the former Kaohsiung mayor during an event for KMT Kaohsiung mayoral candidate Han Kuo-yu (韓國瑜).
It was a "non-public event with about 10 or 20 people," the former vice president and premier, who also served as Kaohsiung mayor from 1990 to 1998, said yesterday.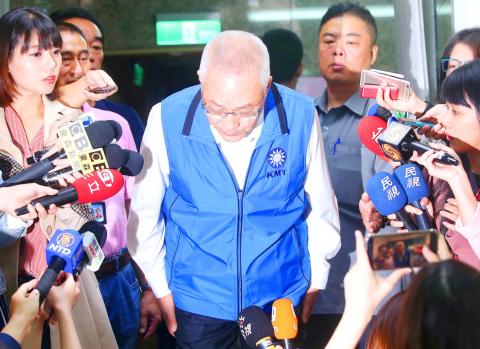 Chinese Nationalist Party (KMT) Chairman Wu Den-yih yesterday bows during a news conference in Taipei to apologize for referring to Presidential Office Secretary-General Chen Chu as "a fat sow."
Photo: CNA
Wu said that he was an old friend of former Examination Yuan member Huang Chun-ying (黃俊英) and that several people at Saturday's event had come from Huang's hometown.
He and some of them got emotional when the subject turned to the Kaohsiung mayoral election 12 years ago, when Huang was a candidate, he said.
Huang lost the election due to false rumors of bribery and remained deeply troubled by the allegations until he died, Wu said.
His comment about Chen was "inappropriate," whether as an "indirect reference to her or description about her," Wu said as he bowed in front of photographers to Chen and others hurt by his remark.
He asked KMT Vice Secretary-General Cheng Li-wen (鄭麗文) on Saturday to apologize to the public on his behalf, Wu said.
The most important thing is to ensure elections are "clean, honest" and "free of unethical moves," he said, adding that this is what he deeply longs for and has always believed in throughout his decades-long political career.
Han is also against unethical election efforts, Wu said, referring to Han's remarks at an event on Saturday that he would rather "lose the election while keeping his integrity than win by cheating."
There was no need for Han to join him in an apology, because the inappropriate comment was his alone, Wu added.
Asked if his remark could hurt the KMT's campaign, Wu said it would not, adding that he had apologized for what needed an apology.
Asked why he had not immediately apologized on Saturday, Wu said the first reports on his remark said it was an "insinuation."
Whether it was a direct comment on Chen was irrelevant to the fact that it was inappropriate, he said.
Wu's Facebook account was flooded by Han's supporters demanding that he take responsibility for his remark, and Wu said that he respects their opinions.
He reiterated that he had "apologized for what needed an apology and would insist on what needs to be insisted on."
At a Democratic Progressive Party rally in Kaohsiung last night, Chen made her first comment on the issue, telling the crowd: "I am a daughter of Taiwanese, I am not a big sow."
Comments will be moderated. Keep comments relevant to the article. Remarks containing abusive and obscene language, personal attacks of any kind or promotion will be removed and the user banned. Final decision will be at the discretion of the Taipei Times.