Experts address Wu E-yang's honey lemonade claims
Independent Taipei mayoral candidate Wu E-yang's (吳萼洋) remarks about the health benefits of honey lemonade drinks do not convey the complete picture, medical experts said.
At a televised debate on Saturday that involved the five Taipei mayoral candidates, Wu said that a lump underneath his left eye and a skin condition had cleared up after he stuck to a vegetarian diet for a month and drank honey lemonade.
Following the debate, online searches for "Wu E-yang" and "honey lemonade" rose significantly, according to Google Trends.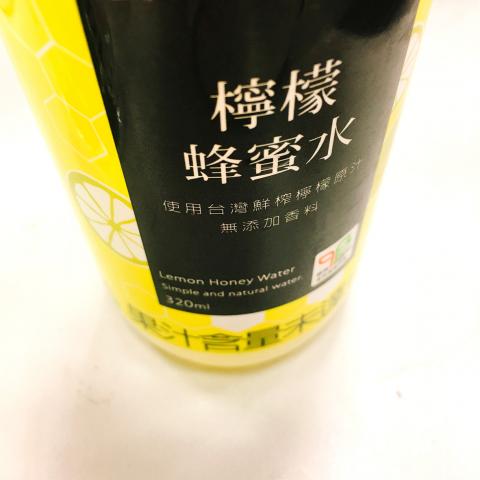 A honey lemonade drink is pictured in Taipei on Sunday.
Photo: Lin Hui-chin, Taipei Times
However, Tsai Tsen-fang (蔡呈芳), a dermatologist at National Taiwan University Hospital, on Sunday said that while some types of honey have antibacterial properties and help wounds heal faster, not all honeys have these properties.
Furthermore, the honey must be pure and applied to the skin to achieve the results, Tsai said, adding that there is not sufficient evidence to support benefits linked to taking honey orally.
While some people think that lemons can help lighten and improve skin quality as they are rich in vitamin C, more research is needed to support this, Tsai said.
He said that he has not seen research supporting the claim that honey lemonade can treat lumps or pityriasis versicolor — the fungal infection Wu claimed was eliminated, which causes small patches of skin to become scaly and discolored.
Meanwhile, Taiwan Dental Association council member Chiang Hsi-jen (江錫仁) said that lemons are acidic and can erode teeth.
Failing to rinse after drinking honey lemonade could damage your teeth, Chiang said.
However, brushing after drinking honey lemonade can reduce residue on the teeth and help prevent damage, he said.
Comments in response to Wu were rife on Professional Technology Temple, the nation's largest online bulletin board system, with some asking: "Was honey lemonade the biggest winner" at Saturday's debate?
One netizen called Wu's comments the "best sponsored content they have seen this year."
Comments will be moderated. Keep comments relevant to the article. Remarks containing abusive and obscene language, personal attacks of any kind or promotion will be removed and the user banned. Final decision will be at the discretion of the Taipei Times.