Ko blasts DPP's 'ideological censorship'
ENDORSEMENT: A Nangang borough warden and a Taipei commissioner are facing expulsion from the party after they endorsed Taipei Mayor Ko Wen-je's re-election bid
Taipei Mayor Ko Wen-je (柯文哲) yesterday urged the Democratic Progressive Party (DPP) to refrain from using ideology to censor its members, after DPP Deputy Secretary-General Hsu Chia-ching (徐佳青) on Wednesday said that the party would expel any member stumping for Ko after Aug. 31, the candidate registration deadline for the November elections.
"Those who stump for Ko will have to make the choice between voluntarily withdrawing from the party and exclusion," Hsu told SET-TV host Cheng Hung-yi (鄭弘儀).
The decision followed reports that several DPP Taipei city councilors and borough wardens have broken ranks with DPP Legislator Pasuya Yao (姚文智), the party's Taipei mayoral candidate.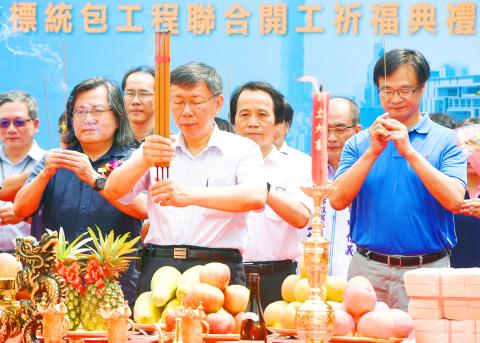 Taipei Mayor Ko Wen-je, front row center, and Taipei Department of Civil Affairs Commissioner Lan Shih-tsung, front row right, yesterday attend a ceremony in Taipei.
Photo: Liao Chen-huei, Taipei Times
The DPP's Taipei chapter on Monday voted against nominating Nangang District (南港) Xixin Borough (西新) Warden Chiu Pi-chu (邱碧珠) for re-election, after Chiu endorsed Ko on multiple occasions.
Ko at a ribbon-cutting event said that he thinks the nation should have "soft" political parties that do not compel members to follow an ideological line or pursue collective self-interests.
"Hopefully, the election will change the character of Taiwanese politics," he added.
Taipei Department of Civil Affairs Commissioner Lan Shih-tsung (藍世聰), a DPP member who has come under fire from party colleagues, said it would be strange for a political appointee to not defend the mayor and his policies.
"Would the Executive Yuan tolerate ministers who do not support the president?" he asked. "I really do not want to be expelled from the party, but what can I do?"
Asked what he would do if the party demands that he stump for Yao, Lan vowed to support Ko regardless of the party's sanctions, saying that he would not be able to endorse another candidate after declaring his support for Ko at the city council.
"I can vouch that Ko is a hard worker who is deserving of my support," Lan said.
The DPP should think carefully when wielding party discipline, because it has no power over the will of the people, he said, adding that using disciple to force the party against the people would only harm the party.
Asked to comment on the DPP's mounting criticism of Lan, Ko said that Lan's visits to borough wardens and civil groups were strictly related to his work as civil affairs commissioner.
"You cannot forbid the man from leaving his office six months before an election. It is not as if he is a named member of my campaign," Ko said.
Yao yesterday spoke to reporters after accepting a Broadcasting Corp of China (中廣) interview, during which he rejected the suggestion that the DPP had made the decision to discipline members in response to his flagging approval rating.
"The order to endorse party nominees applies equally to every DPP politician in the nation, and everyone engaged in politics should know that as party members, their speech and actions are subject to discipline," he said.
Additional reporting by Chou Yan-yu
Comments will be moderated. Keep comments relevant to the article. Remarks containing abusive and obscene language, personal attacks of any kind or promotion will be removed and the user banned. Final decision will be at the discretion of the Taipei Times.