Premier unveils Cabinet picks
Premier William Lai (賴清德) yesterday unveiled a list of seven officials who are to take up new posts in the Cabinet in its latest reshuffle.
The reshuffle is not a denial of outgoing Cabinet members, but was planned to meet the government's needs to implement policies and projects initiated over the past two years, Lai told a morning news conference at the Executive Yuan in Taipei.
Seven agencies are involved in the reshuffle.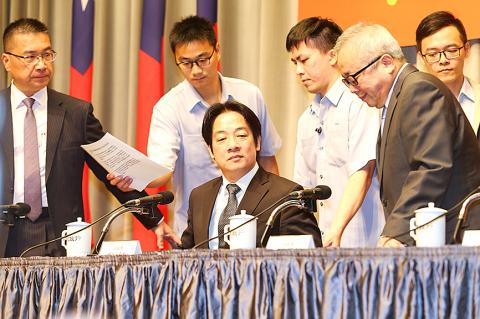 Premier William Lai, center, attends a news conference at the Executive Yuan yesterday at which he announced details of a Cabinet reshuffle that sees Executive Yuan spokesman Hsu Kuo-yung, left, take over as minister of the interior, among other appointments.
Photo: CNA
Minister of the Interior Yeh Jiunn-rong (葉俊榮) is to become minister of education, filling the post vacated by Wu Maw-kuen (吳茂昆), who resigned in late May in an ongoing political storm surrounding the Ministry of Education's rejection of Kuan Chung-ming's (管中閔) election as National Taiwan University president.
Yeh has said that he wants to return to education, which he is passionate about, Lai said.
However, as he and President Tsai Ing-wen (蔡英文) value Yeh's accomplishments as an academic in law and as a tenured government official, they asked Yeh to be education minister, a role in which he could help more students than if he were to go back to teaching, Lai said, adding that he was glad that Yeh agreed to the request.
Yeh is not only a renowned academic, but he is also patient and capable of generating innovative ideas, the premier said, adding that he believed that with these qualities, Yeh could meet the challenges facing all levels of education and foster a new generation of talent.
Meanwhile, Executive Yuan spokesman Hsu Kuo-yung (徐國勇) is to take over as minister of the interior, Lai said.
Hsu has a doctorate in law and is familiar with the government's policies, having served as Executive Yuan spokesman for two years, which makes him an ideal candidate for the post, he said.
Hsu used to be a reporter and a lawmaker, and is articulate and perceptive of public opinion, which are desirable qualities when streamlining interdepartmental efforts and communication between the government and civil groups, the premier said.
Hsu's priority would be cracking down on the sale and circulation of illegal drugs, followed by fighting crime and improving social security, Lai said.
Deputy Minister of Finance Su Jain-rong (蘇建榮) is to replace outgoing Minister of Finance Sheu Yu-jer (許虞哲), who has expressed his desire to "pass the baton" after helping complete sweeping tax reform, Lai said.
Su served as Taipei Department of Finance commissioner before being appointed deputy finance minister, which has equipped him with the abilities necessary to oversee the operations of the treasury, customs, taxation system and national property, Lai said.
Investigation Bureau Director-General Tsai Ching-hsiang (蔡清祥) is to take the helm at the Ministry of Justice, replacing outgoing Minister of Justice Chiu Tai-san (邱太三).
Tsai Ching-hsiang's work as Investigation Bureau head was highlighted by the major drug busts he led, which effectively addressed the problem of substance abuse, Lai said.
His appointment demonstrates the government's resolve to fight narcotics and meet public expectations of a safe society, he added.
Taiwan International Ports Corp chairman Wu Hong-mo (吳宏謀) is to take over the position of minister of transportation and communications and is to help the nation adopt "greener" commuting habits and carry out the various rail construction and transportation projects under the Cabinet's Forward-looking Infrastructure Development Program on the foundation laid by outgoing Minister of Transportation Hochen Tan (賀陳旦), Lai said.
The decision to replace Hochen was not surprising to many, as he had been the target of criticism for his handling of several events.
Those include the Dragon Boat Festival holiday in 2016, when Hochen chose not to waive freeway tolls between 12am and 5am, which was widely perceived a drastic break from the ministry's past policy of offering waivers to ease holiday traffic.
Former Council for Cultural Affairs minister Chen Chi-nan (陳其南) is to replace National Palace Museum Director Lin Jeng-yi (林正儀), who resigned over personal issues, Lai said.
Chen is to focus on planning development projects for the National Palace Museum's Southern Branch and boosting its international profile, Lai said.
Democratic Progressive Party (DPP) Legislator Kolas Yotaka is to replace Hsu as Executive Yuan spokeswoman.
Like Hsu, Kolas was a reporter, as well as a news anchor, and she would be able to precisely communicate government policies to reporters, Lai said.
Her experience in public service as a former Taoyuan Department of Indigenous Affairs commissioner and later as a legislator has provided her with a good understanding of the government's work, he said.
The new Cabinet members are to take office on Monday, Lai said.
Asked by reporters how the Executive Yuan plans to address the NTU presidential election — which has been in a limbo since January — now that Yeh is to become education minister, Lai said that the developments surrounding the issue run counter to social expectations, but the Executive Yuan's stance on the issue has always been that it respects the education minister's right to exercise their authority.
Additional reporting by Shelley Shan
Comments will be moderated. Keep comments relevant to the article. Remarks containing abusive and obscene language, personal attacks of any kind or promotion will be removed and the user banned. Final decision will be at the discretion of the Taipei Times.