Live-fire exercises axed over upkeep work, not Beijing
GET SMART: The military is operating under a normal state of readiness and there is no need to take the drills seriously: Executive Yuan spokesman Hsu Kuo-yung
Penghu Defense Command yesterday denied rumors that an abrupt cancelation of live-fire exercises planned for yesterday was motivated by Chinese military drills off the coast of Quanzhou.
The cancelation was due to drills and weapons' maintenance work having been completed just last month, and had nothing to do with fears of sparking conflict in the Taiwan Strait, as some have speculated, the center said.
On March 22, the center announced that routine live-fire exercises would be conducted between 5:50am and 7am yesterday, advising the public not to come within a 5 nautical mile (9.26km) radius of the area centered in Magong's Wude Borough (五德).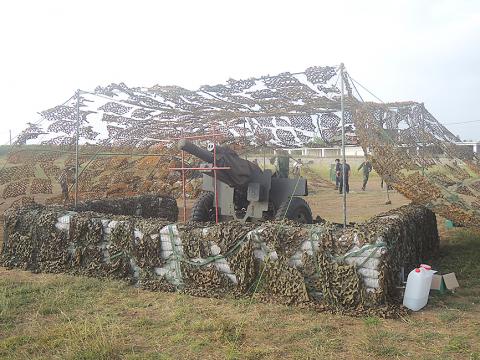 A cannon that was part of a live-fire military drill planned for Penghu County is pictured yesterday after the Penghu Defense Command suddenly announced that it was canceling the drill.
Photo: Liu Yu-ching, Taipei Times
Speculation emerged after the center failed to announce the cancelation three days in advance — as per standard procedure — and only issued an urgent cancelation order on Tuesday.
Speculation was also fueled by the scheduling of Chinese military drills, which were to take place only two hours after the Penghu exercises.
The decision to cancel might also have been motivated by President Tsai Ing-wen's (蔡英文) absence as she left on Tuesday for a four-day official visit to ally nation Swaziland, local media reports said.
As routine drills and maintenance work were completed less than a month ago, there was no need to do them again so soon, the center said, adding that the March 22 announcement was made because planned drills must be announced several weeks in advance.
Executive Yuan spokesman Hsu Kuo-yung (徐國勇) responding to concerns over the Chinese drills said that the government is monitoring the situation and the public should not overreact.
"There are still some nations who go along with whatever China says, but has Taiwan become that weak? We have to have confidence," Hsu said.
Taiwan is a sovereign state called the Republic of China and has no interest in trying to reclaim areas controlled by the Chinese Communist Party, he said in an interview yesterday morning with radio station Super FM Taiwan.
The Democratic Progressive Party yesterday issued a statement criticizing the drills as a "scarecrow move" aimed at causing a rift within society.
Looking at reactions in the media and of some politicians it is clear the move represents a "routine pattern," the statement said.
There is no need to take the drills seriously or let them affect life in Taiwan, Hsu said, adding that the public is already smartening up to China's tactics.
Hsu said he often encountered Chinese live-fire drills when he was stationed in Kinmen for military training.
"It is just small anti-aircraft fire," he said.
The military is operating under a normal state of readiness and has not raised alert levels, Ministry of National Defense spokesman Chen Chung-chi (陳中吉) said yesterday, adding that it is an exaggeration to refer to the small-scale Chinese drills as "military exercises in the Taiwan Strait."
Minister of National Defense Yen Da-fa (嚴德發) had not entered the Heng Shan Military Command Center in Taipei as of press time last night.
National Security Council Deputy Secretary-General Tsai Ming-yan (蔡明彥), who is accompanying Tsai Ing-wen, said the president was busy today meeting Swazi officials and has not had a chance to issue a formal statement, but that she would respond immediately should the need arise.
The president's envoy has been keeping in touch with officials at home, he said.
Additional reporting by Lee Hsin-fang
Comments will be moderated. Keep comments relevant to the article. Remarks containing abusive and obscene language, personal attacks of any kind or promotion will be removed and the user banned. Final decision will be at the discretion of the Taipei Times.