Building rescue efforts continue
FALLING FURTHER: Yun Men Tsui Ti yesterday leaned another 15° and moved a visible 4cm in 10 minutes, prompting a temporary suspension of rescue efforts
Search-and-rescue efforts at the Yun Men Tsui Ti (雲門翠堤) building and the Marshal Hotel (統帥大飯店) in Hualien are ongoing after their partial collapse due to the magnitude 6 earthquake that struck at 11:50pm on Tuesday.
As of 10pm yesterday, police counted four dead, 67 missing and 61 rescued from Yun Men Tsui Ti.
Six adults and one child were reported to still be trapped on the first and second floors of Yun Men Tsui Ti and were awaiting rescue. The building's other floors have been evacuated.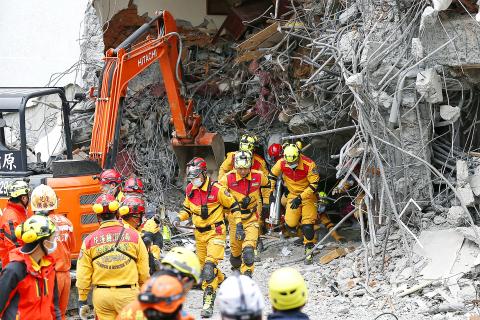 Rescue workers run outside a damaged building during an aftershock in Hualien yesterday.
Photo: Ritchie B. Tongo, EPA
At 10pm, there were four people confirmed dead at Yun Men Tsui Ti, including Tai Shih-chang (戴世璋), a man whose age is unknown, two women who have not yet been identified and a Chinese tourist.
The death toll from the building was initially five, but after doctors resuscitated one victim, the official count was changed to four.
At 3pm, 50 people in the building remained unaccounted for, including 41 residents and nine guests at the Beauty Inn hostel, while 58 residents were extracted from the building.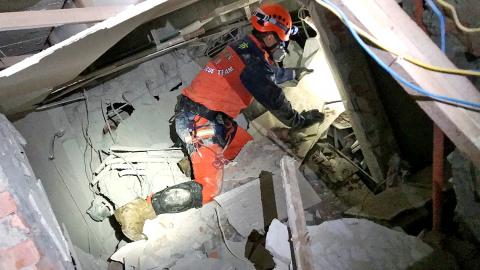 Firefighter Ling Kuo-chih of New Taipei City Fire Department's special search-and-rescue team and his search-and-rescue dog yesterday look for survivors at the partially collapsed Yun Men Tsui Ti complex in Hualien.
Photo: Wu Jen-chieh, Taipei Times
The lean angle of Yun Men Tsui Ti worsened, increasing from 30° to 45° during the day, the county said.
Aftershocks were still being felt as late as yesterday morning, causing the building to continue to tilt south by 1.5cm and west by 0.7cm, East Asia Aeronautics Mensuration Co owner Ni Han-chieh (倪漢傑) said, adding that the increased tilt of the building slowed after teams propped it up with seven steel beams.
The building at 3pm visibly moved 4cm within 10 minutes, causing Hualien County's forward command base to suspend all search-and-rescue efforts until 5pm, the county said.
A firefighter yesterday tries to put out a fire as the partially collapsed Yun Men Tsui Ti complex in Hualien begins to smolder.
Photo: CNA
The command base at 5:51pm ordered search-and-rescue operations to resume, it added.
Three employees were trapped inside the collapsed Marshal Hotel, the county said, adding that Chen Ming-hui (陳明輝) was the first to be rescued at 4:40am.
After a sweep of the building, the Hualien County Fire Department in collaboration with helpers from Taichung and Taitung County were certain that all occupants on the fifth floor and above had been evacuated, which only left the two graveyard shift employees — 35-year-old Chou Chih-hsuan (周志軒) and 20-year-old Liang Shu-wei (梁書瑋) — unaccounted for, the county said.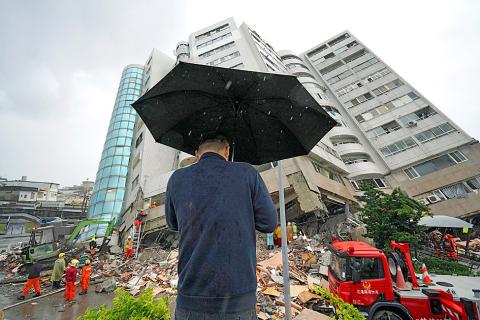 A man yesterday prays outside the Yun Men Tsui Ti complex in Hualien damaged by a magnitude 6 earthquake late on Tuesday.
Photo: Paul Yang, AFP
Sniffing dogs ascertained that both were still alive, but fearing further damage to the structural integrity of the building, the department was forced to chisel their way through.
Chou was extracted first in the afternoon, but was pronounced dead after being sent to the hospital, the county said, adding that Liang was later extracted and is under medical care.
About 423 search-and-rescue personnel, along with 20 search-and-rescue dogs from more than 17 counties and cities were involved in the rescue operations at the two buildings, Hualien County said.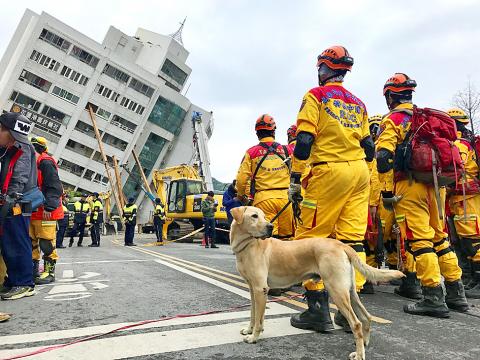 Firefighters and search-and-rescue dogs from cities and counties around Taiwan yesterday join the rescue mission at the partially collapsed Yun Men Tsui Ti complex in Hualien.
Photo: CNA
The Ministry of National Defense also established temporary command headquarters in Hualien City to coordinate 661 military personnel, the county said, adding that more than 40 engineers also arrived on scene to offer technical assistance.
Former Hualien mayor Tsai Chi-ta (蔡啟塔) said he suspected that the severe damage to Yun Men Tsui Ti and the surrounding area was due to soil liquefaction brought about by the earthquake.
The Marshal Hotel and Yun Men Tsui Ti are near the Milun Fault, and the road surface near the hotel was damaged during an earthquake in 1951.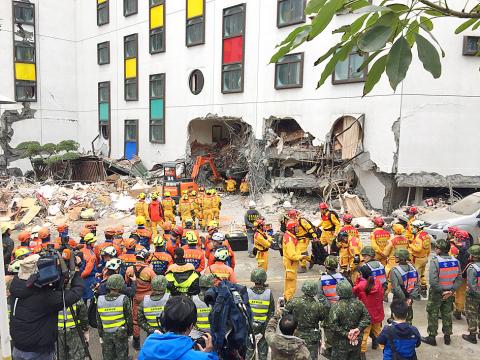 Firefighters and rescue workers wait outside the partially collapsed Marshal Hotel in Hualien yesterday for clearance to resume their search efforts.
Photo: Peter Lo, Taipei Times
Additional reporting by Chang Yi-chen
Comments will be moderated. Keep comments relevant to the article. Remarks containing abusive and obscene language, personal attacks of any kind or promotion will be removed and the user banned. Final decision will be at the discretion of the Taipei Times.