Minister's speech at UN forum attracts Chinese ire
A live-broadcast speech on Thursday by Minister Without Portfolio Audrey Tang (唐鳳) at the UN's annual Internet Governance Forum (IGF) in Geneva, Switzerland, was met with protests by Chinese diplomat Ji Haojun (計顥駿), who accused Tang of advocating "Taiwanese independence" and "one China, one Taiwan."
International delegations met at one of the conference's subforums on how landlocked developing nations, least developing nations and developing small-island states can improve their Internet connectivity and affordability to aid in policymaking, build public infrastructure and introduce services.
Tang streamed her speech using a mobile "telepresence robot."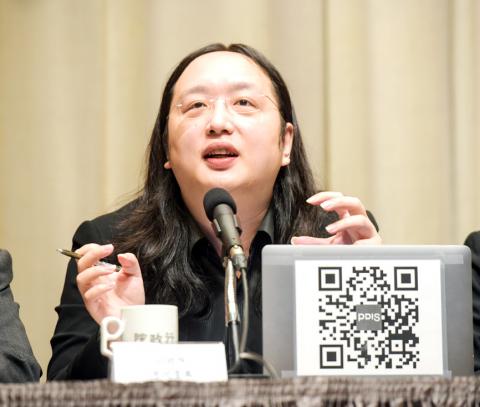 Minister Without Portfolio Audrey Tang speaks at the Executive Yuan in Taipei on Dec. 13.
Photo: Huang Yao-cheng, Taipei Times
She was introduced as the "Digital Minister of Taiwan" by Permanent Representative of Paraguay to the UN Office at Geneva Miguel Ibarra, who chaired the meeting.
While introducing Tang's work in the public and private sectors, Ibarra also used the term "country" to refer to Taiwan numerous times
Taiwan has long been committed to helping its diplomatic allies in building basic infrastructure in various areas, including information and communications technology (ICT), Tang said.
She gave an overview of online services offered by the Taiwanese government, which people use to file taxes, renew drivers' licences, apply for car registration certificates and make doctors' appointments.
She also spoke about the e-Gate system that allows Taiwanese and qualifying foreign travelers swift passage through airport customs in and out of the nation.
With the fruits of steady developments in its ICT sector, the advent of new technologies and a wide Internet coverage, Taiwan — through recommendations by the UN Economic and Social Council and the International Telecommunication Union — has expanded its development assistance to its allies to include e-governance support, Tang said.
Taiwan has initiated ICT partnerships with Belize, Burkina Faso, El Salvador, Paraguay, Palau, Saint Kitts and Nevis, Saint Lucia, Saint Vincent and the Grenadines, Swaziland and Tuvalu to work on a range of projects including integrating traffic monitoring systems, applying geographic information systems, managing medical information and installing wireless local area networks, as well as establishing electronic document systems, she said.
Citing the UN E-Government Survey conducted last year, Tang said that Tuvalu and Palau in particular have reported "significant related improvements," highlighting Taiwan's success in assisting developing countries with their ICT technology.
A few Taiwanese officials provided their input on the topic after Tang.
The move triggered a reaction from Ji, a counselor at China's mission to the UN Office in Geneva.
"I am very concerned about what happened, a couple of people from Taiwan speaking as officials of a so-called national government calling Taiwan a so-called small country," Ji said.
"This is very inappropriate. IGF is a UN platform, which only allows UN-recognized nations to participate, and as a UN platform it is not the place for people to advocate 'one China, one Taiwan' or Taiwanese independence," he said.
"I do not know how these people registered as participants of this meeting, because, according to UN resolutions, such things are not allowed," he said.
"Let me just say that we are not talking politics here. We are just talking policies," Ibarra replied, adding that he had no intention of taking into account any situation other than "contributions from what people are doing well and success stories."
In response to Ji, an ambassador from the Solomon Islands said that it "goes without saying that ICT has no agenda, knows no boundaries or nationalities."
"There should be no restrictions on whichever individual, country or organization that has expertise to sell them to us," he said.
Taiwan is in the same league as the US, Japan, India and China in terms of the technology it can offer that has proven beneficial to the Solomon Islands, which is what attendees were there to learn about, the Solomon Islands ambassador said, adding that he did not see Tang's speech as political.
"In response to our colleague from the Solomon Islands, the UN is first of all a political organization. It is true that the Internet has no borders, but people have nationalities. As for sharing our expertise and experience and even technical and financial assistance to the least developed countries, China stands ready to do that," Ji said.
One of Tang's aides thanked Paraguay for allowing Tang to take part in the meeting by teleconference.
The Ministry of Foreign Affairs yesterday said that Taiwan is a vital stakeholder and contributor in the field of Internet governance and that Tang having been invited to speak at the event showcased the nation's contributions and capabilities in the field.
Additional reporting by CNA
Comments will be moderated. Keep comments relevant to the article. Remarks containing abusive and obscene language, personal attacks of any kind or promotion will be removed and the user banned. Final decision will be at the discretion of the Taipei Times.