Lawmakers to review espionage bill
'ONE CHINA': The amendment aims to work around Chinese spies' actions not being considered 'foreign aggression' due to the Constitution including China in the nation
The Legislative Yuan's Judicial Committee is tomorrow to review a draft amendment to the Criminal Code proposed by Democratic Progressive Party (DPP) Legislator Wang Ding-yu (王定宇) stipulating that Chinese spies and their collaborators should be convicted of "offenses against the external security of the state" (外患罪).
None of the punishments stipulated in the Criminal Code of the Armed Forces (陸海空軍刑法), the National Security Act (國家安全法), the Classified National Security Information Protection Act (國家機密保護法) and the National Intelligence Services Act (國家情報工作法) are strict enough to deter spies, Wang said.
While those laws have been amended over the past few years to stipulate stricter penalties, they are still too lenient and have proven ineffective in deterring spies, he said.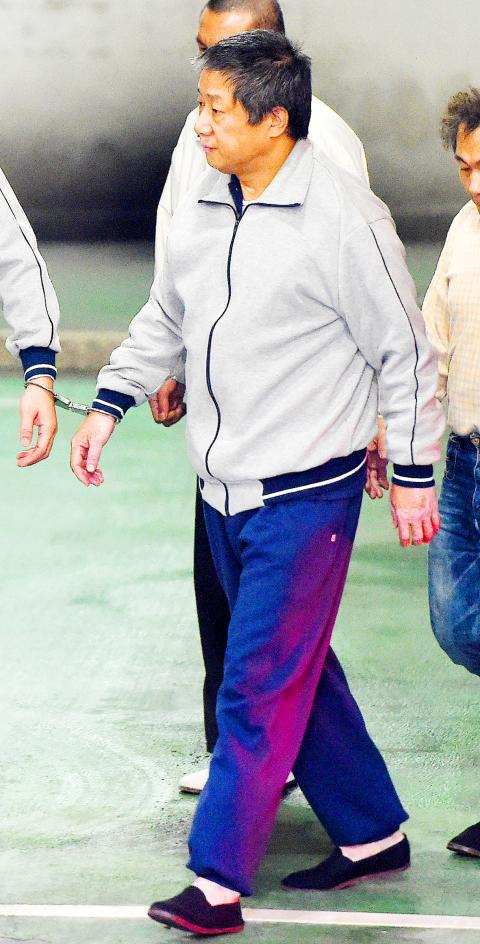 People's Liberation Army intelligence officer Zhen Xiaojiang is escorted out of the Taipei District Prosecutors' Office on Jan. 16, 2015.
Photo: Liao Chen-huei, Taipei Times
Former Chinese People's Liberation Army intelligence officer Zhen Xiaojiang (鎮小江), the mastermind behind the nation's most serious security breach, in 2015 received a four-year prison term under the National Security Act.
Retired major general Hsu Nai-chuan (許乃權) was given a 34-month sentence for colluding with Zhen, with his pension payments to resume once he leaves jail.
Had the pair been tried under the Criminal Code, they could have received a life sentence or the death penalty.
However, as the Constitution includes China in the nation's territory, their crimes are not legally regarded as "foreign aggression."
The bill aims to circumvent the legal obstacle by changing the wording in the Criminal Code addressing espionage from "foreign nations" (外國) to "foreign nations or the nation's enemies" (外國或敵人) and from "enemy nations" (敵國) to "enemies" (敵人).
The bill defines "enemies" as "countries or organizations that engage in armed conflict or a military standoff with the Republic of China" (與中華民國交戰或武力對峙之國家或團體), the wording used in the Criminal Code of the Armed Forces.
Only by associating Chinese spies with offenses against the security of the state by a foreign aggressor can they be effectively curbed, Wang said.
Wang submitted the legislation in November last year, but the Chinese Nationalist Party (KMT) caucus struck it down 10 times before the DPP caucus on Tuesday voted to send it to committee review.
The Ministry of Justice said the laws are in place to punish any action that compromises national security or is against the nation's interests.
It advised against amending the Criminal Code, saying that the wording in one of the bill's articles alternates between "enemies" and "enemy nations" and includes "the nation," which it called a loophole.
Comments will be moderated. Keep comments relevant to the article. Remarks containing abusive and obscene language, personal attacks of any kind or promotion will be removed and the user banned. Final decision will be at the discretion of the Taipei Times.