Government to subsidize rooftop panels
SOLAR SYSTEMS: The government is to offer subsidies for communities in remote areas and ease the restrictions on installing solar panels on illegal rooftop structures
The Cabinet has approved a plan to subsidize the construction and design costs of residential rooftop solar systems, starting next year, as part of its efforts to boost solar power generation.
A stimulus package introduced yesterday would offer subsidies to households installing rooftop solar systems, covering 40 percent of construction costs and 100 percent of design costs, from next year to 2020, Minister of Economic Affairs Shen Jong-chin (沈榮津) said.
The government would also offer subsidies for the construction of public solar power stations in remote areas and Aboriginal lands, covering 100 percent of design costs, Shen said.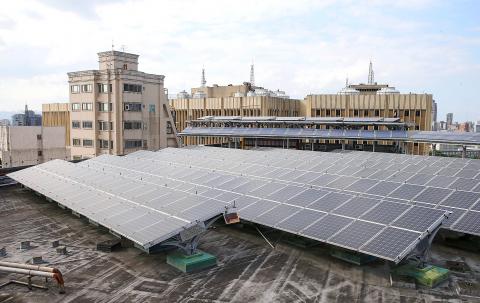 Part of the roof at Nanmen Market in Taipei that holds a solar-panel array is pictured yesterday.
Photo: CNA
It would offer a subsidy of up to NT$600,000 for each power station for the construction of power lines, and would promise to purchase the extra electricity generated, Shen added.
The package is part of the government's efforts to phase out nuclear power and increase the share of renewable energy to 20 percent of the nation's power supplies by 2025.
The government hopes to increase the power generation capacity of rooftop solar systems from 410 megawatts at present to 3,000 megawatts by 2020, Shen said.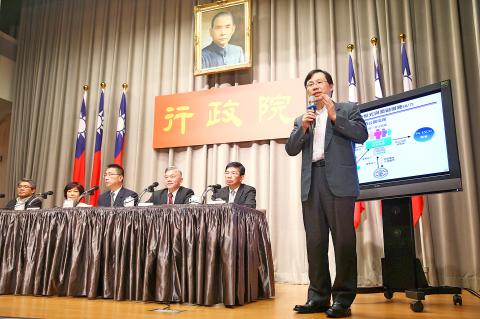 A government official yesterday tells a news conference about the government's solar roof plan at the Executive Yuan in Taipei following a Cabinet meeting.
Photo: CNA
The government would first target homes with the goal of converting communities into solar power plants, and then encourage people living in remote areas to install rooftop solar systems and build public power stations, he said.
It would also require private companies that consume more than 800 kilowatts of electricity per month to construct rooftop solar power systems, Shen said.
"The domestic market will be bolstered with the development of rooftop systems. The solar panel industry, iron factories, electricians and the shipping industry will all benefit," Shen said.
The package also eases building restrictions on illegal rooftop structures.
Owners of illegal structures would not be able to apply for a license to build solar systems, but the Cabinet is planning to lift the ban to allow solar panels to be placed on such structures if the combined height does not exceed 4.5m, Deputy Minister of the Interior Hua Ching-chun (花敬群) said.
"However, that does not mean illegal structures will be legalized. Those structures are still illegal even if they are topped with solar panels, but the solar panels could be kept even if the structures are demolished," Executive Yuan spokesman Hsu Kuo-yung (徐國勇) said.
Premier William Lai (賴清德) said that the growth of renewable energy can create jobs and increase Taiwan's global influence.
The Cabinet also plans to establish a legal platform to eliminate gray areas in the law for start-ups and innovators in a bid to build a friendly investment environment.
The platform, to be led by the National Development Council, is to smooth out legal uncertainties encountered by businesses that are developing a new business model.
The Cabinet said that in principle it would allow everything that is not prohibited by the law.
Comments will be moderated. Keep comments relevant to the article. Remarks containing abusive and obscene language, personal attacks of any kind or promotion will be removed and the user banned. Final decision will be at the discretion of the Taipei Times.