Police investigate acid attack at NTU
A HEATED DISPUTE: Two students and one security guard were burned with sulfuric acid when an argument between an alleged couple turned violent
Taipei police were yesterday investigating an acid attack at a National Taiwan University (NTU) dormitory, where the alleged perpetrator is suspected of having committed suicide after harming three people, one of whom is believed to be his former boyfriend.
The suspect, a 25-year-old National Taiwan University of Science and Technology graduate surnamed Chang (張), apparently killed himself with a fruit knife.
Chang went to the dormitory in the early hours of yesterday morning to speak with a 23-year-old NTU Department of Psychology graduate student surnamed Hsieh (謝), Daan Police Precinct Deputy Chief Huang Kuo-chen (黃國珍) said.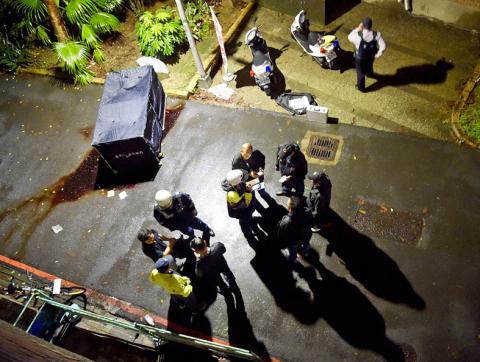 Police investigate a crime scene yesterday morning outside a National Taiwan University dormitory in Taipei, where a man allegedly carried out an acid attack that left three people injured before killing himself.
Photo: Lu Chun-wei, Taipei Times
Chang reportedly had a heated argument with Hsieh, who was with another NTU student, surnamed Luo (駱), in the dormitory's guest meeting room, police said.
Chang allegedly threw an open vial of acid at Hsieh and Luo, police said, adding that the acid burned Chang and a security guard, surnamed Ku (谷), who was trying to calm the situation.
Witnesses said that Chang then took out a fruit knife and tried to stab Hsieh before chasing him outside.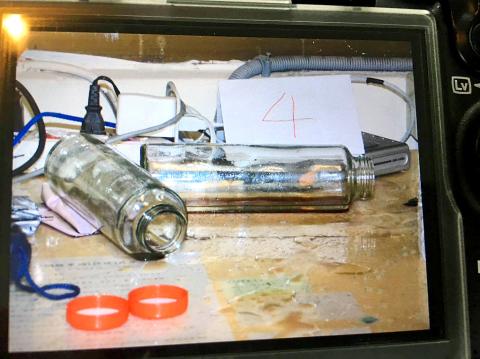 Vials containing sulfuric acid found in a backpack belonging to a man surnamed Chang are pictured in Taipei yesterday.
Photo: CNA, provided by Taipei police
Police quoted witnesses as saying that Hsieh fell to the ground and Chang, perhaps assuming that Hsieh was dead, stabbed himself several times before throwing acid on his neck in an apparent suicide attempt.
"I saw them running outside. Both men had damaged skin and smoke coming off their bodies," one witness said.
The injured were taken to hospital.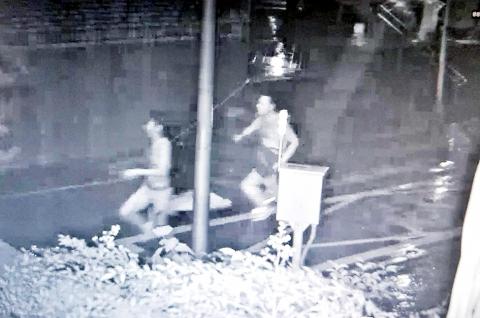 A screen grab provided by police shows what is presumed to be a man surnamed Chang, right, chasing a man surnamed Hsieh at National Taiwan University in Taipei yesterday following an argument.
Photo: CNA, provided by Taipei police
Chang was pronounced dead at the scene.
The attack appears premeditated, as Chang had a knife, glass vials containing sulfuric acid and a stun gun in his backpack, police said.
As of press time last night, Hsieh was in a critical condition.
He sustained serious cuts and acid burns on more than 60 percent of his body, doctors said.
Luo and Ku's conditions were not critical, because they were only partly burned, they added.
Prosecutors yesterday investigated the crime scene and interviewed witnesses, two of the victims and their family and friends.
An autopsy was performed on Chang to determine if he had consumed alcohol or drugs prior to the attack.
According to media reports and discussion threads on Professional Technology Temple (PTT), the nation's largest online academic bulletin board, Chang was romantically involved with Hsieh, with some citing as evidence that both men shared information in support of same-sex marriage on Facebook.
"One of the men wanted to break up, but the other did not," Ku told reporters.
"[Hsieh] had told his mother about his sexual orientation. He did not dare to tell me and I did not want to ask," Hsieh's father, who visited his son in hospital, told reporters.
Hsieh's parents said they had met Chang, as their son had brought him home once and said that they were good friends.
Comments will be moderated. Keep comments relevant to the article. Remarks containing abusive and obscene language, personal attacks of any kind or promotion will be removed and the user banned. Final decision will be at the discretion of the Taipei Times.