Lee Ching-yu seeks understanding
DESPERATE Lee Ming-che's wife said 'unbearable' statements he might make while on trial would be the result of Beijing's proficiency in forcing confessions
Lee Ching-yu (李凈瑜) — wife of Taiwanese human rights advocate Lee Ming-che (李明哲), who is imprisoned in China on charges of subversion — yesterday said her husband might be pressured into pleading guilty when his trial opens tomorrow.
"At this moment, I want to ask my compatriots for their understanding if they see him do or say anything unbearable in court outside of his free will," she told a news conference in Taipei. "This is just the Chinese government being adept" at forcing confessions, she said.
She said she would attempt to enter China on a landing visa today, as moves by the Chinese government have thrown her invitation to observe her husband's trial into doubt.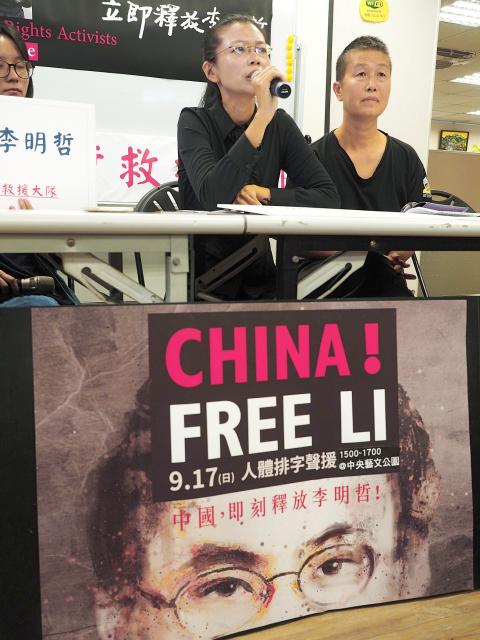 Lee Ching-yu, center, wife of Taiwanese human rights activist Lee Ming-che, who is detained in China, speaks at a news conference in Taipei yesterday.
Photo: EPA
The Mainland Affairs Council, which has been helping arrange plane tickets and travel documents, has advised her to attempt to enter China on a landing visa, following the failure of an application for a new "Taiwan Compatriot Permit" after she refused to renew contact with her husband's Chinese-appointed lawyer, she said.
She said a man named Zhang Zhongwei (張忠偉) called her on Thursday to inform her of her husband's impending trial at the Intermediate People's Court in Yueyang, Hunan Province, instructing her to immediately apply for travel documents.
"As I do not acknowledge the validity of the Chinese court, I will not get involved in legal details other than asking the time and location of the trial, because I want to see my husband," Lee Ching-yu said. "I am not going to participate, I am going to see my husband and tell him I stand with him."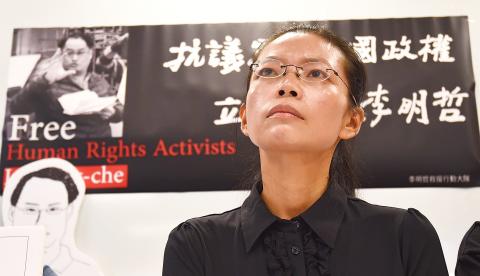 Lee Ching-yu, the wife of detained human rights activist Lee Ming-che, holds a news conference in Taipei yesterday.
Photo: Liu Hsin-de, Taipei Times
Her previous Taiwan Compatriot Permit was revoked by Beijing in April, which prevented her from flying to China to search for her husband.
Judicial Reform Foundation executive secretary Hsiao I-ming (蕭逸民) said that he, former Democratic Progressive Party legislator Wang Li-ping (王麗萍), one unnamed human rights advocate and officials from the council and the Straits Exchange Foundation (SEF) have sent official applications to China's Taiwan Affairs Office to accompany Lee Ching-yu to the trial, but the prospects look bleak.
"We will not attempt to attend or get close to the trial site as private individuals, because that would very likely result in a second Lee Ming-che. We will go only if we receive official permission," Wang said, adding that she had directly contacted the Yueyang court.
The court said that while Lee Ming-che is to be given an "open" trial, Taiwanese may only observe if they receive permission from the Taiwan Affairs Office, she said.
"Under Chinese law, only close relatives — namely Lee Ming-che's wife, mother and father — have a right to attend, and it looks like authorities will not permit anyone else, including SEF officials," Wang said.
"While they are saying this is an open trial, that is not the truth if they are only going to let their own people observe," Taiwan Association for Human Rights secretary-general Chiu Ee-ling (邱伊翎) said, echoing advocates' charges that China is taking steps to ensure its full control over a show trial.
"In choosing to put on an open trial, the signal they are sending is that Lee Ming-che is going to make a public confession. The Chinese lawyer's manipulation of his mother is just more proof that this is all a show," Wang said.
She was referring to reports on Friday that Lee Ming-che's mother, who is in her 70s and has never appeared publicly in connection with the case, had suddenly applied through the council to attend the trial.
Lee Ching-yu confirmed that she had sent the council a message in an attempt to prevent her mother-in-law's attendance at the trial.
"My objective was to save a desperate situation and stop a humiliating show," she said.
Lee Ming-che's mother has a "different political stance" from her son and daughter-in-law and has called on her son to "apologize to his Chinese mother country" after learning of his detention, Wang said.
She also threw out his collection of books and political materials during Lee Ching-yu's trip to the US in May, she added.
While Lee Ming-che has been charged with attempting to overthrow the Chinese government, Lee Ching-yu has maintained that he was visiting China to share Taiwan's "experience of democratization" with Chinese friends.
The Chinese government has apparently decided to wrap up Lee Ming-che's case prior to the Chinese Communist Party's 19th National Congress next month, even though a final outcome remains uncertain, Wang said.
"The problem is that his mother's paperwork has gone through, but ours has not," Wang said. "Chinese authorities seem to be making participation dependent on whether Lee Ching-yu will play their assigned role for her."
While the council requested that Lee Ching-yu contact her husband's lawyer, its advice that she pursue a landing visa demonstrates that it has had some contact with Chinese authorities, despite official avowals to the contrary, Wang said, adding that Lee Ching-yu rejected its requests because her husband's case is a "political question."
Chiu said that she and Covenants Watch chief executive officer Huang Yi-bee (黃怡碧) are to still meet tomorrow for an initial UN Human Rights Council Working Group on Enforced or Involuntary Disappearances meeting on Lee Ming-che's case.
The sudden announcement and timing of his trial have effectively forestalled Lee Ching-yu's participation at the meeting, she added.
Additional reporting by CNA and AP
Comments will be moderated. Keep comments relevant to the article. Remarks containing abusive and obscene language, personal attacks of any kind or promotion will be removed and the user banned. Final decision will be at the discretion of the Taipei Times.