Tsai promises to boost cultural policy
'SOFT POWER': The president said the opening ceremony of the Taipei Summer Universiade showed that Taiwan compares favorably to the efforts of other nations
President Tsai Ing-wen (蔡英文) yesterday said she is looking forward to more democratic and diverse dialogue at the National Cultural Congress, promising that the advice received from the public at the congress would be incorporated into her administration's cultural policy white paper.
Speaking at the opening ceremony, Tsai called on academics and the public to engage in discussions and present ideas that can elevate cultural policies.
"We live in changing times and cultural policy needs new ideas and experimentation," she said. "We have to upgrade our cultural policy as the nation transitions."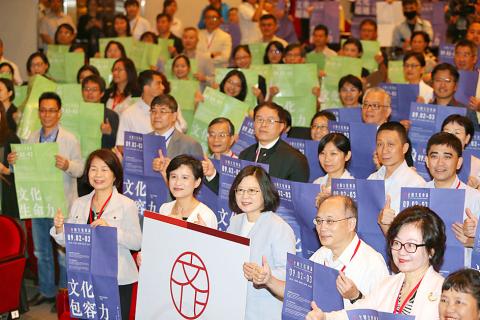 President Tsai Ing-wen, front row, center, and Minister of Culture Cheng Li-chiun, front row, second left, attend the opening ceremony of the National Cultural Congress in Taipei yesterday.
Photo: CNA
A wave of digitalization and the increased footprint of foreign immigrants and workers have enriched Taiwan's culture since similar congresses in 1990, 1997 and 2002, she said.
"We are all cultural citizens, each with the right to find the core values of Taiwan's culture," Tsai said.
"Taiwan is not large, but our cultural soft power does not lag behind that of the world's major countries," she said, adding that culture is the nation's soul and bestows power when it has vitality.
Tsai, who attended the previous National Cultural Congress as then-head of the Mainland Affairs Council, said that the nation's soft cultural power — including the opening ceremony of the Taipei Summer Universiade last month and HBO Asia's TV series The Teenage Psychic (通靈少女) — "do not pale in comparison to that of other countries."
"These examples show that we are becoming more international and if we can establish a more complete system, the younger generation will be able to find its roots here and in the process dig up an endless amount of subject material," she said.
This congress is an important milestone and the advice of different sectors of society would be incorporated into a national white paper on cultural policy after a clear consensus is reached, Tsai said.
"We are inviting everyone to cultivate Taiwan's culture together and this task is not going to end just because we have held a meeting today," she said.
The congress is the culmination of cultural meetings across the nation from March to June that have helped the public to express their thoughts on the administration's cultural policies.
Minister of Culture Cheng Li-chiun (鄭麗君) said her discussions with groups and workers left her with a strong sense that many feel "the government's support system is never adequate."
The government's cultural policy needs to integrate with everyday life, Cheng said.
Preparations for the congress had been under way for more than a year and it followed a "marathon" half-year of regional meetings, she said.
Comments will be moderated. Keep comments relevant to the article. Remarks containing abusive and obscene language, personal attacks of any kind or promotion will be removed and the user banned. Final decision will be at the discretion of the Taipei Times.