Protesters disclose 'guerrilla' tactics
'INSIDE INFORMATION': Taiwan Policemen Association official Chen Chih-chieh said that police preparations can reveal whether the president would be in a motorcade
High supporter numbers, leaks in the police department and assistance from former police officers are enabling protesters to run effective "guerrilla" campaigns, despite increased security around President Tsai Ing-wen (蔡英文), pension reform opponents said yesterday, adding that "mobile human wall" tactics to keep them away from Tsai's motorcade would not work.
Protesters have promised to "shadow" Tsai following the passage of pension reforms last month and have had some success in breaking through an increased police presence around the president, including briefly halting her motorcade outside National Defense University in Taipei's Beitou District (北投) on Thursday last week.
"There are only two roads in and out of the university, so where could she go? The police cannot change the roads," said Keng Chi-wen (耿繼文), a former director of the National Police Agency's Internal Affairs Office, who has been one of the most prominent former police officers participating in protests.
Security personnel guide President Tsai Ing-wen, second left, as she arrives at National Defense University amid protests in Taipei on Friday last week.
Photo: Liu Hsin-de, Taipei Times
Protesters stood along both sides of Zhongyang N Road, moving in front of Tsai's motorcade as it approached the university entrance before being pushed aside by police.
An increased police presence and barricades around Tsai to keep protesters from getting too close when she arrives at a destination means that "guerrilla" tactics have been used to get close to her, with former police officers who are familiar with presidential security helping show protesters how to congregate and scatter along potential motorcade routes, Keng said.
"We are experts, so it is easy for us to predict the president's route and backup route," he said, adding that protesters also often receive leaked information from police.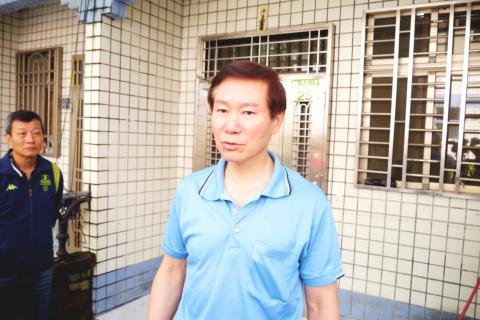 Former National Police Agency official Keng Chi-wen speaks to reporters in Hualien on May 23.
Photo: Wang Chun-chi, Taipei Times
"We can make quick observations and then divide our forces along potential routes, so there is a chance of blocking her regardless of which way they drive," he said.
"It might be different if Tsai was just a movie star who could come and go quietly, but presidential security leaves an extremely obvious footprint," Taiwan Policemen Association executive director Chen Chih-chieh (陳志傑) said, adding that protesters relay signs of police reconnaissance and barricading via social media to predict the president's movements and mobilize quickly.
"There are different standard operating procedures for the president compared with the vice president or a minister, so we can predict who is coming based on police preparations," Chen said.
Reports that police plan to begin deploying a "mobile human wall" to counter protesters' tactics drew disparaging remarks.
"Even if they block off one point, we will just catch Tsai later on," Keng said.
"Even if the wall succeeds, the sight of policemen being forced to run around would still be embarrassing to Tsai, which is our objective," Chen said.
It is possible Tsai might be faced with a car suddenly "breaking down" in front of her motorcade, Yunlin County Retired Police Officers Association executive director Lai Kun-yu (賴坤柚) said.
Comments will be moderated. Keep comments relevant to the article. Remarks containing abusive and obscene language, personal attacks of any kind or promotion will be removed and the user banned. Final decision will be at the discretion of the Taipei Times.