Tsai's approval rating dips to new low
MONTHLY SURVEY: Tsai could be hurt more if she rams her infrastructure development budget through the legislature, the Taiwanese Public Opinion Foundation chair said
President Tsai Ing-wen's (蔡英文) approval rating has dropped to a new low of 33 percent due to diplomatic failures and the unpopularity of her administration's key policies, a monthly opinion poll released yesterday found.
The poll by the Taiwanese Public Opinion Foundation found that Tsai's approval rating has dipped from 39.4 percent last month to 33.1 percent this month, her lowest rating since taking office in May last year, while her disapproval rating was 49.6 percent this month.
The approval rating for Premier Lin Chuan's (林全) Cabinet fell from 34 percent last month to 28.7 percent, and its disapproval rating rose from 58.1 percent to 61.1 percent, the highest in the monthly survey since December last year.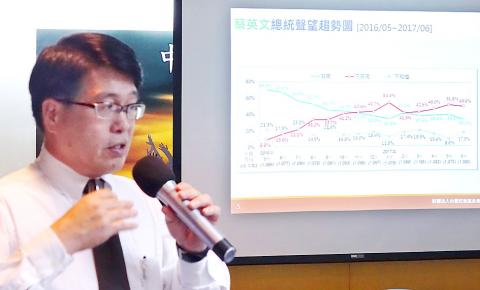 Taiwan Public Opinion Foundation chairman You Ying-lung yesterday presents the results of the foundation's latest monthly opinion poll at a news conference in Taipei.
Photo:Chu Pei-hsiung, Taipei Times
Tsai's approach to cross-strait relations did not please 58.2 percent of respondents, the highest level since August last year, while 34.6 percent were satisfied with her approach.
The decline in Tsai's approval rating is linked to a growing public perception that her policy of maintaining the cross-strait "status quo" is increasingly unviable, said former Tainan county commissioner Su Huan-chih (蘇煥智), a member of the Democratic Progressive Party (DPP).
"Tsai should define the 'status quo' in more clear terms, but she has not affirmed that Taiwan is an independent sovereign nation" since taking office, said Su, a lawyer who attended a news conference on the poll's release in a private capacity.
The growing dissatisfaction with Tsai is bipartisan, as Taiwan-China unification supporters disapprove of her refusal to accept the so-called "1992 consensus" and Taiwanese independence supporters are increasingly unsatisfied with her lack of affirmation of Taiwan's independence or self-determination, foundation chairman You Ying-lung (游盈隆) said.
Public dissatisfaction with Tsai has solidified over the past eight months and is likely to grow given the loss of diplomatic ties with Panama, the controversial Forward-looking Infrastructure Development Program and the Council of Grand Justices' ruling on same-sex marriage, the foundation said.
While 47.6 percent of respondents said they were not worried about the loss of more diplomatic allies following Panama's shift in diplomatic recognition from Taiwan to China on June 12, 46.6 percent said they were.
Tsai's handling of the Panama incident was rated as unsatisfactory by 53 percent of respondents, while 26.5 percent said they were satisfied, and 64 percent said they were not confident that the Ministry of Foreign Affairs could maintain Taiwan's international space.
Just 26.4 percent of respondents had confidence in the ministry to maintain Taiwan's international space, and 64 percent said they were not confident.
Asked about pension reform, 41.7 percent of respondents said a proposal to phase out the 18 percent preferential savings rate for retired public service employees is well-paced, 31.9 percent said it is too slow and 14.6 percent said it is too fast.
A proposal to lower the income replacement ratio of public employees from 75 percent to 60 percent in 15 years would be too slow, according to 39.5 percent of respondents, while 36.2 percent thought it was well-paced, and 12.1 percent said it would be too fast.
A large majority of the respondents — 64.3 percent — thought the NT$420 billion (US$13.85 billion) budget for railway projects as part of the infrastructure development program should be suspended, while 21.4 percent said it should be passed immediately.
Only 37.2 percent of the respondents approve of the NT$882.49 billion total for the Forward-looking program, and 50.2 percent said they disapprove.
"Bulldozing the Forward-looking program through the legislature would be the final blow to Tsai's reputation. The political repercussions would be more serious than the five-day workweek law," You said.
The grand justices' ruling on May 24 that same-sex partnerships should be legalized in two years was not welcomed by 49.6 percent of respondents, but 42.9 percent welcomed it.
Asked if adultery should be decriminalized, 69.4 percent of respondents disapproved of the idea and 26 percent approved.
The poll, conducted between Monday and Tuesday last week, collected 1,080 valid samples and has a margin of error of 2.98 percentage points.
The Presidential Office yesterday said the nation needs to speed up the pace at which it improves the nation's infrastructure to end years of economic stagnation.
Presidential Office spokesman Alex Huang (黃重諺) said the most important thing for Taiwan now is to complete all major reforms and infrastructure renewal projects as soon as possible.
"Leading the nation out of years of stagnation is our top priority and the public are expecting it," he said.
Through the efforts made by the government and the people, Taiwan's business climate, exports and economic growth are all showing improvement compared with a year ago, which indicates that the nation is emerging from stagnation and entering a positive cycle, he said.
Huang did not comment on the decline in Tsai's approval rating in the wake of Panama severing ties.
The "1992 consensus" — a term former Mainland Affairs Council chairman Su Chi (蘇起) admitted making up in 2000 — refers to a tacit understanding between the Chinese Nationalist Party (KMT) and Beijing that both sides acknowledge there is "one China," with each side having its own interpretation of what "China" means.
Additional reporting by CNA
Comments will be moderated. Keep comments relevant to the article. Remarks containing abusive and obscene language, personal attacks of any kind or promotion will be removed and the user banned. Final decision will be at the discretion of the Taipei Times.