Lin condemns pension reform protest violence
Premier Lin Chuan (林全) yesterday condemned violence against local government heads and lawmakers allegedly committed by opponents of pension reform proposals, calling on the National Police Agency to expedite an investigation into the incidents.
Lin made the comments during a Cabinet meeting amid complaints from Democratic Progressive Party (DPP) lawmakers that police officers did not properly enforce the law when hundreds of demonstrators protesting pension reforms resorted to violence against them outside the legislature in Taipei on Wednesday in an attempt to disrupt a planned legislative review of the government's proposals.
The use of violence by protesters disrupted the functioning of the nation's democratic institutions, Lin said, pledging to work toward creating clearer and more effective guidelines for law enforcement officials.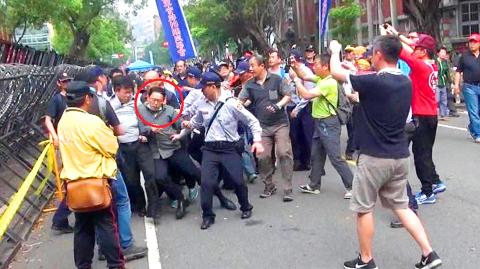 Peng Ke-ying, circled in red, a member of the Pension Reform Oversight Alliance, pushes Taoyuan Mayor Cheng Wen-tsan toward the barricades outside the Legislative Yuan in Taipei on Wednesday during a protest against pension reform proposals.
Photo: copied by Wang Kuan-jen, Taipei Times
Continued delays of the government's pension reforms would lead to substantial setbacks for societal and national development, he said.
Lin said the pension reforms aim to create a sustainable civil servants' pension fund and redistribute the financial burden of future generations more fairly.
It is inevitable that an issue so close to the personal interests of many people would lead to protests and, in a democratic society, certain liberties are granted for people to express themselves, but they "must not transgress relevant national systems or the bounds of law enforcement," Lin said.
Cabinet spokesman Hsu Kuo-yung (徐國勇) said the Executive Yuan is to take responsibility for investigating the alleged violent incidents, including those against Taipei Mayor Ko Wen-je (柯文哲) and Taoyuan Mayor Cheng Wen-tsan (鄭文燦).
"The Executive Yuan expresses its profound sadness at the events that transpired yesterday and unequivocally condemns the acts of violence. We hope protesters will express their demands rationally, and stop hindering lawmakers and officials from conducting official business in the legislature," Hsu said.
Meanwhile, police have so far confirmed 15 separate alleged incidents of protesters breaking the law and 26 alleged perpetrators from video footage of the protests, the Taipei Police Department said.
A total of 13 individuals had been identified as of press time last night and they were to be questioned, the department said, adding that Democratic Progressive Party (DPP) Legislator Wang Ding-yu (王定宇) pressed charges earlier yesterday and SET-TV (三立電視) said it would also press charges for damage to one of its outside broadcast vans.
Among the list of identified suspects were Taipei Metro Union executive member Wang Yu-wen (王裕文), who was alleged to have struck DPP Legislator Lin Chun-hsien (林俊憲) with his elbow.
Peng Ke-ying (彭克英), a member of the Pension Reform Oversight Alliance, allegedly attacked Cheng, Wang Ding-yu, New Power Party Legislator Hsu Yung-ming (徐永明) and Minister of Civil Service Chou Hung-hsien (周弘憲).
One military veteran was arrested on Wednesday for smashing the windshield of the SET-TV van with a hammer, police said.
Comments will be moderated. Keep comments relevant to the article. Remarks containing abusive and obscene language, personal attacks of any kind or promotion will be removed and the user banned. Final decision will be at the discretion of the Taipei Times.