Woman's detention in Malaysia downplayed
DAMAGED PASSPORT: While the Ministry of Foreign Affairs said customs officers were following procedure, the Malaysian deputy prime minister was said to be furious
The Ministry of Foreign Affairs yesterday downplayed an incident in which a Taiwanese woman was detained for 35 hours by Malaysian customs for traveling with a damaged passport, saying the practice is standard procedure.
The woman, nicknamed Chiao Mei (喬妹), took to Facebook on Saturday last week to share her ordeal, saying that because of some damaged inner pages of her passport she was denied entry and subjected to improper treatment by Malaysian customs after she arrived at Kuala Lumpur International Airport on Thursday last week.
"Those pages were torn by Japanese customs when they tried to rip off tax free forms stapled in my passport. Because of that, Malaysian customs officers gave me a hard time, escorting me to an office before confiscating my passport and mobile phone," Chiao Mei wrote.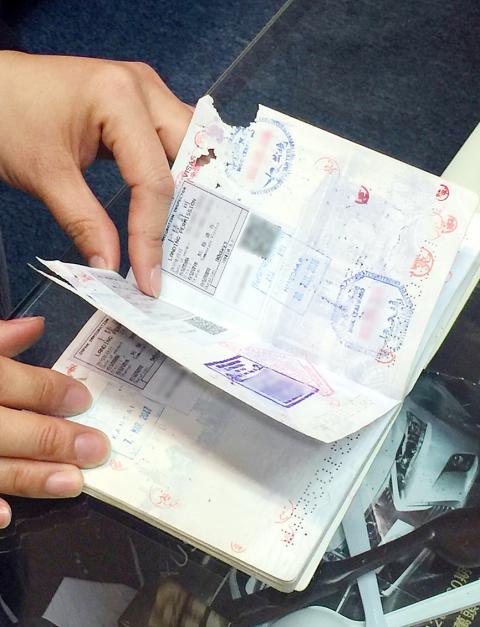 A Taiwanese woman nicknamed Chiao Mei yesterday displays her passport at a news conference in Taichung after she was detained in Malaysia last week.
Photo: CNA
She claimed that a male officer also demanded money from her, adding that her refusal to comply resulted in her being locked up for 35 hours before she was finally deported to Taiwan.
Citing as examples of what she called the Malaysian customs' inhumane treatment of tourists, Chiao Mai said another Taiwanese woman was also detained because she mistakenly showed customs officers the plane ticket from her previous trip to Malaysia, while a Vietnamese woman was slapped in the face by an official over a minor incident.
In response, the ministry said it is part of the standard procedures for Malaysian customs to put tourists who are denied entry in a holding lounge if they cannot board a flight back home on the day of their arrival.
"Nearly 1.5 million passengers pass through Kuala Lumpur International Airport each month. Among them, as many as between 10 and 100 are denied entry every day," the ministry said, adding that the Malaysian customs' handling of Chiao Mei was standard procedure rather than personal.
It urged the public to check for any damage to their passport before traveling to avoid being refused admission at the point of entry.
Dato' Seri Tiong King Sing, the Malaysian prime minister's special envoy to East Asia, yesterday said on Facebook that Malaysian Deputy Prime Minister Ahmad Zahid Hamidi was furious after hearing about the incident because it could damage the nation's image and hurt the tourism industry.
He issued a directive for an investigation into the case.
The Taiwanese traveler should not have been detained and should not have had her mobile phone and other belongings confiscated because she was not a criminal, Tiong said, adding that customs officers should not treat passengers from any nations in such an inhumane manner.
In this case, customs officers should have let the Taiwanese woman telephone a friend in Malaysia, contact Taiwan's representative office or have arranged for her to return to Taiwan as soon as possible, he said.
Additional reporting by CNA
Comments will be moderated. Keep comments relevant to the article. Remarks containing abusive and obscene language, personal attacks of any kind or promotion will be removed and the user banned. Final decision will be at the discretion of the Taipei Times.