Tsai aims to boost female workforce
SOCIAL CHANGE: The government needs to instill concepts of gender equality in its policies to help society transition and encourage women's participation, Tsai said
Sacrificing their careers to take on a caretaker role is not only unfair to women, but also a national loss, President Tsai Ing-wen (蔡英文) said yesterday, pledging to remove all hurdles to increase female participation in the workplace.
Speaking at an event in Taipei organized by the Ministry of Health and Welfare to celebrate International Women's Day, Tsai said that while women have demonstrated remarkable skills in various areas, they are constrained in the workplace because of insufficient government support.
As the burden of caregiving mostly falls on women, many feel compelled to give up their jobs to care for children or family members, Tsai said.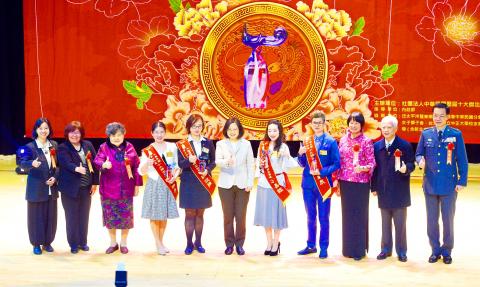 President Tsai Ing-wen, center, attends a ceremony for the Outstanding Young Women Awards in Taipei to celebrate Women's Day yesterday.
Photo: Peter Lo, Taipei Times
Statistics show that the labor participation rate among women falls when they reach about 30 years old, presumably due to marriage.
"This is not only unfair to women, but is also a loss to the nation. That is why supporting and removing barriers to female employment is an important government policy," Tsai said, who was last year elected as the nation's first female president.
According to statistics compiled by the Directorate-General of Budget, Accounting and Statistics, the labor participation rate for married men and women in 2015 stood at 70.5 percent and 49.6 percent respectively.
However, the labor participation rate for unmarried men and women during the same period was not as skewed — at 64.3 percent and 61.5 percent respectively.
Tsai said that the government last year amended the Act of Gender Equality in Employment (性別工作平等法) requiring companies with more than 100 employees to provide childcare facilities, while relaxing rules for government subsidies for smaller corporations planning to offer similar services to workers.
Other efforts include promoting the "long-term services care program 2.0" — which seeks to make quality long-term care accessible to more elderly and disadvantaged people — and easing the requirements for small loans to female entrepreneurs, Tsai said.
The government also plans to integrate different resources to help alleviate the everyday pressures of raising families to allow both parents to focus on their careers, Tsai said.
While it is imperative for the government to increase women's labor participation rates, "allowing all women to be able to fulfill their dreams and make their fair share of contribution to social prosperity is the ultimate goal we should pursue behind those numbers," Tsai said.
"To do that requires changing traditional social values and continued efforts from the government to instill the concept of gender mainstreaming in various policies," Tsai said.
Comments will be moderated. Keep comments relevant to the article. Remarks containing abusive and obscene language, personal attacks of any kind or promotion will be removed and the user banned. Final decision will be at the discretion of the Taipei Times.