Police identify 'White Wolf' son in attack on HK group
RUNNING FREE: Following questioning by prosecutors, Chang Wei was released without bail and has reportedly fled the nation bound for Mexico, where he runs a firm
Police have said that Chang Wei (張瑋), a son of former Bamboo Union (竹聯幫) leader Chang An-le (張安樂), was involved in violence at Taiwan Taoyuan International Airport during a recent visit by Hong Kong pro-democracy leaders, but added that Chang Wei has left Taiwan following questioning into the incident.
Hong Kong lawmakers Edward Yiu (姚松炎), Nathan Law (羅冠聰) and Eddie Chu (朱凱迪), as well as Hong Kong activist Joshua Wong (黃之鋒), arrived at the airport in the wee hours of Jan. 7 and were confronted by more than 100 protesters associated with the pro-unification Patriot Association, with several people wearing masks and black clothes attempting to physically assault them.
A review of surveillance footage showed that four people broke through a police cordon, uttering threats and charging at the visitors, but were tackled and subdued by police.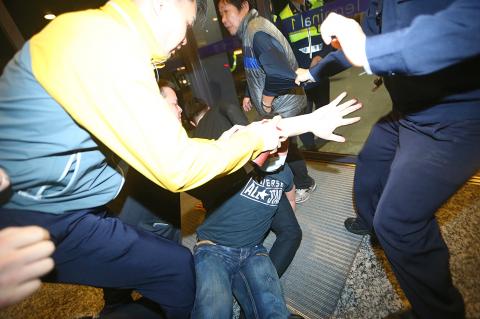 Chang Wei, the second son of China Unification Promotion Party (CUPP) Chairman Chang An-le, falls to the ground as police prevent him from attacking Hong Kong democracy advocate Joshua Wong at Taiwan Taoyuan International Airport on Jan. 7.
Photo provided by a reader
Among the four suspects were 40-year-old Chang Wei, 43-year-old China Unification Promotion Party (CUPP) senior official Kuo Chih-yuan (郭啟源) and 37-year-old Yu Hsueh-cheng (余學誠), police said.
Chang Wei is the second son of 68-year-old Chang An-le, who is commonly known as the "White Wolf" and was one of the Bamboo Union gang's founders.
Chang An-le, whose criminal record includes drug dealing, extortion and violence, has promoted a pro-China ideology as CUPP chairman.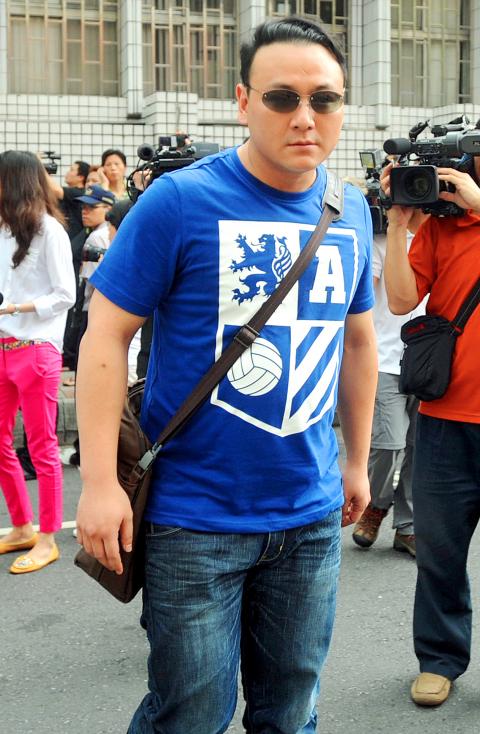 Chang Wei, son of Bamboo Union founder Chang An-le, exits the Taipei District Court on June 26, 2013.
Photo: Wang Yi-sung, Taipei Times
Police also identified senior Four Seas Gang (四海幫) leader Chen Tzu-chun (陳子俊) as allegedly among the main organizers of gangster and pro-China groups mobilized at the airport, which planned to incite violence and chaos on the Hong Kong party's arrival.
Chen was detained incommunicado for suspeceted gang-related activities on Friday as part of a police crackdown on gangs, gambling and other illegal operations.
During questioning by Taoyuan police on Sunday last week, Chang Wei said he was a CUPP member and was at the airport at the time of the incident, but denied engaging in violent acts.
Chang Wei, Kuo and Yu were later summoned for questioning by the Taoyuan District Prosecutors' Office and released without bail.
Sources said Chang Wei took advantage of his release to flee the nation, likely heading to Mexico, where he runs a company.
Comments will be moderated. Keep comments relevant to the article. Remarks containing abusive and obscene language, personal attacks of any kind or promotion will be removed and the user banned. Final decision will be at the discretion of the Taipei Times.