Chinese fishing methods damaging Taiwan's seas
Rapacious and indiscriminate fishing methods used by Chinese fishing vessels are not only damaging the marine ecology in Taiwanese territorial waters, but are also depriving Taiwanese fishermen of their source of livelihood, the Taiwan Coast Guard Administration (CGA) said.
While amendments passed in June last year increasing fines deterred Chinese fishing boats for a short time, with the number of Chinese fishing boats in the area dropping from 277 in 2014 to 79 last year, poachers have been acting in concert of late, the administration said.
Chinese ships were using bad weather to their advantage to fish illegally in Taiwanese waters, making it more difficult for the coast guard to board their ships, the CGA said, adding that a large number of vessels entered Taiwanese fishing grounds in August and used electrofishing, triple-layered gillnets, roller trawls and even poison to catch fish.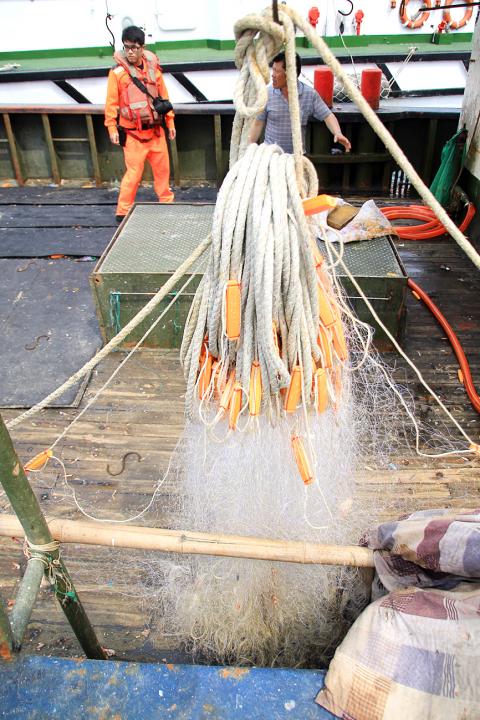 A triple-layered gill net is hoisted onboard a fishing boat from Fujian Province, China in Keelung Harbor on April 2.
Photo: Wu Cheng-feng, Taipei Times
The administration said that in March it stopped a Chinese ship named Ching Ching Fishing 05055 south of the Pratas Islands (Dongsha Islands, 東沙群島) and found three green sea turtles, 15,000kg of coral, 400kg of giant clams and tadpole snails, as well as 40kg of toxic chemicals onboard.
Captain Huang Hsuan-kai (黃宣凱), head of the administration's patrol force in Kinmen, said Chinese fishing boats scoured fishing grounds so thoroughly that they could in one night deprive other fishermen of a catch for three days.
Academia Sinica researcher Cheng Ming-hsiu (鄭明修) said fishing zones around the Pratas Islands and Penghu were the most severely damaged, as they were frequented by illegal fishermen from China and Vietnam.
In the past five years, the CGA has driven Chinese ships away from the two zones more than 700 times, Cheng said, adding that 90 percent of fishing resources in the region have vanished in the past 30 years.
Strong action must be taken to defend waters within 3 nautical miles (5.5km) of the coast, as such areas are typically the zones where fish and shrimp lay their eggs, Cheng said.
A recent spike in the number of crabs and shrimp in New Taipei City's Wanli District (萬里) and Penghu shows that fish that eat young shrimp and crabs are disappearing, Cheng said, adding that if allowed to continue, the food chain would be disrupted.
Keelung Coastal Fishing Association director Lin Hsin-yung (林新永) said that Chinese ships often electrified their roller trawls, which causes great damage to marine life, as well as coral.
Lin said he had heard Chinese fishermen say that they were fishing in Taiwanese waters because their own coastal fishing supplies were running low due to the over-use of blast-fishing techniques.
Lin added that some Chinese ships try to get a cut from Taiwanese fishermen by trying to "muscle" their way into Taiwanese boats to get a share by force.
Comments will be moderated. Keep comments relevant to the article. Remarks containing abusive and obscene language, personal attacks of any kind or promotion will be removed and the user banned. Final decision will be at the discretion of the Taipei Times.