Soong meets Lee Hsien Loong at APEC
HIDING FROM CHINA? Reports that meeting secrecy was due to worries about Beijing prompted a delegation member to say that it would 'not provoke an antagonist'
People First Party (PFP) Chairman James Soong (宋楚瑜), the nation's representative to the APEC leaders' summit in Peru, met with Singaporean Prime Minister Lee Hsien Loong (李顯龍) on Friday, and was expected to later meet other ASEAN leaders.
The two held private talks on Friday afternoon in the capital, Lima, in the company of Soong's daughter and Lee's wife.
Lee was the second APEC representative Soong spoke with since he arrived on Wednesday after he met US Secretary of State John Kerry on Thursday to discuss APEC issues.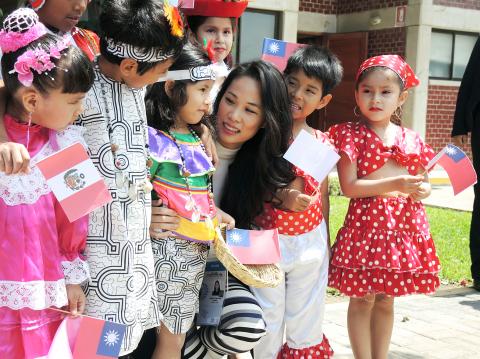 Soong Cheng-mai, center, the daughter of People First Party Chairman James Soong, speaks with children at the SOS Children's Village in Callao, Peru, on Friday.
Photo: Lin Liang-sheng, Taipei Times
Following the meeting with Kerry, the pair issued a joint statement announcing plans to set up an "APEC women and the economy sub-fund."
The fund is to support the key pillars of the APEC Policy Partnership on Women and the Economy — access to capital and markets; skills and capacity building; women's leadership; and innovation and technology.
A source said that Soong was initially under pressure to keep the meeting with Lee secret, but it became public when Lee on Friday night posted photographs on Facebook of the four sitting around a table for tea.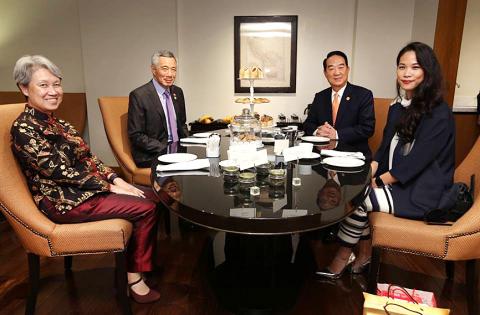 People First Party Chairman James Soong, second right, his daughter, Soong Cheng-mai, right, Singaporean Prime Minister Lee Hsien Loong, second left, and his wife, Ho Ching, pose for a photograph in Lima on Friday.
Screengrab from Lee Hsien Loong's Facebook account
The atmosphere of the one-hour meeting was relaxed and cordial, with Soong's relationship with Lee and Lee's father, the late Singaporean prime minister Lee Kuan Yew (李光耀), among the topics they discussed, said the source, who spoke on condition of anonymity.
Both sides were under great pressure to keep details of the meeting private, the source said, adding that speculation pointed to China as the source of the "pressure."
A member of the Taiwanese delegation, who also requested anonymity, declined to confirm the speculation, but said: "If one does not provoke an antagonist, one will not find themselves obstructed."
Soong would keep details of a meeting private if his counterpart requested privacy, the delegation member said.
The first source said that Soong is also expected to meet with the representatives of other ASEAN members.
"As per summit convention there will be private meetings arranged between leaders outside of the summit hall," the source said, adding that no private meetings had been arranged with Chinese President Xi Jinping (習近平).
As for a potential meeting between Soong and Japanese Prime Minister Shinzo Abe, who arrived in Lima on Friday, the source said talks between the two would not touch upon the issue of food safety, "just as Soong's talks with Kerry did not bring up the issue of US pork."
Meanwhile, Soong's daughter, Soong Cheng-mai (宋鎮邁), and National Security Council Deputy Secretary-General Tseng Hou-jen (曾厚仁) visited the SOS International Children's Village in rural Callao, just outside of Lima.
Soong Cheng-mai spoke with children in Spanish and delivered schoolbags and stationery.
Asked about the chance to meet Xi's wife, Peng Liyuan (彭麗媛), and US first lady Michelle Obama, Soong Cheng-mai said she would take things as they come.
PFP Legislator Lee Hung-chun (李鴻鈞), one of the delegates, said that given the similarity in age and demeanor of Soong Cheng-mai, Michelle and Peng, the group should get along quite well.
Soong Cheng-mai will present the others with gifts of pineapple cakes and tea from Taiwan, Lee Hung-chun said.
Additional reporting by CNA
Comments will be moderated. Keep comments relevant to the article. Remarks containing abusive and obscene language, personal attacks of any kind or promotion will be removed and the user banned. Final decision will be at the discretion of the Taipei Times.