Trump win draws mixed reactions
UNCERTAINTY: Some see continued stable Taiwan-US ties, while others advise caution amid questions over the president-elect's foreign and trade policies
US president-elect Donald Trump's upset win drew mixed reactions from academics and non-governmental organization (NGO) leaders yesterday, from speculation about new arms sales to Taiwan to concern over Taipei's quest to join the US-led Trans-Pacific Partnership (TPP).
A crowd of several hundred reporters, academics and NGO officials gathered for a US presidential election watch event organized by the American Institute in Taiwan (AIT) and Taiwan Democracy Foundation in Taipei, milling through a Shangri-La Far Eastern Hotel ballroom while watching broadcasts of the election.
As servers bedecked in US flag-themed costumes served refreshments, the tension in the room rose as a tight race became apparent.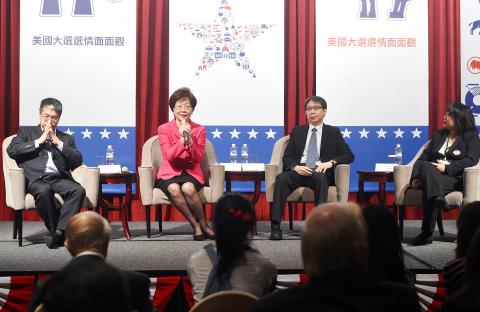 From left to right, Taiwan Thinktank deputy executive director Lai I-chung, Academia Sinica Institute of European and American Studies research fellow Joanne Chang, National Chung Hsing University Graduate Institute of International Politics professor Tsai Ming-yen and Taiwan Foundation for Democracy vice director Ketty Chen yesterday discuss the results of the US presidential election during a seminar in Taipei jointly held by the American Institute in Taiwan and the Taiwan Foundation for Democracy.
Photo: Liao Chen-huei, Taipei Times
While a mock poll of participants conducted by the AIT showed a small majority would have voted for Democratic US presidential candidate Hillary Rodham Clinton, participants gave widely varying responses when asked about their perception of the consequences of the election results for Taiwan.
"In Taiwan, political hands in both parties are very familiar with Clinton's aides, so if she were elected, they would feel more at ease," Tamkang University professor Alexander Huang (黃介正) said. "If Donald Trump was elected, there is going to be a lot of homework not only for us, but for the whole region, and there is a lot that is hard to predict."
Lai I-chung (賴怡忠), an executive committee member of the pan-green Taiwan Thinktank, said Taiwan-US relations would remain stable, with the possibility of some new arms sales because of Trump's emphasis on allies' self-defense.
Participants yesterday take part in a simulated voting activity during a seminar on the US presidential election in Taipei jointly held by the American Institute in Taiwan and the Taiwan Foundation for Democracy.
Photo: Liao Chen-huei, Taipei Times
"The US' foreign policy is not just the product of whatever the president says," Lai said. "While it is still unclear what the content of Trump's foreign policy will be, we will still have a strong Republican congress, as well as the Taiwan Relations Act and the 'six assurances,' so the basic structure of Taiwan-US relations should not change much even if Trump has some new ideas."
"Trump has certainly made statements about East Asia that are different from traditional US policy, whether stating that South Korea and Japan could consider developing nuclear weapons or calling for East Asian countries to bear a greater part of the burden of defending themselves. However, while Japan and South Korea are definitely going to be nervous, there is also an increased possibility of further arms sales to Taiwan, with fewer of the restrictions that have been imposed in the past," he said.
"There may be more pressure to purchase US arms, but they will not necessarily be useful weapons," National Sun Yat-sen University political science professor Liao Da-chi (廖達琪) said, adding that Trump would likely be driven mainly by the desire to profit US firms.
The professor called for a full reconsideration of Taiwan's policy toward the Asia-Pacific region in the face of new uncertainty about US foreign policy.
"Because Trump is a businessman without any background in politics, it is extremely hard to predict what he will do with regard to Taiwan, but he appears inclined to reduce the US' involvement in foreign affairs," she said. "While the Taiwan Relations Act will remain in place, presidents have substantial discretion over the extent to which they implement it."
Other participants urged caution in predicting a potential impact, citing the geopolitical factors underpinning US foreign policy.
"We should be careful not to immediately label Trump as rash," National Chung Hsing University Graduate Institute of International Politics professor Tsai Ming-yeng (蔡明彥) said, adding that who Trump names to his national security team would be a crucial signal of future policy direction.
"The overall alignment from the past several decades should not change, because it is the product of geopolitics, which is not something any one person can change, regardless of who is elected," said Chang Tieh-chih (張鐵志), cofounder of the Chinese-language online publication The Reporter, while adding that the future of the TPP was uncertain because of Trump's opposition to the deal.
"Trump said just a few days ago that Taiwan and Mexico were stealing US jobs. I am not clear why he singled us out, but the sense one gets is that all non-Americans are a drag on US economic development," said Clarence Chou (周宇修), a director of the Campaign for Media Reform.
Comments will be moderated. Keep comments relevant to the article. Remarks containing abusive and obscene language, personal attacks of any kind or promotion will be removed and the user banned. Final decision will be at the discretion of the Taipei Times.