Hung takes out loan to pay salaries of party staffers
NT$90 MILLION: Half of the money came from the mother of businessman Terry Gou, who said she was willing to help because her late husband was a member of the KMT
The Chinese Nationalist Party (KMT) yesterday said it had paid overdue salaries to party staffers using loans totaling NT$90 million (US$2.85 million) taken out by KMT Chairwoman Hung Hsiu-chu (洪秀柱) in her own name.
Speaking at a news conference at KMT headquarters in Taipei in the afternoon, KMT Vice Chairman Steve Chan (詹啟賢) said he and Hung had looked everyway for money in an effort to solve the party's paycheck dilemma before Hung leaves for Beijing later this month.
"Our solution was to have Chairwoman Hung take out two loans totaling NT$90 million in her own name. The money was wired to the accounts of our party staffers half an hour ago. We always put words into action," he said.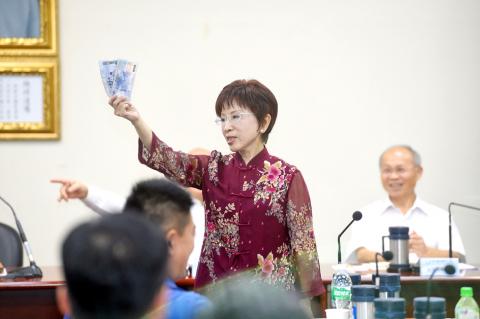 Chinese Nationalist Party (KMT) Chairwoman Hung Hsiu-chu yesterday holds up a handful of money as Central Standing Committee members make donations during a meeting at KMT headquarters in Taipei.
Photo: George Tsorng, Taipei Times
Chan said the loans were taken out in Hung's name rather than under the KMT's to avoid the money being frozen by the Ill-gotten Party Assets Settlement Committee after it was deposited into the party's bank account.
The KMT had been forced to delay paying salaries after the Executive Yuan-affiliated committee froze the party's main bank account late last month over the issuance of 10 cashier's checks worth a collective NT$520 million.
To ease the party's financial straits, KMT headquarters launched two fundraising initiatives earlier this week, one of which urged members to pay a "special party fee" of at least NT$2,000, while the other encouraged them to give a smaller donation of NT$1,000 to the party.
Chan said one of the NT$45 million loans was from the 90-odd-year-old mother of a well-known Taiwanese businessman.
"The story about how this loan came about is very touching. I recently talked to one of my friends in the business community about the KMT's salary conundrum. Although he was more than willing to help us out, he was not in the country at the time," Chan said.
He said that after his friend's mother learned about the matter, she said that as her late husband was a KMT member, she would be more than happy to loan the money to the KMT without collateral and interest to help the party.
Chan later revealed the businessman to be Hon Hai Precision Industry Co (鴻海精密) chairman Terry Gou (郭台銘).
As for the other creditor, Chan said the person asked to remain anonymous because he prefers to keep a low profile.
Separately yesterday, the youth wing of the Taiwan Solidarity Union (TSU) clashed with members of the pro-unification Concentric Patriotism Association in front of KMT headquarters, as the former accused Hung of "kissing the ass of the Chinese Communist Party" (CCP) and possibly accepting donations from CCP-controlled Taiwanese enterprises.
"Many Chinese netizens have claimed willingness to dig into their pockets and wanted to donate money to the KMT after the party repeatedly drew public attention to its financial situation. This trend has given rise to speculation that Hung's upcoming meeting with Chinese President Xi Jinping (習近平) could prompt her to accept funds from the CCP or Taiwanese businesspeople who are at the CCP's beck and call," TSU Department of Social Movements director Chang Chao-lin (張兆林) said.
Additional reporting by Shih Hsiao-kuang
Comments will be moderated. Keep comments relevant to the article. Remarks containing abusive and obscene language, personal attacks of any kind or promotion will be removed and the user banned. Final decision will be at the discretion of the Taipei Times.