FSC heads resign over XPEC, Mega Bank issues
Financial Supervisory Commission (FSC) Chairman Ding Kung-wha (丁克華) and Vice Chairman Kuei Hsien-nung (桂先農) yesterday resigned over issues involving Mega International Commercial Bank's (兆豐銀行) New York branch and XPEC Entertainment Inc (樂陞科技).
FSC Vice Chairman Huang Tien-mu (黃天牧) will be the commission's acting chairman, the Executive Yuan said.
Ding on Saturday last week offered a verbal resignation to Premier Lin Chuan (林全), who rejected it, but Ding lodged another resignation on Sunday, which Lin approved, Executive Yuan spokesman Hsu Kuo-yung (徐國勇) said.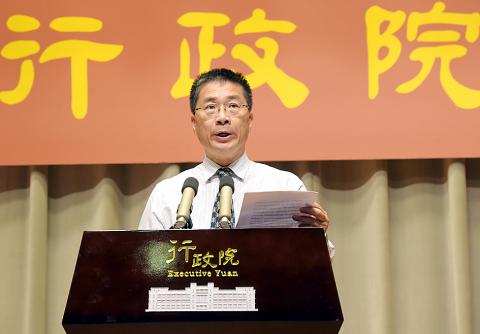 Cabinet spokesman Hsu Kuo-yung speaks at a news conference at the Executive Yuan in Taipei yesterday.
Photo: Huang Yao-cheng, Taipei Times
"To claim responsibility [for the Mega International and the XPEC case], Ding tendered his formal resignation yesterday, which was ... reported to President Tsai Ing-wen (蔡英文)," Hsu said.
Mega Bank's New York branch was fined for breaches of US money laundering regulations, while XPEC was involved in a proposed takeover that failed, causing major losses for investors.
The president said she "respected" Lin's decision, Hsu said.
Kuei, who was appointed alongside Ding, had to resign in accordance with the political appointments system, Hsu said.
Hsu said he did not know whether Ding resigned due to pressure from lawmakers and critics.
Ding said in the letter that he had to resign to "protect his integrity," while Hsu supported the media's right to question government officials.
"To prevent further effects on and misgivings about the commission, I have no other choice but to resign," Ding said in a separate statement.
The FSC has achieved its intermediate goals that would pave the way toward bolstering regulatory standards for the nation's financial sector, as well as placing responsibilities on companies involved in Bai Chi Gan Tou Digital Entertainment Co's (百尺竿頭) botched bid to acquire XPEC, he said.
Hsu said there was no information on whether the resignations, along with the change of former Executive Yuan spokesman Tung Chen-yuan (童振源), was a preface to a minor Cabinet reshuffle.
When asked whether Lin lost his authority over Cabinet appointments, Hsu said, "the premier's authority is intact and he saw to the appointments of myself and others."
The Executive Yuan will seek suitable candidates to replace Ding and Kuei, Hsu said, adding that there are plenty of candidates in the financial sector.
The FSC would propose measures to reinforce oversight of financial institutions at a meeting called by an Executive Yuan task force to address the Mega Bank case, he said.
Meanwhile, Taiwan Stock Exchange (TWSE) chairman Shih Jun-ji (施俊吉) denied reports that he has been tapped as a candidate for the FSC chairmanship.
"I have no knowledge of a decision over the appointment," Shih told the Taipei Times by telephone, adding that market rumors should be ignored.
"Three months into my appointment as TWSE chairman, there are still many tasks that must be completed," Shih said.
Additional reporting by Ted Chen
Comments will be moderated. Keep comments relevant to the article. Remarks containing abusive and obscene language, personal attacks of any kind or promotion will be removed and the user banned. Final decision will be at the discretion of the Taipei Times.