Tourism industry protests in Taipei
RODS, NOT FISH: One demonstrator who came from Hualien said that tourism-sector workers want fishing rods from the government, not just handouts of fish
About 10,000 people marched through downtown Taipei yesterday afternoon calling on the government to help the tourism industry amid a drop in the number of Chinese tourists.
It was the first-ever protest organized by people and firms in the tourism industry, including travel agencies, tour guides, hoteliers, hostel operators, restaurant owners, tour bus companies and representatives of other businesses.
The march began at the Huashan 1914 Creative Park and headed toward Ketagalan Boulevard by way of Chungshiao E Road, Hanzhou S Road and Renai Road.
Workers from the tourism industry yesterday take part in a protest march from Huashan 1914 Creative Park to Ketagalan Boulevard in Taipei to demand that the government provide financial assistance to offset falling numbers of Chinese tour groups.
Photo: CNA
A travel agency manager from Kaohsiung surnamed Rong (容) said those who took part in yesterday's protest were "only the tip of an iceberg," adding that the situation was expected to worsen in the next three months.
"We want to tell the government that its new southbound policy is not going to be an immediate cure to the travel industry's current plight," she said.
Tourism operators from southern Taiwan chartered at least 30 buses to bring people to Taipei, Rong said, adding that Chiayi County has been the hardest hit by the drop in Chinese visitor numbers.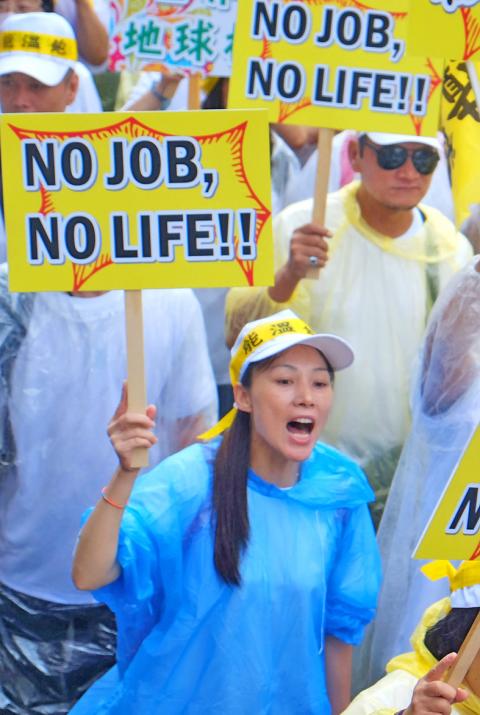 Protesters display placards during yesterday's march in Taipei by tourism industry workers.
Photo: Sam Yeh, AFP
Asked how bad the situation is, Rong said that some guides and bus drivers have been on unpaid furloughs for almost two months because there was no business from Chinese tour groups.
Alishan, a must-see destination for most of the Chinese tourists, now gets fewer than 10 tour buses per day, she said.
Boat owners at Sun Moon Lake (日月潭) are also hurting.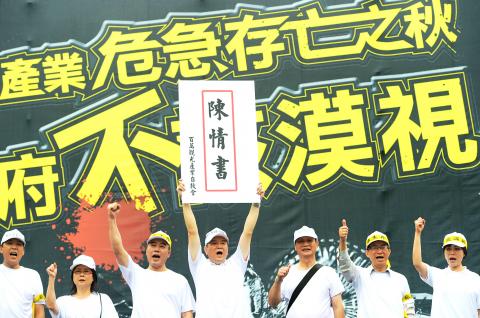 A protester yesterday holds up a petition in front of a crowd of tourism industry workers before delivering the document to the Presidential Office at the end of a march through Taipei.
Photo: Chang Chia-ming, Taipei Times
"A tour guide used to be able to handle three tour groups every month, earning a monthly salary of between NT$50,000 and NT$100,000 [US$1,577 and US$3,153], but now they cannot do that anymore and they still have dozens of bills to pay. You can understand their anger and anxiety," she said.
The NT$30 billion relief fund that the government is planning to spend to help the industry cannot possibly cover all the industry's losses, she said.
A guide surnamed Lin (林) said that China's National Day holiday is coming soon, and Japan and South Korea are trying to attract more tourists from China during that period.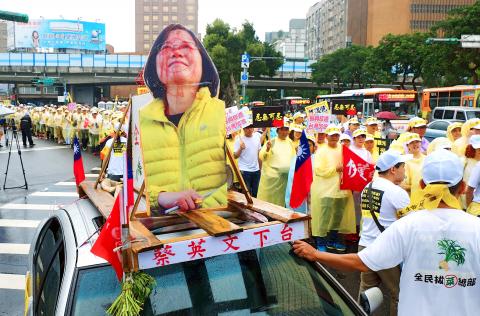 A red-stained picture of President Tsai Ing-wen is fastened atop a car during a protest in Taipei by tourism industry workers yesterday.
Photo: Sam Yeh, AFP
Only Taiwan is trying to push Chinese tourists away, he said, adding: "I really do not know what our government is thinking."
Lin said he is willing to follow the government's policy to attract more tourists from Southeast Asia, but it must provide complementary measures to help address the problems businesses are facing.
He said he has a mortgage of about NT$10 million and has not had any income for two months, while his friends who own tour buses are struggling to pay off the loans they took out to buy the vehicles.
A luxury goods store representative from Hualien, who spoke on condition of anonymity, said the NT$30 billion is just a short-term solution.
"We want a fishing rod, not the government just providing us with fish," she said.
Yesterday's protest concluded with representatives of the travel industry delivering a petition to the Presidential Office.
The petition said that Taiwan attracted about 2 million Chinese tourists in tour groups last year, and the industry hoped about 1 million Chinese would come on group tours this year, representatives said.
However, that means the government needs to attract about 2 million more travelers from other countries to make up for the shortfall in Chinese tourists because Chinese spend about twice as much time in Taiwan as travelers from other countries, they said.
To make up such a huge shortfall, 12 suggestions were made, ranging from further streamlining visa application procedures for Southeast Asian tourists, allowing Chinese tourists to use their passports for a 72-hour transit in Taiwan before heading to a third country, offering subsidies to international tourists who spend at least two nights in central or southern Taiwan and raising the number of domestic travelers nationwide by giving out vouchers for weekday travel.
Comments will be moderated. Keep comments relevant to the article. Remarks containing abusive and obscene language, personal attacks of any kind or promotion will be removed and the user banned. Final decision will be at the discretion of the Taipei Times.