Itu Aba flotilla given hero's welcome
PRICE TO PAY: The Fisheries Agency said that while it respects the fishermen's motives for the trip, it might still fine them for suspected violations of the Fisheries Act
Four fishing boats that sailed to Itu Aba Island (Taiping Island, 太平島) in the South China Sea to assert the nation's sovereignty over the island and its surrounding waters returned to a noisy welcome in Pingtung County yesterday.
The boats arrived at Yanpu Fishing Port (鹽埔漁港) in Hsinyuan Township (新園) at 10am, and were greeted with applause, firecrackers and shouts of "true heroes."
Chinese Nationalist Party (KMT) Chairwoman Hung Hsiu-chu (洪秀柱) was among more than 600 people in the crowd.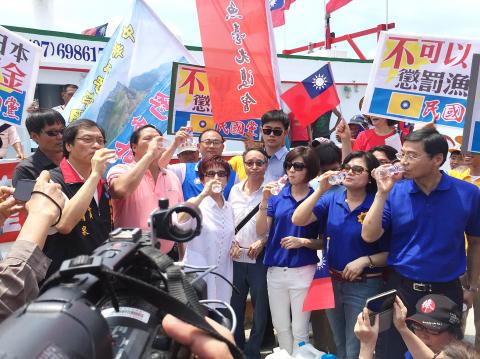 Fishing boat owner and organizer of a four-boat trip to Itu Aba Island, Cheng Chun-chung, second left, front, together with Chinese Nationalist Party (KMT) Chairwoman Hung Hsiu-chu, next to Cheng, and others drink water brought back from the island in Pingtung County's Yanpu Fishing Port yesterday.
Photo: CNA
More than 1,200 empty plastic bottles were offered to the crowd so that they could take home water the fishing boats shipped back from Itu Aba.
The flotilla sailed for Itu Aba on July 20 in response to a July 12 ruling by the Permanent Court of Arbitration in The Hague, Netherlands.
In a case the Philippines brought against China, the court ruled that all high-tide features in the Spratly Islands (Nansha Islands, 南沙群島), including Itu Aba, are legally "rocks" rather than islands and therefore not entitled to 200 nautical mile (370.4km) exclusive economic zones.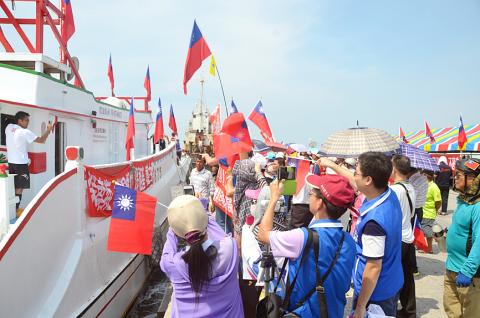 Crowds give fishermen returning from Itu Aba a hero's welcome in Pingtung County's Yanpu Fishing Port yesterday.
Photo: Yeh Yung-chien, Taipei Times
Although Taiwan was not a party to the case and has said it would not be bound by the ruling, other nations in the region could use it to limit where Taiwanese fishermen can operate, which the fishermen said would hurt their livelihoods.
Three out of the four ships docked at Itu Aba on Monday last week. One ship was not able to dock at the island because it was carrying three reporters from Hong Kong-based Phoenix TV, which was not allowed as permits are required for anyone visiting Itu Aba, as it is categorized as a military-controlled zone.
The ship instead anchored in waters off the island.
Another boat had mechanical problems and did not finish the journey.
The Fisheries Agency yesterday said in a statement that while it respects the fishermen's motive for sailing to the island, it might still fine them for alleged violations of the Fisheries Act (漁業法) and other laws, to uphold integrity of the law and safeguard the nation's fishing operations.
People First Party caucus convener Lee Hung-chun (李鴻鈞) said the government should not use the law to intimidate fishermen who sail to Itu Aba in support of the nation's sovereignty.
Separately yesterday, the Ministry of National Defense said it has rejected Hung's application to travel to Itu Aba, as Hung is not a public servant and has not been invited to participate in national security-related affairs.
Comments will be moderated. Keep comments relevant to the article. Remarks containing abusive and obscene language, personal attacks of any kind or promotion will be removed and the user banned. Final decision will be at the discretion of the Taipei Times.