Tsai cites public's will over 'consensus'
'NARROWING THE GAP': The president said that the nation has done its best amid differences between Taipei and Beijing, while the Chinese should realize her goodwill
President Tsai Ing-wen (蔡英文), for the first time since her inauguration, implicitly dismissed the so-called "1992 consensus" in an interview with the Washington Post, saying it is unlikely that her government would agree to a deadline for accepting conditions that go against the public's will.
Tsai gave her first exclusive interview since taking office with Washington Post senior associate editor Lally Weymouth at the Presidential Office Building on Monday, with the president talking at length about cross-strait ties and the Taiwan-US relationship.
"I am certain that as a national leader, [Chinese President] Chairman Xi Jinping (習近平) is equipped with the ability to make a good and a right decision based on a comprehensive review of all the situations," Tsai said when asked to verify reports that Xi has set a deadline for her to accept the "1992 consensus."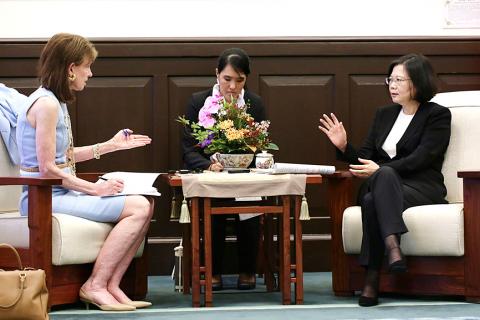 President Tsai Ing-wen, right, speaks to Washington Post senior associate editor Lally Weymouth, left, in Taipei on Monday.
Photo: CNA, courtesy of the Office of the President
Tsai said that given Taiwan has evolved into a mature democracy, where trends in public opinion matter greatly, it is unlikely that the government would accede to conditions set by the other side that are against the will of the people.
"I believe that they [Chinese authorities] are aware of this," Tsai said.
The "1992 consensus," a term former Mainland Affairs Council (MAC) chairman Su Chi (蘇起) admitted making up in 2000, refers to a tacit understanding between the Chinese Nationalist Party (KMT) and the Chinese government that both sides of the Strait acknowledge there is "one China," with each side having its own interpretation of what "China" means.
Tsai has so far merely expressed respect for the "1992 talks."
Praising Xi's courage in tackling corruption as being conducive to the development of Chinese society, Tsai said she hoped that Xi could "show a bit more flexibility" in dealing with cross-strait relations and appreciate Taiwan's democracy.
With regard to her plans for handling ties with Beijng amid a reported decrease in official cross-strait communications, Tsai said there are diverse channels of communication across the Taiwan Strait, including official links and person-to-person ties.
"There are differences between the positions held on either side of the Strait. In Taiwan, we have done our best to minimize that gap. I believe that the Chinese realize the goodwill we put forth at the inauguration," Tsai said.
However, she declined to go into much detail when asked whether she is in touch with Chinese government officials, saying only that different levels of government have a variety of ways to communicate with their counterparts in Beijing.
Weymouth asked Tsai how she plans to strike a balance between maintaining cross-strait stability and responding to the expectations of her younger supporters, most of whom identify themselves as "Taiwanese" rather than "Chinese" and are perceived as champions of Taiwanese independence.
"It is a fact that different generations — and different people of different ethnic origins — have different views on China," Tsai said. "However, they all agree on one thing: That is democracy."
China's Taiwan Affairs Office (TAO) spokesman Ma Xiaoguang (馬曉光) yesterday said that the maintenance of peaceful cross-strait development is supported by mainstream public opinion on both sides of the Taiwan Strait.
"Only by adhering to the 1992 consensus and its core meaning — that both sides belong to one China — can peaceful development of cross-strait ties be ensured," Ma said.
Ma said that the communication mechanism between the TAO and the MAC, as well as between the semi-official Straits Exchange Foundation and its Chinese counterpart, the Association for Relations Across the Taiwan Straits, are both built on the "1992 consensus."
Comments will be moderated. Keep comments relevant to the article. Remarks containing abusive and obscene language, personal attacks of any kind or promotion will be removed and the user banned. Final decision will be at the discretion of the Taipei Times.