Ruins find shows 'mother's love'
Archeological finds in Taichung last year, which seem to show a mother cradling her child, have been described by media outlets as a perfect symbol of a mother's timeless love ahead of the Mother's Day celebrations.
Carbon dating suggested the bones excavated from what is now called the Anhe Ruins (安和遺址) last year near the intersection of Anhe Road, Taiwan Boulevard and Chaoma Road in Taichung, along with 47 other sets of fossilized bones, are 4,800 years old.
National Museum of Natural Science department of anthropology director Chu Whei-lee (屈慧麗) said carbon tests showed the findings to be the earliest traces of human activity in central Taiwan.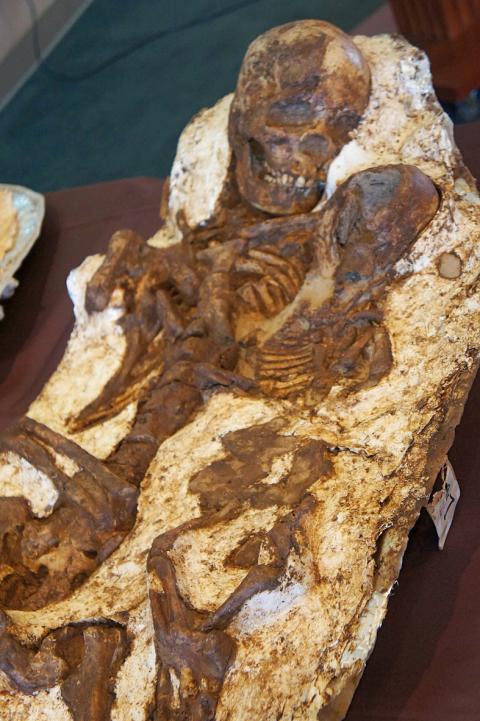 The fossil of a mother and baby are seen in this undated file photo.
Photo courtesy of National Museum of Natural Science
The ruins were designated a city heritage site, with the immediate area around the ruins also designated a temporary heritage area.
The area is to be under the protection of the Cultural Heritage Preservation Act (文化資產保存法), with any development requiring governmental oversight or test digging to ensure no fossils or relics are in the area, Taichung Bureau of Cultural Affairs Director Wang Chih-cheng (王志誠) said.
Wang added that if the city discovers an obvious "cultural layer," an archeological term defined as any layer within an archeological dig formed by relics left by evident human activity, the city government will be sure to preserve the relics and see to their removal for professional care.
Comments will be moderated. Keep comments relevant to the article. Remarks containing abusive and obscene language, personal attacks of any kind or promotion will be removed and the user banned. Final decision will be at the discretion of the Taipei Times.