Lee Teng-hui book redefines 'status quo'
In his new book, former president Lee Teng-hui (李登輝) said that the "status quo" for Taiwan means "not belonging to China," which is why he has never backed the movement for Taiwanese independence.
According to reports in the Chinese-language United Daily Evening News, in Last Days: My Life's Journey and the Roadmap of Taiwan's Democratization, Lee writes that Taiwan already enjoys de jure independence, and if the president allows the conflict between pro-independence and pro-unification camps to grow, it would be to the detriment of the nation.
The report quoted Lee as writing that with the first direct presidential election in 1996, Taiwan "shook off the yoke of foreign occupation."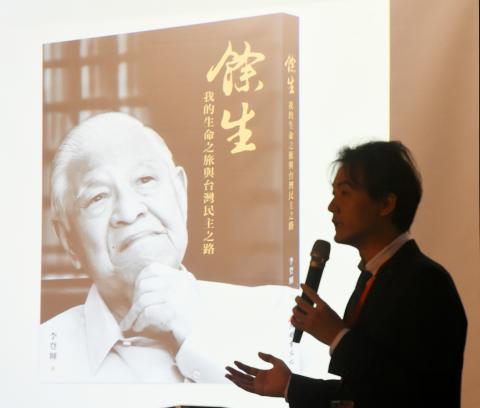 Metropolitan Culture Enterpris president Lin Ching-pin speaks at the Taipei International Book Exhibition yesterday at a talk on former president Lee Teng-hui's new book.
Photo: Liao Chen-huei, Taipei Times
While under "foreign occupation," many tragedies occurred — which should be properly addressed — but Taiwan must ultimately move beyond such sentiments, Lee wrote.
When a person arrived in Taiwan should not be the deciding factor in whether they are considered Taiwanese, and while history must be understood, Taiwanese must look toward the future, Lee wrote, according to the report.
Taiwan must shake off the old system, with its notions of "one China" and that the Republic of China (ROC) is a legitimate continuation of "China" from the Qing Dynasty, Lee wrote.
More than 80 percent of Taiwanese back maintaining the "status quo" between China and Taiwan, and this "status quo" is that Taiwan is independent of China, Lee wrote, according to the report.
The nation should participate in international affairs under the name of Taiwan, which should be the only point of concern, Lee wrote.
The debate over whether Taiwan is independent would only tear the nation apart if allowed to continue, and Taiwan need not make controversial comments on the matter, because it already enjoys de jure independence, Lee wrote, according to the report.
Meanwhile, Lee yesterday canceled at the last minute his appearance at a publicity event for the book at the Taipei International Book Exhibition.
The book was originally scheduled for publication before the Jan. 16 presidential and legislative elections, but the date was pushed back due to concerns that it might influence voting, Metropolitan Culture Enterprise Co Ltd & Banner Publishing House (大都會文化事業出版社) president Lin Ching-pin (林敬斌) said, adding that the title of the book was chosen by Lee.
Comments will be moderated. Keep comments relevant to the article. Remarks containing abusive and obscene language, personal attacks of any kind or promotion will be removed and the user banned. Final decision will be at the discretion of the Taipei Times.