ELECTIONS: Madam President
HISTORY IN THE MAKING: President-elect Tsai Ing-wen, who is to be the nation's first female president, expressed her respect for voters and gratitude to her rivals for upholding democratic values
Democratic Progressive Party (DPP) presidential candidate Tsai Ing-wen (蔡英文) yesterday secured a landslide election victory, unseating the China-friendly Chinese Nationalist Party (KMT) by taking 56.12 percent of the vote to become the nation's first female president.
The DPP swept back into power after eight years in opposition, in the nation's third transfer of power.
The DPP ticket won almost 6.9 million votes, while KMT presidential candidate Eric Chu (朱立倫) garnered 3.8 million votes, or 31 percent, and People First Party (PFP) presidential candidate James Soong (宋楚瑜) received 1.5 million votes, or 12.8 percent.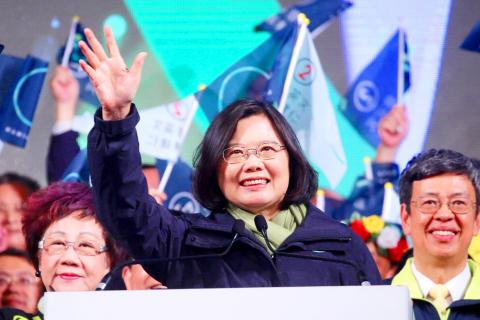 Democratic Progressive Party (DPP) vice president-elect Chen Chien-jen, right, and former vice president Annette Lu, left, smile last night as president-elect Tsai Ing-wen waves to her supporters outside the DPP's campaign headquarters in Taipei.
Photo: CNA
Tsai's performance was the second-best for a presidential candidate since direct presidential elections began in 1996, falling just short of President Ma Ying-jeou's (馬英九) 2008 record of 58.44 percent of the vote.
It also represented a sharp jump from Tsai's performance in the 2012 election, which saw her win 45.63 percent of the vote.
Tsai won in all counties and municipalities except Hualien, Taitung, Lienchiang and Kinmen counties, smashing through the Jhuoshuei River (濁水溪) barrier between Yunlin and Changhua counties, which has traditionally demarcated the northern boundary of the DPP's core support, in a clean sweep of the nation's northern cities and counties.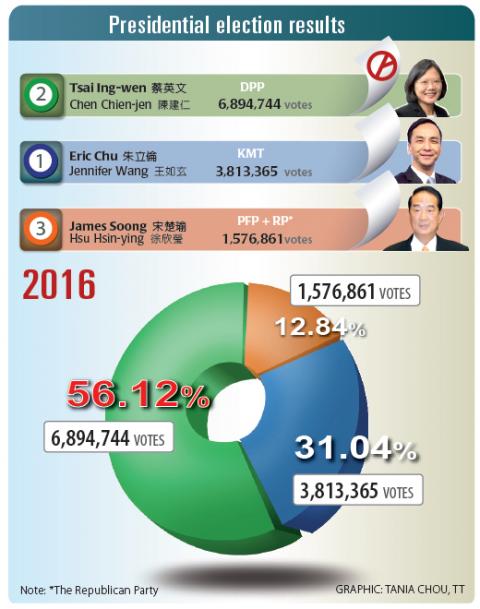 Graphic: Tania Chou, Taipei Times
Chu even lost in New Taipei City, where he serves as mayor.
At Tsai's national campaign headquarters in Taipei, supporters looking at a large outdoor screen burst into cheers whenever Tsai tallied a further 100,000 votes. As the day progressed, her votes surpassed 1 million, then 2 million and 3 million, with the cheering and flag-waving continuing nonstop as the tally exceeded 6 million.
"We are Taiwanese. We are Taiwanese. We are Taiwanese," the crowd chanted, in response to both Ma's China-leaning policies and a Chinese boycott of South Korea-based Taiwanese singer Chou Tzu-yu (周子瑜), who was forced to apologize for carrying a Republic of China (ROC) flag and to say that she is Chinese, in a video uploaded to YouTube on Friday night.
Graphic: Lance Liu, Taipei Times
"With our votes, we proved that we are a sovereign and independent nation," DPP legislator-at-large-elect Hsu Kuo-yung (徐國勇), who was one of the hosts of last night's rally, told the crowd. "This is our nation."
At an international news conference at 8:30pm yesterday, Tsai spoke of her respect for Taiwanese, thanked her rivals and promised cross-party collaboration.
"Today, Taiwanese wrote history with their ballots and signaled the third transition of power since direct presidential suffrage was put in place, as well as the first transition of power in the legislature," Tsai said. "I would like to show my deepest respect to those who went to the polls."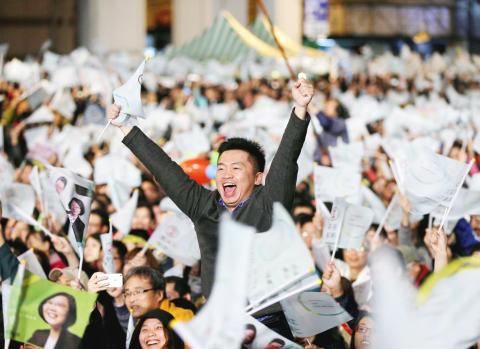 A Democratic Progressive Party supporter cheers while watching the vote-counting process in Taipei yesterday.
Photo: EPA
As for her rivals, Chu and Soong, Tsai expressed her gratitude that they upheld democratic values so that the election could be completed.
She said that she would take their criticism as a reference for policymaking and would work with other parties to make the nation a better place.
Tsai said that in the four months leading up to her inauguration on May 20, she would work with the current government to complete the transition of power, with the goal of maintaining political stability.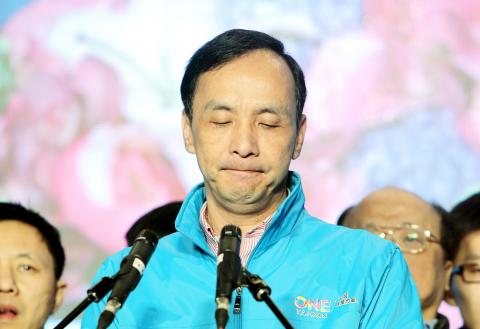 Chinese Nationalist Party (KMT) presidential candidate Eric Chu delivers a speech conceding his defeat in the presidential election in Taipei yesterday.
Photo: AP
Chu conceded defeat in the presidential election at about 7pm, apologizing to supporters for failing to live up to their expectations and fulfilling the KMT's obligation to safeguard the ROC.
"I'm sorry," Chu told a gathering of somber-looking supporters, some in tears.
"As both the chairman and presidential candidate of the KMT, I cannot shirk my responsibility and must shoulder all the blame. Dear friends, I have failed you. I will immediately resign from my post as KMT chairman," Chu said.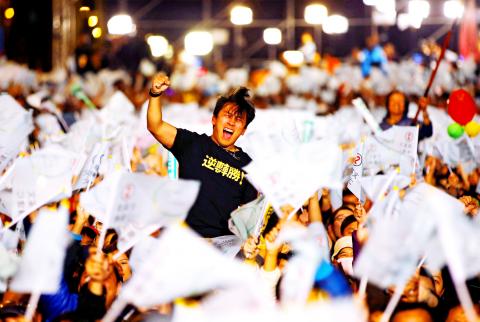 A supporter of Democratic Progressive Party (DPP) Chairperson Tsai Ing-wen yesterday celebrates preliminary election results at the DPP headquarters in Taipei.
Photo: Damir Sagolj, Reuters
His supporters quickly replied: "We will not allow you [to resign]. The [ROC] flag must not fall."
Chu said he respects the electorate's decision and expressed his hope that Tsai and the DPP would endeavor to steer the nation toward a brighter and happier future, which prompted supporters to shout: "Impossible."
Many supporters shed tears as Chu spoke, with some even leaving in the middle of his speech, saying "it is too sad to listen to this."
However, some of the KMT's elderly supporters asked Chu to stop talking, saying: "How dare you keep talking after losing?"
Chu concluded his speech by pledging to reflect on his and the KMT's defeats and said the KMT would be a responsible opposition party over the next four years.
At the PFP's headquarters, some supporters began applauding after Soong (宋楚瑜) and his running mate, Republican Party Chairperson Hsu Hsin-ying (徐欣瑩), garnered 1 million votes.
Soong conceded defeat and said he hoped Tsai would keep her campaign promises.
Soong also said that peace is what people on both sides of the Taiwan Strait and around the world want, and the ball is now in the DPP's court.
"It is the people in Taiwan and China who should be handling cross-strait affairs, not any outsider. The president is the key person in determining the direction of cross-strait affairs," he said, adding that people on both sides of the Strait hope that cross-strait issues can be handled in a rational manner.
A long-time Soong supporter surnamed Lin (林) said she had hoped that Soong would secure as many votes as Tsai.
Lin said Tsai would have to respond to changes in the world much faster than before and quickly unite Taiwanese after the election.
Meanwhile, Premier Mao Chi-kuo (毛治國) late yesterday said he has tendered his resignation to Ma and would not accept any attempt to have him remain in his post.
The premier's resignation is pro forma in Taiwan for a ruling party when it loses a major election.
This story has been corrected since it was first published to show that Tsai's final percentage of the vote was less than President Ma Ying-jeou's in his first win in 2008.
Comments will be moderated. Keep comments relevant to the article. Remarks containing abusive and obscene language, personal attacks of any kind or promotion will be removed and the user banned. Final decision will be at the discretion of the Taipei Times.