Protests in Taipei urge food safety
AMENDMENTS SOUGHT: An organizer said that the law should be changed to forbid people found guilty in a food safety case from operating a food company again
People yesterday took to the streets in Taipei to demand better food safety and protesting against Ting Hsin International Group (頂新國際集團), which was involved in an adulterated cooking oil scandal.
The rally began at 2:15pm on Ketagalan Boulevard to the sound of a rap song created for the event with lyrics including: "We want food safety, to feel safe when we eat," "Taiwan is famous for delicious food, but now even China is banning tainted food from Taiwan" and "We are against 'black-hearted' food."
The event was initiated by Chang Jen-chi (張仁吉), who last year launched an online campaign to boycott Ting Hsin products.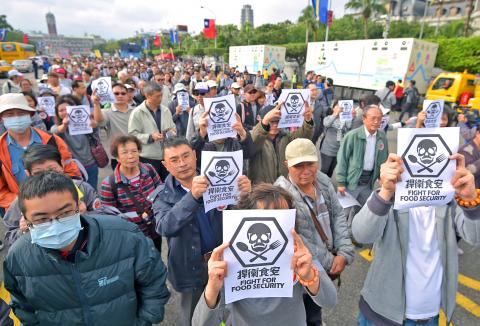 People yesterday hold signs calling for improved food safety at a protest near the Presidential Office Building in Taipei.
Photo: Wang Min-wei, Taipei Times
Protesters criticized the not-guilty ruling handed down to former Ting Hsin employees by the Changhua District Court late last month over alleged breaches of the Act Governing Food Safety and Sanitation (食品安全衛生管理法) after the firm was accused of using animal feed-grade oil and fat in cooking oil meant for human consumption in 2013.
"We urge amendments to the act so that anyone who has been found guilty in a food safety case is barred from operating a food company ever again," Chang said, adding that the ban should also apply to close relatives of those found guilty.
"We are not only against Ting Hsin, but we also demand food safety," Revolution Congress convener Wang Yi-kai (王奕凱) said.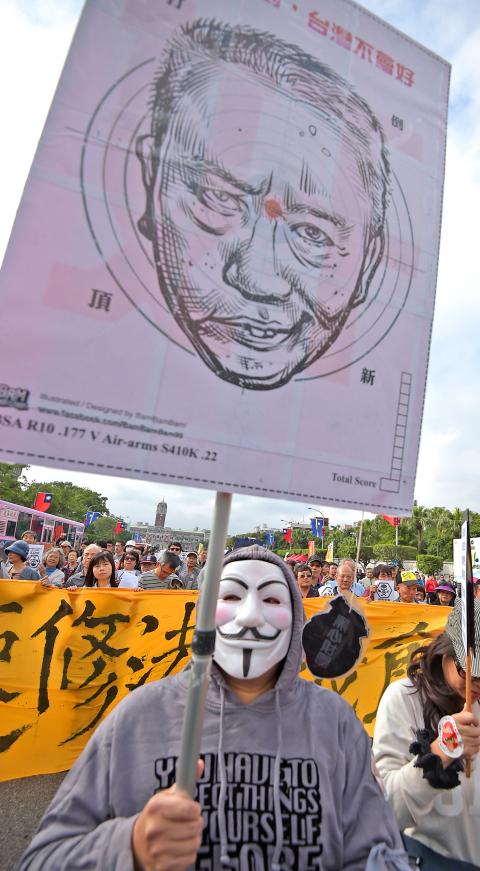 A protester holds up a sign with a drawing of former Ting Hsin International Group executive Wei Ying-chun at a protest in Taipei yesterday calling for improved food safety.
Photo: Wang Min-wei, Taipei Times
"It is because Ting Hsin has food safety problems that we want to terminate it," which is a way to demand food safety, said Wang, who helped organize the protest. "We want companies to know that society has the power to resist them, so companies will not keep looking for loopholes in the law."
In response to questions about Wei Chuan Foods Corp (味全食品工業), a subsidiary of Ting Hsin, Chang said that "because Ting Hsin has a stake of about 40 percent stake in Wei Chuan, for every NT$100 spent buying Lin Feng Ying (林鳳營) milk made by Wei Chuan, Ting Hsin makes NT$40."
"We do not want Ting Hsin to make any money," Chang said, referring to protests earlier in the week where Costco stores were targeted in a milk-buying-and-refund campaign.
On Facebook, the organizers invited Wei Chuan managing director Michael Su (蘇守斌) to join the parade and said the firm should buy back its shares from Ting Hsin.
A protester wearing a striped shirt mimicking jail clothing displaying the words "prisoner" and "guilty" said that having lived abroad for 23 years, he had seen several executives involved in food scandals apologize to the public and face judicial punishment.
The man, surnamed Wu (吳), said he felt that the Ting Hsin case had left Taiwanese feeling cheated, as those things had not happened in this case.
A man surnamed Wang (王) said he felt that the government had not done its job properly and had protected Ting Hsin.
"I feel hopelessness over the court's ruling," he said.
The protesters walked nearby streets chanting: "Food scandals revealed one after another, the people must take to the streets for justice" before returning to the start point in front of the Presidential Office Building at about 4pm.
There, participants were invited to speak.
Before the event ended at about 5:30pm, Wang Yi-kai said that they had communicated face-to-face with Executive Yuan officials earlier in the day concerning the demands of the public over food safety.
He said the demands included amendments to regulations, a new investigation into the Ting Hsin case, cooperation with other nations to initiate action against producers of unethical food, protection of labor rights for employees of unethical companies and bolstering laws to prevent conflicts of interest by government officials in food scandals, as well as increasing bonuses for people who report food safety problems.
Comments will be moderated. Keep comments relevant to the article. Remarks containing abusive and obscene language, personal attacks of any kind or promotion will be removed and the user banned. Final decision will be at the discretion of the Taipei Times.