Tsai sees 'manipulation' in play
SENSITIVE TIMING: The DPP's presidential candidate said that the public would question whether Ma was intending to influence results of the Jan. 16 elections
Democratic Progressive Party (DPP) presidential candidate Tsai Ing-wen (蔡英文) yesterday lashed out at President Ma Ying-jeou's (馬英九) planned meeting with Chinese President Xi Jinping (習近平), calling it a manipulation of the January elections and labelling the decisionmaking process as opaque.
"Now is a sensitive period of time as election campaigns are underway in Taiwan, and the public would definitely question whether [the president] is intending to influence the election result by holding a Ma-Xi meeting," Tsai said.
"If the Chinese Nationalist Party [KMT] always chooses to politically manipulate cross-strait issues ahead of elections, it would have a negative impact on the cross-strait relationship in the long run and would not win support from the people of Taiwan," she said.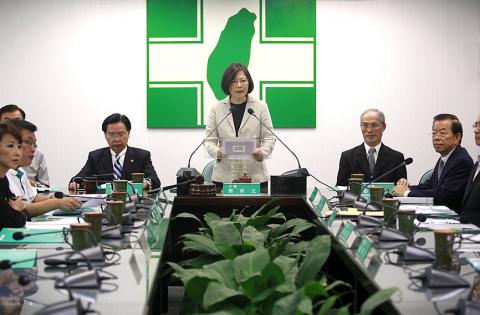 Democratic Progressive Party (DPP) Chairperson Tsai Ing-wen, center, yesterday speaks at a meeting of the DPP'S Center Standing Committee in Taipei.
Photo: Reuters
Saying she was shocked upon learning late on Tuesday that Ma is to meet Xi, Tsai panned the decisionmaking process as harmful to Taiwan's democracy.
"I would like to stress that, we would be happy to see normal cross-strait exchanges based on equality and dignity, openness and transparency, and no political talks," Tsai said, adding that news of the meeting has triggered questions and doubts from the public because people have lost confidence in the government when it comes to cross-strait exchanges and do not want to see any more opaque decisionmaking.
"I must point out that Ma's term as president will soon be ending, we therefore would absolutely not allow him to promise something that he cannot be responsible for to gain political reputation for himself," Tsai said. "He has no right to do so."
Tsai said that the DPP would keep an eye on the meeting.
In a separate press conference, DPP spokesperson Cheng Yun-peng (鄭運鵬) said that when running for re-election, Ma promised he would not meet with the Chinese leader during his term as president.
"Now that he was in such a rush to arrange a meeting in an opaque way, we demand that he clearly explain to the public why he has to meet with Xi at this time," Cheng said. "How has he been in touch with the Chinese? How will the meeting proceed, what will he say and what he will do?"
Cheng said that as president, Ma must remember to defend Taiwan's sovereignty and dignity, and refrain from making moves that would misguide the international community, as well as not make any political promises or sign any documents.
Comments will be moderated. Keep comments relevant to the article. Remarks containing abusive and obscene language, personal attacks of any kind or promotion will be removed and the user banned. Final decision will be at the discretion of the Taipei Times.