Third-force parties rally against Ma-Xi meeting
The Legislative Yuan should recall or impeach President Ma Ying-jeou (馬英九) for ignoring it during negotiations to meet with Chinese President Xi Jinping (習近平), third-force party leaders said yesterday in a series of protests.
"[Ma] is seeking to meet with Xi for his own personal gain," said New Power Party (NPP) Chairman Huang Kuo-chang (黃國昌), accusing Ma of attempting to burnish his legacy at the expense of changing the direction of national security policy, and trampling on Taiwan's democracy and sovereignty by bypassing the Legislative Yuan.
He added that Ma's trip would violate earlier promises, referring to a 2011 television interview in which Ma said that he would not meet with Chinese leaders if re-elected.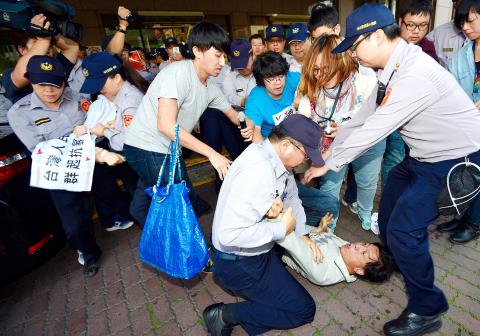 Free Taiwan Party members yesterday stage a protest in front of the Mainland Affairs Council in Taipei against Saturday's meeting between President Ma Ying-jeou and Chinese President Xi Jinping.
Photo: Lo Pei-der, Taipei Times
"Because the next election is only a couple months away, the Ma government is essentially a caretaker administration. What right does he have to make such an important decision about Taiwan's safety and future when he has approval ratings of only 9.2 percent?" NPP legislative candidate Chiu Hsien-chih (邱顯智) asked.
While the Ma-Xi meeting constitutes "important national business" for which legislative approval is required under Article 63 of the Constitution, the Legislative Yuan only learned about Ma's plans after they had been finalized, instead of conducting a "substantive review" of potential harm to national security, he said.
Following a press conference outside the Legislative Yuan in Taipei, about 50 NPP party activists marched to the Presidential Office Building to reiterate their demand that the meeting be canceled. They could not get close to the building because the streets around it had been cordoned off by police with barbed wire barricades earlier in the morning.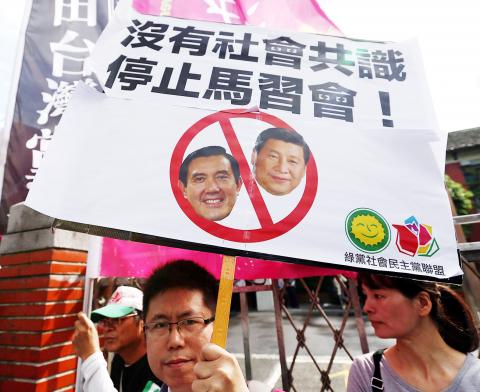 A Taiwanese protester displays a banner against Taiwanese President Ma Ying-jeou (L) and Chinese President Xi Jinping (R) for their upcoming meeting in Singapore, as they march towards the Presidential office in Taipei, Taiwan, 04 November 2015.
Photo: EPA
Green Party-Social Democratic Party alliance activists held their own protest, calling for Ma to be impeached for violating constitutional requirements to seek legislative approval.
They said the government lacked a mandate for conducting the meeting, while accusing the Chinese government of attempting to interfere in the Jan. 16 elections.
"Ma doesn't have any mandate for surprising us with this meeting — ever since last year's Sunflower movement, it has been clear that the handling of cross-strait relations by the governing party is not trusted by the people," Social Democratic Party Chairman Fan Yun (范雲) said.
Last year's Sunflower movement saw the legislature's main chamber occupied as part of massive student protests against the government's handling of a cross-strait service trade agreement.
"Ma has always hoped to meet with Xi Jinping, but Xi has never before been willing. From the fact that he has suddenly agreed to the meeting about 70 days before the elections, it is obvious that China wants to use this to interfere with Taiwan's elections," Green Party Taiwan co-convener Lee Ken-cheng (李根政) said, adding it was not clear whether Ma had made concessions in ongoing talks over a trade in goods agreement with China to arrange the meeting.
The Ministry of Economic Affairs has said it aims to conclude the talks by the end of the year.
Because of the political import of the meeting — as opposed to previous lower-level talks on economic issues — it should not be conducted in the absence of a strong "social consensus" and legislative approval, Lee said.
Representatives of the Free Taiwan Party (FTP) condemned the talks for diminishing national stature, stating that the "government in exile [of the Republic of China] was inviting its own destruction."
"While Singapore has invited Xi Jinping for an official visit, it has only invited 'Mr Ma' to serve as a dinner guest, which clearly represents a downgrading of the national status of the Taiwanese," Northern Taiwan Society vice president Li Chuan-hsin (李川信) said.
FTP activists attempted to break into the lobby of the Mainland Affairs Council in protest. The youth division of the Taiwan Solidarity Union also threw colored smoke bombs over the cordons surrounding the Presidential Office Building.
In a separate protest, the Economic Democracy Union said the meeting should be canceled because the Legislative Yuan has yet to pass "supervisory regulations" for cross-strait talks, condemning comments by Minister of Economic Affairs John Deng (鄧振中) that the meeting would "help" talks on a trade in goods agreement.
Union convener Lai Chung-chiang (賴中強) said the Ma-Xi meeting and trade talks were both "from one book" of the government seeking to conduct unsupervised negotiations.
Without the establishment of mechanisms for "democratic negotiations" to allow affected industries to participate in negotiations, only large corporations would benefit from any resulting agreement, he said.
Comments will be moderated. Keep comments relevant to the article. Remarks containing abusive and obscene language, personal attacks of any kind or promotion will be removed and the user banned. Final decision will be at the discretion of the Taipei Times.