Hung to sue over Storm Media report
LEGAL ISSUES: Hung Hsiu-chu has hired an attorney over allegations in an online media outlet that she demanded the party call an extraordinary congress to replace her
Deputy Legislative Speaker Hung Hsiu-chu (洪秀柱), whose presidential nomination was rescinded by the Chinese Nationalist Party (KMT) on Saturday, yesterday hired an attorney to sue online news outlet Storm Media for defamation over a report alleging that she had called for the extraordinary party congress at which she was replaced.
Storm Media on Thursday reported that former minister of transportation and communications Yeh Kuang-shih (葉匡時) — an adviser to Hung's campaign team — had been among the first group of people to be summoned by the Special Investigation Division (SID) on Wednesday over its probe of Hung's ouster.
Yeh was the go-between between party headquarters — under the leadership of KMT Chairman Eric Chu (朱立倫) — and the Hung camp, and conveyed messages and brokered meetings between the two sides, the report said.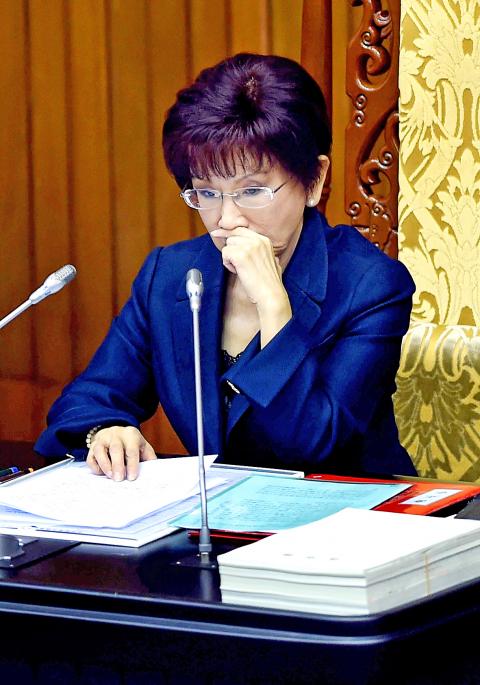 Deputy Legislative Speaker Hung Hsiu-chu stares at her desk while presiding over yesterday's legislative session in Taipei.
Photo: Chu Pei-hsiung, Taipei Times
The report said that an Oct. 6 meeting between Chu and Hung — seen as the "final showdown" between the two — was brokered by Yeh.
At the meeting, Chu is said to have asked Hung to withdraw her presidential bid under her own initiative.
Hung reportedly refused to give up the campaign, saying she had been elected by the party's due processes and was therefore the legitimate candidate.
"Hung insisted that it if she was to be replaced, it had to be done via the party's mechanism, which mandated the calling of an extraordinary party congress, otherwise she feared she would be beset by legal problems," the report said.
The piece also claimed that Hung had told her friends in tears that "the game is over" when she saw on Oct. 6 that even the Huang Fu-hsing (黃復興) faction — the special military veteran branch of the KMT s — had sent out messages to their members calling on them to support Chu.
Hung's office issued a news release on Thursday night rebutting the report, saying that Hung had from the beginning refused to accept any suggestion that would violate ethics and procedural justice.
"Hung was not able to prevent the calling of the congress nor the decision to replace her; distorting the facts and saying there was a 'tacit agreement' or that it was Hung who wanted the congress is intolerable," the statement said.
The office accused Storm Media of "seriously damaging Hung's political honesty and personal integrity, qualities that she values immensely."
Comments will be moderated. Keep comments relevant to the article. Remarks containing abusive and obscene language, personal attacks of any kind or promotion will be removed and the user banned. Final decision will be at the discretion of the Taipei Times.