Taiwan wins junior baseball series
THIRD IN A ROW: Most of the players are from Chung Shan Junior High School in Taichung, and five were veterans, having played in last year's tournament
Taiwan on Sunday defeated the US 12-0 to win the Junior League Baseball World Series for a third consecutive year.
Taiwan won all five games in the tournament, which was held in Taylor, Michigan, and opened on Aug. 16.
Taiwan pitcher Gu-Lin Ruei-yang (古林睿煬) threw seven shutout innings to lead his team to victory, scoring five strikeouts and giving up only three hits.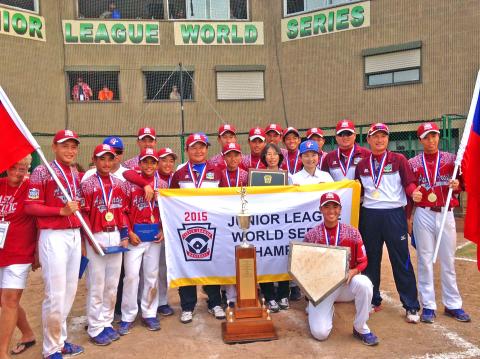 The Taiwanese team on Sunday pose with the trophy in Taylor, Michigan, after winning the Junior League Baseball World Series tournament for a third year in a row.
Photo courtesy of the Taichung City Baseball Association
Liu Ji-hong (劉基鴻) scored three hits, while Chuan Hao-wei (全浩偉) hit his third home run of the tournament.
Taiwan took a 1-0 lead in the first inning, scored three in the second, five in the sixth and three in the seventh inning.
Taichung City Baseball Association director-general Chang Chen-nan (張振楠) said he believed that the Taiwanese players' extensive experience in international games was the key to their victory.
Five team members were making a repeat appearance in the tournament, having played last year, so they were able to maintain their composure in the face of pressure and also ease the tension and calm the other players, Chang said.
Head coach Lan Wen-chuan (藍文權) said all of the players were able to bring their abilities into full play to help win the title again.
The Taiwanese team is comprised mostly of players from Chung Shan Junior High School in Taichung.
The tournament, one of the competitions organized by Little League International, brings together the top teams of 13-year-olds and 14-year-olds from the Asia-Pacific, Latin America, Puerto Rico, Canada, the US and Europe/Africa.
Comments will be moderated. Keep comments relevant to the article. Remarks containing abusive and obscene language, personal attacks of any kind or promotion will be removed and the user banned. Final decision will be at the discretion of the Taipei Times.