DPP's Tsai calls for end to muckraking over histories
Democratic Progressive Party Chairperson Tsai Ing-wen (蔡英文) yesterday urged people to be more understanding and tolerant about issues raised by history, adding that politicians should not use the past to foment conflict and provoke confrontation.
Tsai made the remarks in response to media requests for comment on the controversy sparked by an interview former president Lee Teng-hui (李登輝) gave to a Japanese magazine.
Lee is reported to have said that as Taiwan was then a part of Japan, Taiwanese did not fight Japan in the Second Sino-Japanese War (1937-1945) because at that time, Taiwanese were fighting for Japan, which they viewed as their motherland.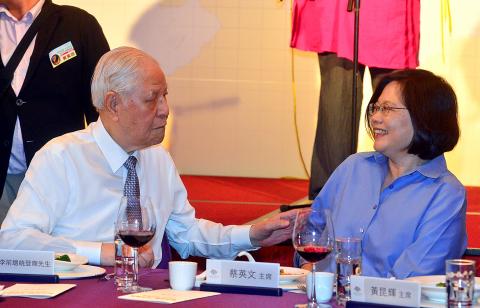 Democratic Progressive Party Chairperson Tsai Ing-wen, right, talks to former president Lee Teng-hui at a fundraising dinner for the Lee Teng-hui Foundation in Taipei yesterday.
Photo: Wang Yi-sung, Taipei Times
"Each generation and ethnic group in Taiwan has lived a different history, and therefore their memories, experience and interpretations of the past are not the same," Tsai said yesterday. "When a nation faces such a situation, we have to maintain an attitude of understanding, so that we can learn from history, instead of using what happened as a tool for manipulating rivalry and social division."
She said that the nation's tragedy over the past few centuries has been that Taiwanese have been unable to wrest control of the nation's destiny.
"Now we are a democratic and free nation, and everyone has the right to choose; therefore it is our shared task to defend our freedom and democracy," Tsai said. "No one should sabotage our freedom and democracy by stirring up rivalry — I believe the public is mature and is capable of facing the issues that history throws up."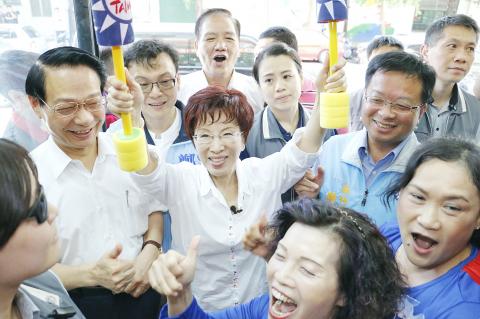 Chinese Nationalist Party (KMT) presidential candidate Hung Hsiu-chu holds up two sticks with the KMT party emblem during a visit to the party's Hsinchu City branch yesterday.
Photo: CNA
However, Chinese Nationalist Party (KMT) presidential candidate Hung Hsiu-chu (洪秀柱) yesterday added to her barrage of attacks on Lee over his comments about Japan, and pressed Tsai to publicly express her stance on the issue.
Responding to Tsai's remarks that people should view other people's feelings about their histories with understanding, Hung on Friday night said that she "does not agree with" this kind of statement and questioned whether Tsai would "abandon Lee" if voters began to see a vote for her as a vote for Lee.
In response to Tsai's comment that it is a tragedy that Taiwanese have been unable to choose their own destinies in the past few hundred years, Hung yesterday said: "It is the misfortune of Taiwanese to be too busy throwing mud and vilifying each other to be able to focus on how to overcome economic hardship and fight together."
When asked whether her recent criticism of Lee was really an attempt to vilify Tsai, Hung said that as Lee clearly has high expectations of Tsai, Tsai should make clear her relationship with him and explain to the public whether she supports Lee's ideas.
Hung was particularly fierce when speaking in front of Republic of China veterans on Friday in Hsinchu, lashing out at Lee for "saying Taiwan belongs to Japan as a former president."
"Are you not pissed off? Do you not hate him?" she asked the veterans.
Comments will be moderated. Keep comments relevant to the article. Remarks containing abusive and obscene language, personal attacks of any kind or promotion will be removed and the user banned. Final decision will be at the discretion of the Taipei Times.