Two sides of Strait are one family: Ko
'2015 NEW STANDPOINT': Ko said ties with Shanghai would be built on knowing each other, understanding each other, respecting each other and working with each other
Taipei Mayor Ko Wen-je (柯文哲) yesterday expounded on his views on cross-strait relations at the Taipei-Shanghai forum, touting what he called the "2015 new standpoint," which he said is built on "four reciprocal processes" and a motif that both sides of the Taiwan Strait are "one family."
Ko made the remarks during his speech at the opening ceremony for the forum.
Ko started his speech by talking of the impermanence of the world today, before narrowing his subject down to what he described as the "long-lasting friendship" between Taipei and Shanghai.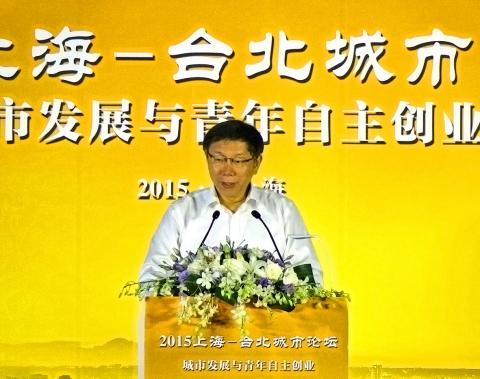 Taipei Mayor Ko Wen-je delivers a speech yesterday at the 2015 Taipei Shanghai City Forum in Shanghai.
Photo: CNA
"This is an ever-changing world. Seven years ago, who would have thought that the iPhone would change the world? A year ago, who would have thought that I would become the mayor of Taipei? Just a month ago, who would have thought that I would be standing here in front of you today?" he said. "However, one thing remains unchanged, and that is the long-lasting friendship that Taipei and Shanghai have established."
Ko said that his stance on cross-strait relations and the forum can be summarized as "one family across the Strait" and four "reciprocal" actions: to know each other, to understand each other, to respect each other and to work with each other.
He said that he has always abided by these principles to promote exchanges and increase goodwill across the Taiwan Strait, and that he hoped that Taipei and Shanghai would build on their "political common ground" and work together to boost cross-strait exchanges and push for peaceful development to serve the best interests of people on both sides of the Strait.
Responding to media queries after the speech, Ko said that he proposed the "2015 new standpoint" in March, and that he sees it as a new direction and starting point for cross-strait exchanges.
Asked whether he was concerned that his stance would spark controversy in Taiwan, he said: "I do not expect all political parties to accept it, but at least it would be tolerable. There has got to be something on the table so that everyone can engage in exchanges."
He said that the greatest consensus formed between him and Shanghai Mayor Yang Xiong (楊雄) during the organization of the forum concerns the employment of a novel method in which "the public goes first; the government supports."
"I believe that this method would also apply to future cross-strait exchanges. Through organizing forums, members of the public can discuss the issues among themselves. The government can then provide the necessary help according to the conclusions they reach," he said, adding that the epiphany was his biggest reward during his visit to Shanghai.
Comments will be moderated. Keep comments relevant to the article. Remarks containing abusive and obscene language, personal attacks of any kind or promotion will be removed and the user banned. Final decision will be at the discretion of the Taipei Times.