Lee met with Shinzo Abe: TV Tokyo
Former president Lee Teng-hui (李登輝) held one-and-a-half-hour talks with with Japanese Prime Minister Shinzo Abe yesterday at a hotel near the National Diet Building, TV Tokyo Corp reported.
TV Tokyo Corp yesterday said that Abe visited Lee at the Capital Hotel Tokyu where Lee stayed, which if true, would be an unprecedented event.
The television station cited sources within the Liberal Democratic Party "with close ties to Taiwan," and said Lee confirmed he had met Abe before he left the hotel to give a talk at the Foreign Correspondents' Club of Japan (FCCJ) yesterday.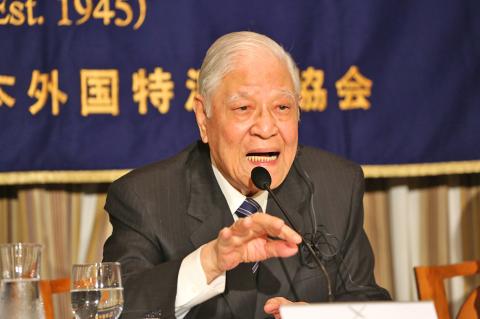 Former president Lee Teng-hui gives a talk at the Foreign Correspondents' Club of Japan in Tokyo yesterday. Japanese media yesterday reported that prior to the talk, Lee held a one-and-a-half-hour meeting with Japanese Prime Minister Shinzo Abe.
Photo: CNA
However, Lee Teng-hui Foundation Secretary-General Wang Yan-chun (王燕軍) later denied that Lee had met with Abe.
Wang said Abe was at the hotel to meet with someone other than Lee, Wang said, adding that further questions for details should be directed to Abe.
Responding to reporters' questions at the FCCJ meeting, Lee said only: "I cannot say anything on having met [with Abe]. I can only say that Prime Minister Abe has contributed greatly to Japan."
Separately, reporters from the Liberty Times (the Taipei Times' sister newspaper), asked Lee what his thoughts were on reports that China simulated an attack on the Presidential Office Building in war games despite President Ma Ying-jeou (馬英九) administration's China-leaning policies, and how Taiwan should pursue future relations with China.
Lee said that Taiwanese politics may see changes after the combined presidential and legislative elections on Jan. 16 next year, but that the basic line with China should be: "China is China, Taiwan is Taiwan."
Lee added that as long as both sides could respect each other, there could be peaceful coexistence.
"We absolutely will not agree if China is pushing the 'one China' principle," Lee said.
Lee strongly praised the Abe administration's national defense bill, which would lift restrictions on Japanese troops to allow them to fight abroad for the first time since World War II, saying that the bill would contribute to peace and stability in not only Japan, but also globally.
When asked by Hong Kong reporters on his evident affection for Japan and if Taiwanese felt life was better under Japanese rule, Lee said that Japanese did not treat Taiwanese any better under its rule, but people like Japanese colonial administrator Goto Shinpei and Japanese civil engineer Yoichi Hatta had benefited Taiwan greatly.
Japan also enabled Taiwan's rapid modernization, Lee said, adding that Taiwanese aid to Japan after the earthquake, tsunami and nuclear power plant meltdown in 2011 is symbolic of Taiwan-Japan friendship.
Comments will be moderated. Keep comments relevant to the article. Remarks containing abusive and obscene language, personal attacks of any kind or promotion will be removed and the user banned. Final decision will be at the discretion of the Taipei Times.