Taiwan important to US: Burghardt
TRANSFORMATION: The US' main policy is to support the ability of Taiwanese to determine their own fate, free from intimidation and coercion, the AIT chairman said
Over the past few years, the US has "transformed and redefined" the way it thinks about Taiwan, American Institute in Taiwan (AIT) Chairman Ray Burghardt said in Washington on Monday.
During that time, it has started to take Taiwan seriously in and of itself, he said.
Addressing a Brookings Institution conference on relations across the Taiwan Strait, Burghardt said the relationship is now viewed as important and not "as some appendage or some small aspect of our relationship with Beijing."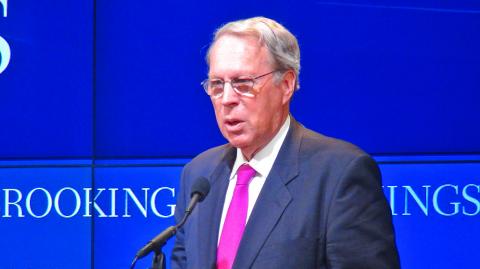 American Institute in Taiwan Chairman Raymond Burghardt speaks at a conference on cross-strait relations at Brookings Insitution in Washington on Monday.
Photo: CNA
He reminded the audience that Taiwan was the US' 10th-largest trading partner and sixth-largest source of foreign students.
"We cooperate more and more on issues that extend beyond our bilateral ties — things like counterterrorism, health and economic issues," Burghardt said.
"For a place of 23 million people, they are really punching above their weight," he added.
US policies on Taiwan have three main focuses: supporting Taiwan's ability to deter aggression and coercion; promoting Taiwan's economic openness and diversification; and helping Taiwan enjoy the dignity and respect it deserves in the international community, Burghardt said.
"These three aspects are closely related to one central policy, and that is to support the ability of the people in Taiwan to determine their own fate, free from intimidation and coercion," he said.
Burghardt said this policy had given Taiwan the self-confidence that had made it possible for improved cross-strait relations.
"Both sides have reduced tensions and they have reduced the possibility of miscalculation," he said.
"Stable management of cross-strait relations has been a major factor that has made possible the significant progress in US-Taiwan relations," Burghardt said.
He said Taiwan's status as a democracy, respecting human rights and the rule of law, was a major reason for the broad and the deep respect that it enjoys.
"Regardless of who becomes the next president, we will work together with Taiwan's new leaders to strengthen our unofficial relations and to safeguard our interests," Burghardt said.
"We encourage both Beijing and Taipei to continue their constructive dialogue on the basis of dignity and respect," he said.
"We do not push them in their negotiations and we don't discourage them from certain topics of negotiation. It is all up to them — the content, the scope and the pace of cross-strait relations," he added.
He said that Washington had encouraged Beijing to "exercise patience, show flexibility, restraint and even creativity."
It was important that both sides understood the importance of the many benefits that stable ties had brought to them, to the US and to the region, he said.
Burghardt faced a barrage of questions on whether Democratic Progressive Party (DPP) Chairperson Tsai Ing-wen (蔡英文) had given the US any private assurances about how she would handle cross-strait relations if elected.
"I was in on all of the government meetings she had, all of them, and we agreed to say afterward they were useful and constructive talks," Burghardt said.
"People made comments when she came four years ago, and we decided we were not going to do that this time," he said. "We decided that having the US government characterize her visit, and what she had told us, was not a good move and so I will stick to that."
Burghardt added that Tsai was very well-prepared for the visit.
He also said that Taiwanese officials will be in Washington next week for high-level talks and that the US is also undertaking preparatory works ahead of another round of negotiations of the US-led Trade and Investment Framework Agreement, which is to be held in the second half of this year.
According to sources, the high-level talks that Burghardt mentioned refer to talks known in defense circles as the "Monterey Talks."
Additional reporting by Nadia Tsao
Comments will be moderated. Keep comments relevant to the article. Remarks containing abusive and obscene language, personal attacks of any kind or promotion will be removed and the user banned. Final decision will be at the discretion of the Taipei Times.