Chinese spy plans foiled: MND
TESTING RESOLVE? The encroachment took place when Jioupeng Military Base was test-firing US-made Patriot missiles on Wednesday and Thursday last week
China sent a surveillance ship and spy aircraft to waters and airspace near Taiwan's to gather intelligence last week during missile and air defense drills at a military base in Pingtung County, Ministry of National Defense (MND) officials confirmed yesterday.
The officials said the Chinese People's Liberation Army (PLA) used electronic surveillance to track missile testing at the highly restricted Jioupeng Military Base (九鵬基地) in southern Taiwan.
It came in the wake of reports that Chinese visitors were spying and taking photographs near the nation's military bases and other sensitive facilities, some of whom were known to be PLA officers and agents posing as tourists.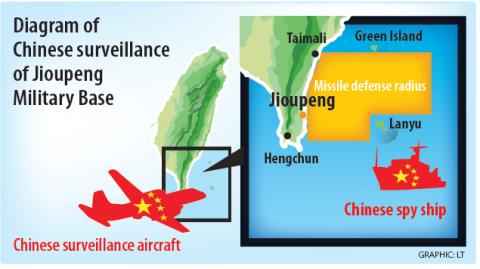 A diagram shows the general location off Taiwan's coast where China deployed a spy ship and surveillance aircraft last week, according to a Ministry of National Defense report yesterday.
The ministry monitored the Chinese ship and aircraft as they approached the nation during the two-day missile tests, it said in a statement yesterday.
"Our armed forces were fully aware of their activity and implemented countersurveillance and security measures," the statement said. "We have surveillance systems for effective monitoring of the nation's surrounding airspace and waters, and have contingency plans for the protection and security of our nation."
The ministry was responding to a report published yesterday by the Liberty Times (sister newspaper of the Taipei Times) saying that the encroachment by Chinese spy vessels took place when Jioupeng Military Base was test-firing US-made MIM-104C (PAC-2) Patriot missiles on Wednesday and Thursday last week.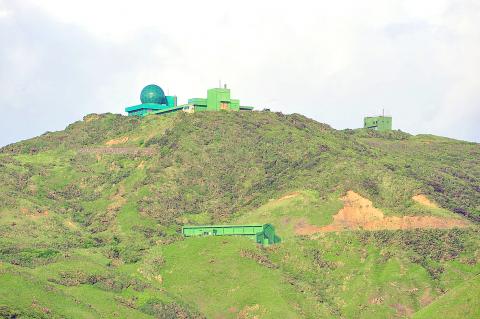 Jioupeng Military Base in Pingtung County is pictured yesterday. The base is a major base for weapons research and development.
Photo: Tsai Tsung-hsien , Taipei Times
Quoting a source in the military, the report said a Chinese surveillance ship was picked up on radar on Wednesday morning about 60 nautical miles (111km) to the east of the base, which is in Pingtung's mountainous region facing the Pacific Ocean.
On the next morning at the same time — when the Patriot missile system was scheduled for test firing — the radar station detected a Chinese spyplane approaching Taiwanese airspace.
After each detection, military officials immediately suspended the launch and shut down the system to prevent the Chinese vessels gathering intelligence, said the military source, who requested anonymity.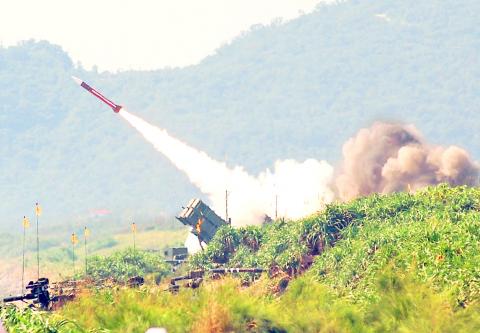 A Patriot PAC-2 missile is launched during a test during Han Kuang military exercises on Aug. 29, 2010.
Photo: Hsu Shao-hsuan, Taipei Times
Ministry spokesman Major General David Lo (羅紹和) confirmed the radar detections last week.
"Our armed forces reacted quickly with effective countermeasures and suspended the missile tests at those times, which prevented the Chinese PLA surveillance vessels from achieving their intelligence-gathering goals," Lo said.
The military was holding live-fire and air defense exercises with its combined forces at the base in the final two weeks of last month, starting with tests of Taiwan's domestic Tien Kung I (Sky Bow I, 天弓) and other short-range, surface-to-air missiles on May 21 and 22, officials said.
These drills were followed in the subsequent week by air defense drills and the test launches of Tien Chien II (天劍 Sky Sword II), Patriot PAC-2 and other guided surface-to-air missiles, they added.
Comments will be moderated. Keep comments relevant to the article. Remarks containing abusive and obscene language, personal attacks of any kind or promotion will be removed and the user banned. Final decision will be at the discretion of the Taipei Times.