Chu aims to clarify 'one China' remark
UNIFICATION GAFFE? The AP was forced to retract part of a report saying that Eric Chu had 'reaffirmed support for unification' after a protest by the KMT
Chinese Nationalist Party (KMT) Chairman Eric Chu (朱立倫) yesterday said that when he talked about "one China" during his meeting with Chinese President Xi Jinping (習近平), he was referring to the Republic of China (ROC).
Chu has been criticized over his opening remarks in a meeting with Xi in Beijing on Monday, in which he described the so-called "1992 consensus" by saying that both sides "belong to one China, but with each side ascribing different contents and definitions to the concept of 'one China.'"
Taiwanese opposition parties accused Chu of making concessions on national sovereignty by recasting the "1992 consensus" under Beijing's "one China" framework.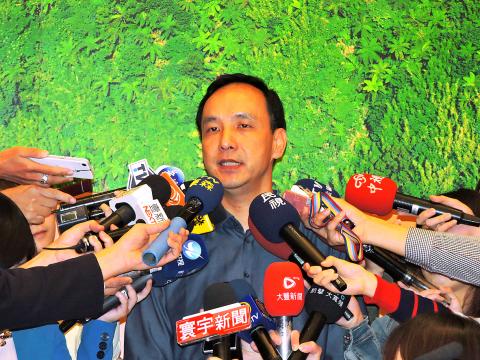 Chinese Nationalist Party (KMT) Chairman Eric Chu speaks in New Taipei City yesterday, saying that media outlets quoted him out of context about cross-strait relations.
Photo: Lai Hsiao-tung, Taipei Times
Chu, who returned to Taiwan early yesterday after a three-day visit to China, said that his phrase "belong to one China," according to the ROC Constitution, meant "belong to the ROC" — with each side ascribing a different content and definition to "one China."
Chu added that during his meeting with Xi, he mentioned Taiwan's history over the past century, as a way to help Beijing understand the existence of different voices in Taiwan and the importance of the two sides agreeing to disagree.
Chu also said the KMT has "expressed a stern protest against and demanded the retraction of" a report by The Associated Press (AP) that said Chu "reaffirmed the party's support for eventual unification with the mainland" when meeting Xi.
In the article, which AP ran under the headline: "In China, Taiwan party leader calls for more global access," Chu was reported to have "affirmed his party's support for eventual unification with the mainland," according to the KMT.
The report has been widely cited by local media outlets.
In response to reporters' questions about the AP report, Chu said a protest had been filed with the news agency and a retraction demanded.
"There is no need for some media to maliciously distort or interpret [the meeting or the report] out of context," Chu said. "We do not have to be trapped by the 1992 consensus, but can look for regional economic cooperation and participation in international organizations, and emphasize how to empower our young people and support small and medium-sized enterprises."
Late on Monday night, the KMT released a brief statement accusing AP reporter Christopher Bodeen of having made a "serious mistake" in reporting that Chu "reaffirmed his support for eventual unification with the mainland."
KMT spokesperson Yang Wei-chung (楊偉中) called the report "illusory and inconsistent with the facts," saying that Chu has "never held such a view and did not talk about issues of unification during the mainland visit."
The party released another statement yesterday morning asking local media outlets "not to misquote" the article because the AP has since retracted "the report with incorrect content."
KMT spokesperson Lin Yi-hua (林奕華) said that Bodeen had edited the article, removing the remarks that asserted Chu had reaffirmed his support for an eventual union with China.
The edited report said that Chu affirmed his party's support for "a consensus reached between Chinese and Taiwanese negotiators in 1992 that is interpreted by Beijing as a commitment to an eventual unification," the KMT said.
Comments will be moderated. Keep comments relevant to the article. Remarks containing abusive and obscene language, personal attacks of any kind or promotion will be removed and the user banned. Final decision will be at the discretion of the Taipei Times.