Ma gives military chief of staff, commander demerits
'LACK OF SUPERVISION': Ma also asked the minister of defense not to resign. Earlier, the commander of the army's Airborne Headquarters was removed from his post
President Ma Ying-jeou (馬英九) yesterday punished Chief of the General Staff Yen Teh-fa (嚴德發) with one demerit and Army Commander General Chiu Kuo-cheng (邱國正) with two demerits following an outcry over visits on March 29 by unauthorized civilians to a restricted-access base housing US-made AH-64E Apache helicopters.
According to a press release issued by the Presidential Office last night, Ma said the visit to the 601st Air Cavalry Brigade base in Taoyuan's Longtan District (龍潭) falls under the purview of Yen and Chiu and that their "lack of supervision" demonstrated a lack of military discipline that compromised military security.
Led by Minister of National Defense Kao Kuang-chi (高廣圻), Yen, Chiu and other military officials presented a report to Ma on a recent spate of military scandals after the military conducted a review involving all units on Tuesday.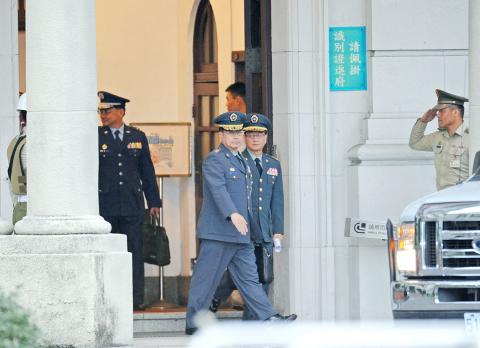 Top defense officials leave the Presidential Office Building yesterday after a briefing to the president about the military scandal involving an Apache helicopter.
Photo: CNA
Kao offered to resign to take responsibility for the Apache incident, but Ma asked him to stay to strengthen discipline and maintain morale in the military, Presidential Office spokesperson Charles Chen (陳以信) said.
Deputy ministers of defense Liu Chen-wu (劉震武) and Chen Yung-kang (陳永康), Navy Commander Admiral Li Hsi-ming (李喜明), Air Force Commander General Shen Yi-ming (沈一鳴), Reserve Forces Command Headquarters Chief of Staff Lieutenant General Bi Hsueh-wen (畢學文) and Military Police Commander Lieutenant General Wu Ying-ping (吳應平) were also present at the meeting at the Presidential Office Building.
Earlier in the day, the ministry announced more punishments, focusing on Lieutenant General Chen Chien-tsai (陳健財), who was removed from his post as commander of the Army Special Forces Command's Airborne Headquarters.
Taking blame for the fallout and security lapses arising from the unauthorized civilian visits, Chen Chien-tsai has been demoted and transferred to a non-supervisory post as a consultative member at the Army Command Headquarters (ACH) office.
"Chen Chien-tsai did not fulfill his responsibility as the commander in charge of the unit, and did not conduct the suitable followup work on the incident," ministry spokesman Major General David Lo (羅紹和) said.
"Major General Chien Tsung-yuan (簡聰淵), commander of the 601st Air Cavalry Brigade, was also removed from his post, and transferred to ACH as a consultative member. If the two officers do not take up other military posts within a year, by military regulations, they will be forced to retire," Lo added.
The Army Special Forces Command Airborne Headquarters, which was headed by Chen Chien-tsai, has direct jurisdiction over the 601st and 602nd Air Cavalry Brigade, among other specially trained elite units, including paratroopers, amphibious fighting battalions, reconnaissance helicopter and attack helicopter operation units.
The 601st and 602nd brigades, based in Taoyuan's Longtan District and Taichung's Sinshe (新社) respectively, are the two units responsible for the service and operation of the helicopters, the last of which were delivered in October last year.
A total of 61 Bell AH-1W Super Cobra attack helicopters, obtained from the US in arms procurement packages during the 1990s, are also deployed at these two brigades.
Comments will be moderated. Keep comments relevant to the article. Remarks containing abusive and obscene language, personal attacks of any kind or promotion will be removed and the user banned. Final decision will be at the discretion of the Taipei Times.