Vote-buying probe of Sean Lien allies launched in Taipei
Prosecutors have began investigating vote-buying claims against the Chinese Production Party (CPP), which has been vocal in rallying support for Taipei mayoral candidate Sean Lien (連勝文) of the Chinese Nationalist Party (KMT).
The Taipei District Prosecutors' Office said the CPP — a minor political party composed mostly of Chinese spouses married to Taiwanese — is being investigated for apparently paying people who attended campaign rallies and also to induce voters to back Lien on Nov. 29.
Prosecutors said CPP Chairperson Lu Yueh-hsiang (盧月香) allegedly paid NT$1,000 to members who attended a rally for Lien at the Friends of Armed Forces Association Center in Taipei on Oct. 12.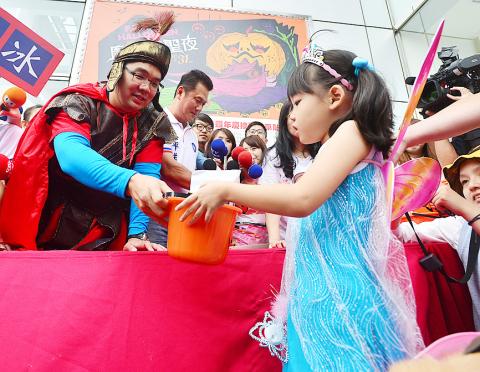 Chinese Nationalist Party (KMT) Taipei mayoral candidate Sean Lien, dressed up as a Roman soldier, gives a pumpkin bucket to a girl at an event in Taipei's Tianmu area yesterday.
Photo: Wang Yi-sung, Taipei Times
Another inquiry is eyeing the China-based Association of Taiwan Enterprises on the Mainland (全國台灣同胞投資企業聯誼會) and its reported work alongside Lien's campaign. The group allegedly offered a 50 percent discount on airline tickets for Taiwanese with business interests in China to return to Taiwan to vote for Lien on election day, officials said.
Local media outlets reported that Shanghai Association of Taiwan Chairman Yeh Hui-te (葉惠德) told members at an annual event on Tuesday that arrangements had been made with airline companies to provide discount air tickets for Taiwanese to travel back to their home districts for the election.
KMT Mainland Affairs Director Kuei Hung-chen (桂宏誠) and former Taipei deputy mayor Ou Chin-der (歐晉德), who currently heads Lien's campaign advisory committee, attended the event, the reports added.
Prosecutors said the cases are being investigated to determine whether vote-buying had taken place and whether there were violations of the Public Officials Election and Recall Act (公職人員選舉罷免法).
Democratic Progressive Party spokesperson Huang Di-ying (黃帝穎) called on prosecutors to investigate in earnest, saying that money and subsidies were being paid out in exchange to support a particular candidate, making the vote-buying violations very clear.
Comments will be moderated. Keep comments relevant to the article. Remarks containing abusive and obscene language, personal attacks of any kind or promotion will be removed and the user banned. Final decision will be at the discretion of the Taipei Times.