Academic papers retracted as fraud exposed
QUALITY CONTROL: A leading academic said the case showed that a trend of quantity over quality in science publications is in need of immediate attention
A professor has been accused of academic fraud after 60 articles were withdrawn from a scientific journal.
The accusations are centered on Chen Chen-yuan (陳震遠), also known as Peter Chen, who has since resigned from his position as associate professor of computer science at the National Pingtung University of Education in southern Taiwan.
The Journal of Vibration and Control, a leading publication in the field of acoustics, retracted 60 papers linked to Chen, accusing him of "perverting the peer-review process" by creating fraudulent online accounts representing 130 academics to give favorable judgements on papers to help get them published, the Guardian reported on Thursday.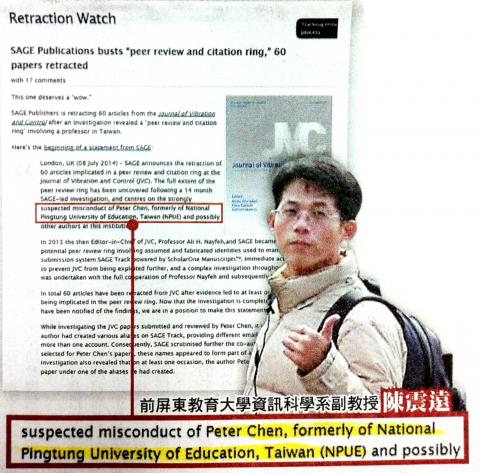 A Liberty Times graphic shows former National Pingtung University of Education professor Chen Chen-yuan.
Photo: Liberty Times
The New York Times reported that Chen had set up a "peer-review and citation ring" consisting of fake scientists, as well as real ones whose identities he had assumed.
Sage Publications, which produces the magazine, said the retracted papers all had at least one author or reviewer implicated in the ring and that other scientists were involved in the activity.
The Washington Post reported that the ring was rigging the review process to get articles published and the mass retraction was "mind-blowing."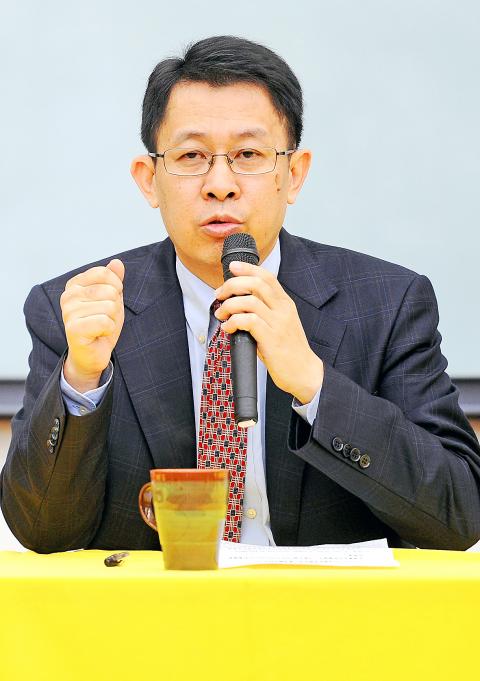 Minister of Education Chiang Wei-ling speaks during a press conference in Taipei yesterday.
Photo: Chu Pei-hsiung, Taipei Times
"A fraud accusation like nothing you've seen before," wrote Pulitzer Award-winning reporter and business author Michael Hiltzik in the Los Angeles Times, adding "this one takes the cake" for academic fraud.
Taiwanese Nobel laureate and former head of Academia Sinica Lee Yuan-tseh (李遠哲) said yesterday that "this is disgraceful, a very terrible thing."
"Taiwan's academic community must take stock of this, the old way of 'quantity over quality' must change. In competing for funding and promotion, many Taiwanese professors aim for a high number of published papers," he said.
Among the retracted papers, five have Minister of Education Chiang Wei-ling (蔣偉寧) listed as a coauthor.
Chiang convened a press briefing yesterday and denied involvement.
"The five papers are not fraudulent, they are solid works of research done by my doctorate and master's students. I will ask them to find out why the retractions were made. We shall defend our rights as necessary," Chiang said.
Chiang said that some problems might have occurred during the review and publication process.
"I was only responsible for supervising the papers," he said, adding that the individuals responsible for the alleged fraud should clarify the situation.
Chiang said he was only involved because one of his doctorate students was Chen's brother.
He said that the brothers had assisted each other to organize the papers to be published and were responsible for listing the coauthors, "but because I was busy with official functions, I had no knowledge of these things until recently."
Associate professor of law at National Chengchi University Liu Hung-en (劉宏恩) said: "The widespread scale of the scandal and the audacity of the perpetrated fraud are unheard of."
He said Chiang was being irresponsible.
"So he was the supervisor for student's research and listed as a coauthor, but when things go wrong, he pins everything on the student," Liu said. "The matter needs to be investigated."
Comments will be moderated. Keep comments relevant to the article. Remarks containing abusive and obscene language, personal attacks of any kind or promotion will be removed and the user banned. Final decision will be at the discretion of the Taipei Times.