KMT antinuclear olive branch is 'stalling,' DPP says
The Chinese Nationalist Party (KMT) yesterday agreed not to continue the construction of the Fourth Nuclear Power Plant's No. 1 reactor and have the construction of the No. 2 reactor "suspended."
KMT Culture and Communication Committee head Fan Chiang Tai-chi (范姜泰基) briefed reporters late yesterday afternoon about the decision, reached during a meeting convened by President Ma Ying-jeou (馬英九), who also serves as party chairman.
"Construction of the plant's No. 1 reactor will not continue (不施工), but still go through safety checks, after which it will be sealed up (封存), while construction of the No. 2 reactor will be suspended (停工)," he said.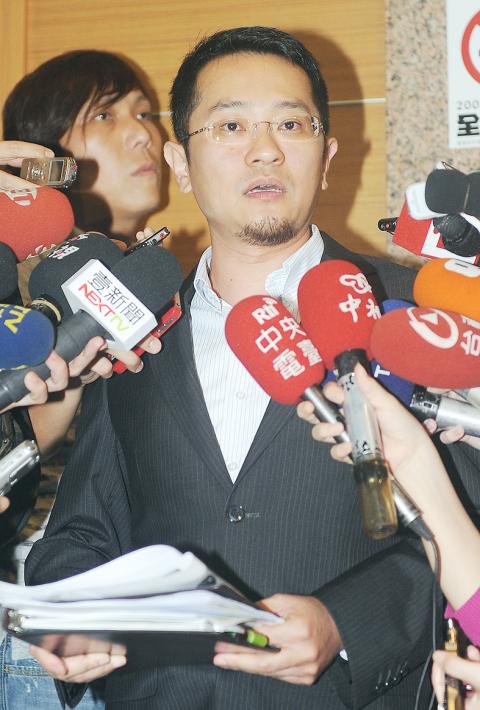 Chinese Nationalist Party (KMT) Culture and Communication Committee head Fan Chiang Tai-chi speaks to reporters yesterday after a meeting between President Ma Ying-jeou and KMT mayors and county commissioners about the Fourth Nuclear Power Plant.
Photo: Liao Chen-huei, Taipei Times
Fan Chiang stressed the new resolution had been reached based on two previous policies — the KMT resolution earlier this month stating that the plant would be completed and its safety checked, but would not be activated until a national referendum has been held, and the conclusion of cross-party negotiations in February which agreed that no additional budget would be allocated until a referendum has been held.
However, Fan Chiang did not respond affirmatively to a question as to whether the resolution means the construction of the plant in New Taipei City's Gongliao District (貢寮) is to be "completely terminated" (停建), emphasizing that it would require a referendum to decide whether the plant should be activated.
Yesterday's meeting also reached a consensus that the Executive Yuan should hold a national energy conference in the near future.
Fan Chiang said the attending mayors had different views on the referendum threshold issue, which was left out of the resolution.
The meeting was attended by 15 KMT mayors, including Taipei Mayor Hau Lung-bin (郝龍斌), New Taipei City Mayor Eric Chu (朱立倫), as well as Premier Jiang Yi-huah (江宜樺), Vice Minister of Economic Affairs Woody Duh (杜紫軍), Atomic Energy Council Minister Tsai Chuen-horng (蔡春鴻) and KMT caucus whip Lin Hung-chih (林鴻池).
Chu reiterated earlier yesterday morning that he is for amending the referendum threshold regulations.
Chu said he "has no faith in the safety of the Fourth Nuclear Power Plant."
"The [threshold] is above average and relatively high compared with those of other countries. I will present the issue about a possible adjustment [of the threshold] during the meeting," he said.
In response, Democratic Progressive Party Chairman DPP Su Tseng-chang (蘇貞昌) told a press conference yesterday evening that the KMT's latest policy was not clear and that the premier should make a report to the Legislative Yuan if the decision is deemed a major policy change.
DPP Legislator Kuan Bi-ling (管碧玲) and former premier Frank Hsieh (謝長廷) both said Ma's announcement was "playing with words" and could have a hidden agenda.
The suspension of construction and the termination of construction are two different things. With a suspension, you can always resume construction, while termination means the plant would be discontinued permanently, Kuan and Hsieh said.
"Ma thought that he was extending an olive branch, but the public does not trust him anymore. Ma is playing a stalling game," Hsieh said.
He Li-wei (賀立維), a nuclear expert who worked at the Institute of Nuclear Energy Research, said that Ma appeared to be hinting at "sealing the nuclear power plant after its completion."
"However, if you are going to seal the plant, why not seal it today? Why would you insist on carrying out a safety inspection [on the No. 1 reactor]?" He asked.
Comments will be moderated. Keep comments relevant to the article. Remarks containing abusive and obscene language, personal attacks of any kind or promotion will be removed and the user banned. Final decision will be at the discretion of the Taipei Times.