Hau Pei-tsun dismisses defeatism
'IGNORANT AND CHILDISH': The former premier said that labeling his son, Taipei Mayor Hau Lung-bin, as a defeatist is an outright mistake and an unjust accusation
Former premier Hau Pei-tsun (郝柏村) yesterday said it is not defeatist to ask fellow Chinese Nationalist Party (KMT) members to put more effort into the party and be more vigilant as the KMT is feeling more pressure than usual regarding the seven-in-one elections on Nov. 27.
Hau's remarks were the second in as many days that he spoke on the topic, in an apparent defense of his son, Taipei Mayor Hau Lung-bin (郝龍斌), who last week was accused of "defeatism" by KMT members for saying that "someone should be held accountable if the party loses the elections."
President Ma Ying-jeou (馬英九), who is also KMT chairman, warned against such comments, saying that people uttering words of no help to party solidarity should know their limits.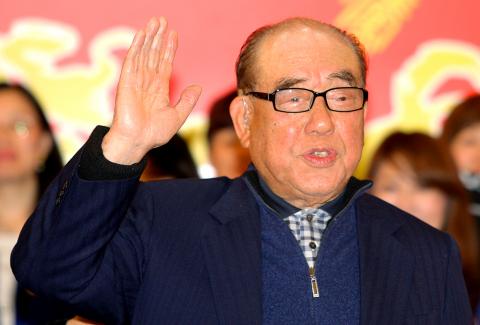 Former premier Hau Pei-tsun raises his hand while addressing a Lunar New Year's greetings meet held yesterday by the New Revolutionary Alliance at the Armed Forces Officer's Club in Taipei.
Photo: CNA
The 95-year-old former premier attempted to vindicate Hau Lung-bin's comment in his speech at a Lunar New Year event held by the New Revolutionary Alliance (新同盟會) at the Armed Forces Officer's Club in Taipei.
Ma and Vice President Wu Den-yih (吳敦義) also made an appearance at the event, but Hau Pei-tsun did not come face-to-face with Ma as he arrived after the president had left the venue.
Defeatism is capitulationism and the latter is characterized by Wang Jing-wei (汪精衛), better than by any Taiwanese figure, Hau Pei-tsun said.
Wang Jing-wei, a KMT member, formed a Japanese-supported collaborationist government in 1940 in China, when that country was at war with Japan, and is seen as a traitor by both the KMT and the Chinese Communist Party.
Hau Pei-tsun said that as the year-end elections approach, many harbor concerns over the KMT's electoral outlook.
Someone who utters a warning about a looming electoral crisis is simply trying to caution party members and urge them to stay vigilant.
"How in the world is that a defeatist stance? Those who said that have no idea what defeatism means," he said.
The senior Hau added that he has no problem with people criticizing his son, but claiming that the Taipei mayor is a defeatist is an outright mistake, an unjust accusation and "ignorant and childish."
"Defeatism is a question of right and wrong, not of a family or an individual," Hau Pei-tsun said.
He added that this year is a crucial year for the KMT and it must win in the coming elections.
He said that those who love Taiwan have to love the Republic of China (ROC) and only those who love the ROC truly love Taiwan.
ROC nationals are Chinese and those claiming that Taiwanese are not Chinese are the unworthy descendants of Zhonghua minzu (中華民族, Chinese ethnic group), he said.
Comments will be moderated. Keep comments relevant to the article. Remarks containing abusive and obscene language, personal attacks of any kind or promotion will be removed and the user banned. Final decision will be at the discretion of the Taipei Times.