'Chicken Cutlet Girl' defends Taiwan online in China
Most Taiwanese entertainers are known for ducking politically sensitive issues for fear of being blacklisted by the Chinese government, but entertainer Cheng Chia-chen (鄭佳甄) this week heckled a Chinese netizen on Facebook over what constitutes Taiwan's "inland," winning her wide acclaim from Taiwanese netizens.
The incident stemmed from a Facebook post this week by Cheng — dubbed "Chicken Cutlet Girl" (雞排妹) by the media — who, after appearing in Beijing in Chinese entertainment programs from Monday to Thursday, wrote that her two cats have been frolicking at home and "my house is a mess while I am abroad (出國)."
The post elicited a response from a Chinese netizen, who said: "You have not gone abroad, you are in the mainland region of the Republic of China."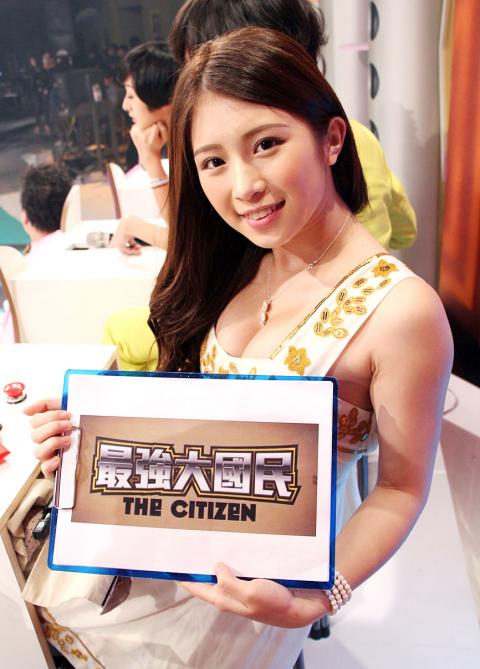 Popular entertainer Cheng Chia-chen, also known as "Chicken Cutlet Girl," appears on a TV show called The Citizen last Friday.
Photo: Wu Chih-wei, Taipei Times
Cheng hit back, saying: "I am now abroad, thank you."
In another post on Thursday, Cheng revealed that while she was promoting her music album during an interview on a Chinese entertainment program, "I mentioned that my album will be on sale in China. The production people then asked me not to use the word 'China,' (中國) but neidi (內地, 'inland'). I said that 'if so, you can cut that part out. I insist [on using 'China']."
"People have the right to disagree with my statements, but I have the right to air my views. Here we are in Taiwan, where 'inland' is Nantou County. I am Taiwanese," Cheng wrote on Facebook.
Cheng's assertions has drawn compliments from a number of netizens in Taiwan, with posts and "likes."
"Chicken Cutlet Girl is a model for all other entertainers. She puts to shame other Taiwanese celebrities who are always sycophantic and kowtowing to China," a netizen said in reference to Taiwanese pop stars and entertainers increasingly using the word neidi, a loaded term implying that China's borders include Taiwan.
"I totally agree with you. Thank you for showing them the pride and staunch strength of character of Taiwanese people," another netizen surnamed Lee (李) said.
Another person surnamed Pao (包) left the message: "It is very rare to see an entertainer who identifies so strongly with our own country, which is Taiwan. People all over the world say our country is Taiwan. Foreigners have no idea what the heck 'Republic of China' is."
One netizen surnamed Feng (馮) wrote: "I did not like your style on TV programs. But I like what you say and now I support you. We are Taiwanese and we do not belong to China."
Although well-known for her outspokenness, Cheng has also at times courted controversy by dressing in skimpy outfits to show off her curves.
Comments will be moderated. Keep comments relevant to the article. Remarks containing abusive and obscene language, personal attacks of any kind or promotion will be removed and the user banned. Final decision will be at the discretion of the Taipei Times.