Keep Hsieh Su-wei in Taiwan, legislator urges
GREENER PASTURES? Hsieh's father said a Chinese firm offered her US$1.63m to play in China as a Chinese citizen. She receives only US$50,000 in endorsements in Taiwan
Democratic Progressive Party (DPP) Legislator Lee Ying-yuan (李應元) yesterday called on President Ma Ying-jeou's (馬英九) administration to do whatever it can to keep Hsieh Su-wei (謝淑薇), who won the Wimbledon womens' doubles tennis championship on Saturday, stay in Taiwan.
Lee's comment came after Hsieh's father, Hsieh Tzu-lung (謝子龍), said that a Chinese company had offered an endorsement of up to 10 million yuan (US$1.63 million) a year to have her play in the Chinese National Games, which would mean that his daughter could have to acquire Chinese citizenship.
Currently, Hsieh Su-wei only has stable endorsements from CPC Corp, Taiwan (台灣中油) and Four Pillars Enterprise (四維企業), worth NT$1.5 million (US$50,000) annually.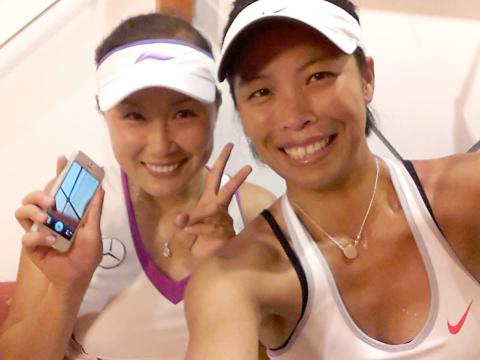 Taiwanese tennis player Hsieh Su-wei, right, poses with her Chinese doubles partner, Peng Shuai, after winning the women's doubles final at Wimbledon in London, England, on Saturday.
Photo: CNA, taken from Hsieh Su-wei's Facebook fan page
Hsieh Tzu-lung said that ideally, she would like to stay in Taiwan, adding that the family would only consider taking China's offer if they hear absolutely nothing from any other party.
"The problem is not with Hsieh Su-wei, who is a professional tennis player and can earn money. The reason she still cannot break even is because she needs to support her younger brother and younger sister in playing in professional tournaments," he said.
Hsieh Su-wei's exodus could spark a "domino effect" among elite Taiwanese athletes, with more athletes opting to compete in China in the future, Lee said.
"And that would spell failure for Ma's sports policy in general," the lawmaker said.
It would be hard to imagine people blaming Hsieh Su-wei if she decided to play for China, because her family had endured tough times and the government had never assisted them, Lee said.
Hsieh Su-wei's parents ran up a large amount of debt and had to live in a small apartment so the family could afford training and traveling expenses for the three children — all of whom are professional tennis players.
State-owned companies, such as Taiwan Tobacco and Liquor Co (台灣菸酒公司) and Chunghwa Telecom (中華電信), as well as state-controlled banks with annual profits of billion of dollars could sponsor local athletes, the lawmaker said.
Sponsoring outstanding athletes, or athletes who show strong potential, would be a valuable reflection of corporate social responsibility, as well serving as an effective investment for large corporations, Lee said.
Meanwhile, Hsieh Su-wei said that she had no interest in playing any political games, adding that her biggest enemy was herself.
Hsieh Su-wei and her Chinese partner, Peng Shuai (彭帥), won their first Grand Slam title in women's doubles in Wimbledon, making Hsieh Su-wei the first Taiwanese player to claim the title.
Following her victory, Hsieh posted a message on her Facebook page thanking Taiwanese for their support.
Many replied by reminding her to not shake hands with Ma, as she would be cursed with "the curse of the president" and start losing tournaments.
The historic triumph was tainted with a political controversy generated through a statement from Peng. When a Japanese reporter asked Hsieh Su-wei in a press conference what the unprecedented win would mean for her country, Peng interrupted and said that she cannot accept the statement that Taiwan is a country.
"I'm not playing political games with you. Sports are sports," Hsieh Su-wei said on Facebook page in response.
"I thank the president [Ma] and everyone for remembering me and caring about the tennis competition," Hsieh said. "I have shaken the 'hand of death' [of Ma] more than once. However, the president became the target of severe criticism after shaking hands with me."
Hsieh said that she had also shaken hands with former president Chen Shui-bian (陳水扁), adding that she heard that he was not doing well in recent years.
Addressing herself by her nickname Xiao-wei (小薇), or "little Wei," Hsieh Su-wei said that her lucky number was four, which has the same pronunciation as the word for death in Chinese.
She said she was told that she would lose if "Dr Streaker," a fervent fan from Taiwan, came to cheer for her, but she said she won two matches at Wimbledon last year with Dr Streaker present. Hsieh said that having director Chung Chuan (鍾權) make a documentary about her was supposed to jinx her chance at Wimbledon this year, because the couples or groups for which Chung had produced documentaries ended up breaking up or being dismissed. However, she won her first Grand Slam this year.
"So whom should I be afraid of? I am only afraid of myself," she said.
Hsieh's outstanding performance at Wimbledon boosted her world ranking in women's doubles from No. 16 to No. 9. Her ranking in singles had dropped from No. 41 to No. 44.
Comments will be moderated. Keep comments relevant to the article. Remarks containing abusive and obscene language, personal attacks of any kind or promotion will be removed and the user banned. Final decision will be at the discretion of the Taipei Times.